Women in Aquaculture: Victoria Parks
Through her own shellfish hatchery, Victoria Parks has been taking steps to support local clam growers in Florida and maintain healthy, sustainable farming practices.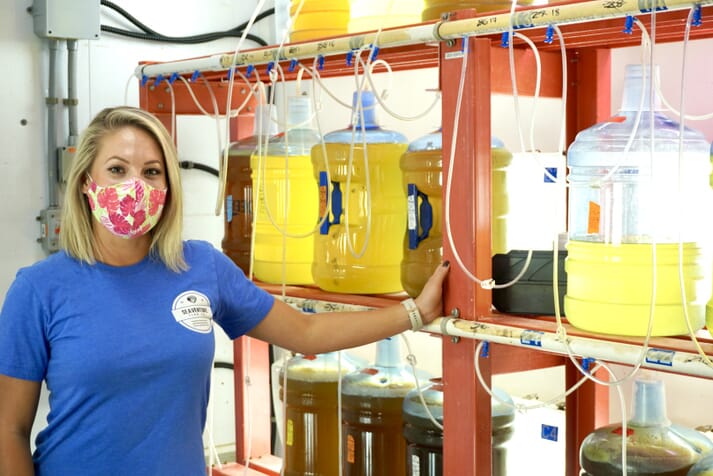 Briefly describe your aquaculture career
I have a BSc in marine sciences from the University of Florida. During my undergrad, I interned at multiple shellfish hatcheries, where I began sharpening my skills in the lab and the hatchery. I've been operating Seaventure Clam Co for roughly four years now, producing the hard clam (Mercenaria mercenaria). In that time, I've participated in studies involving both clams and microalgae for use in the hatchery.
What made you decide to establish your own hatchery?

I met my co-founders, Jamie Grooms and Beth Corson, while I was at the University of Florida. We shared the same vision of wanting to benefit the environment with every product we created. I've always had an affinity to bivalves, so it was a natural fit. At the time that we started Seaventure Clam Co, the clamming industry in Florida was suffering due to a shortage of hard clam seed, and this allowed us to fill a demand. Our goal is to bring innovation and research to the industry so that both clamming and restoration can thrive.
What are some of the key steps to take when establishing your own hatchery?
Experience is key when it comes to establishing your own hatchery. This is an industry that will throw different challenges at you every day. Being exposed to life in a hatchery allows you to problem-solve quickly and anticipate issues before they arise. Secondly, networking and building a strong, diverse team around you. Having a team with varied expertise to advise you is critical to success in aquaculture; there is no such thing as a one-man team. Trust in your core team is essential. Thirdly, make sure you have a good understanding of how to run a business – managing people, finances, sales, marketing etc. Those looking to start their own hatchery often come from a scientific/aquaculture background where lessons on how to run a business aren't typically included in course work. Developing a solid business plan before establishing your hatchery will pay off in the long run.
Describe a typical day in your current role.
"Typical day" makes me chuckle a bit, as there are rarely typical days in aquaculture! This is a job that keeps you on your toes, but that's half the fun of it. My title is co-founder and hatchery manager, meaning my work is split throughout the day between office and hatchery. I usually get to work at 6:30am to get a jump start on the hatchery work – checking on everything from the night before, adjusting feeds, checking all the animals (larvae to broodstock) and starting algae culture procedures. No two days are quite the same – we have sales one day, spawns the next, sieving for the next few days; after the morning routine, I'll start working on whatever major task is designated for the day.
Once the clock hits noon, I'm off to the office to answer emails, make sure inventory is up to date, send pathology samples out, work on our facilities expansion, work on our budget, revise a few research papers, work with restoration partners on future projects, co-write grants… the list goes on. Periodically throughout the day, I'll pop back to check on the team. Every so often, you get a wrench thrown into your day – a pump breaks, valves crack, A/C goes – and you must make that your priority. With a good team and planning, issues like these can be resolved, or temporarily repaired so that the day can go on.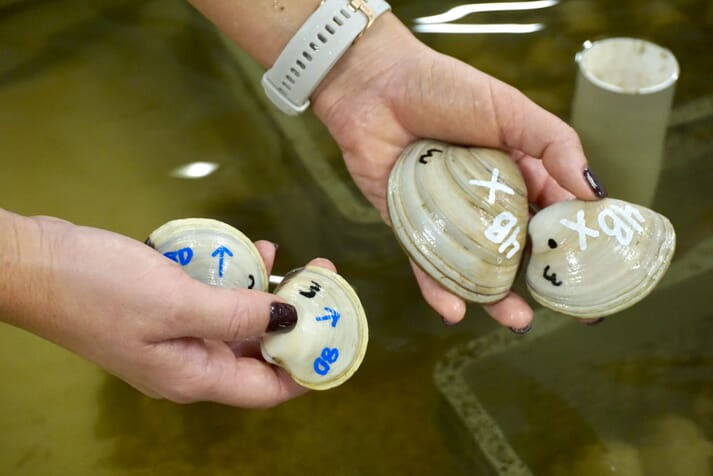 What's the most interesting experience you've had working in aquaculture to date?

I would have to say running into our neighbourhood alligators on the road would be the most interesting thing so far! Our operation borders a nature reserve, with thick mangroves surrounding us, so we find time for some suntanning now and again. Other than that, I would have to say meeting and talking with the people involved in aquaculture is an extremely interesting experience. There are so many brilliant and talented individuals who are involved in such an array of projects that you never stop learning.
How strong is shellfish farming in Florida today, and how important is your hatchery to the industry?
Barring Covid-19, the industry is going strong. Much of it here was started by fishermen displaced by the net ban in the '90s. Clamming was a great alternative to their original trade, but that's just what it was – an alternative. We're now seeing a new generation of clammers joining the ranks, those who are getting into the business because they want to. With this comes innovation, on both the science side and the business side, that will allow the industry to flourish.
Our hatchery has been a key component in filling the deficit we saw a few years back. Our customers can expect a consistent and quality product as a result of our standard operating procedures. A reliable supply of seed allows farmers to operate their business with more confidence. Our team lives by the idea that any variable that can be controlled, must be controlled, because at the end of the day we're dealing with Mother Nature.
How does your hatchery support the local environment and economy?
We're Floridians through and through, so supporting our local environment and economy is our primary initiative. We do this in a few different ways, some of which are entangled. By producing seed for the commercial industry, we're creating a product that tangibly benefits the environment through its natural ability to filter and sequester excess nutrients that can harm the environment.
This product is then sold by farmers on the market, bringing incredible health benefits to consumers. By joining with industry partners, our clams are also set to be used in future restoration efforts to re-establish Florida's native hard clam population and clean up our coastal waterways. Through these processes, we promote our local economy by creating jobs at every level of culture and increasing ecotourism through restored ecosystems.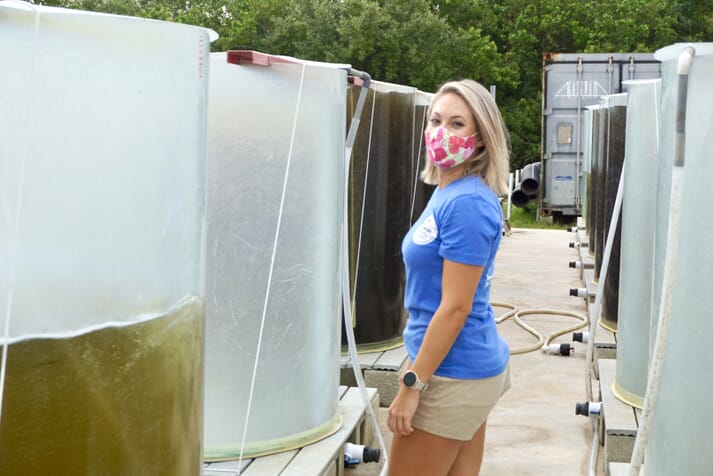 What are some of the challenges of working in a shellfish hatchery?

One of the biggest challenges in aquaculture itself is working with Mother Nature. We strive to create the optimal environment for our clams to thrive in, in turn creating an optimal environment for pests and harmful organisms to thrive in. Finding and maintaining this balance is often one of the most difficult aspects of a hatchery.
The physical labour and time required to operate a shellfish hatchery is another challenging piece. Being able to lift heavy items, move quickly and effectively while simultaneously remaining detailed in your work, is something that will make or break your work day. This is also a 365-days-a-year job. Caring for a living creature requires you to be on call all the time for any potential issues.
How important are sustainability concerns to you and how do you address them in your work?
Sustainability is one of our main focuses at Seaventure Clam Co. We create a product that is a natural filter for the environment they live in. We raise that product using algal species found in our local environment, employ as many reusable materials as we can, minimise excessive water use in our daily procedures and operate recirculation systems in our hatchery. Our hatchery and the farmers play a vital role in food security through responsible aquaculture.
How do you share information with the public on issues such as shellfish farming, its benefits and tackling environmental issues?
Our primary method of sharing information is through social media (Facebook and Instagram (@seaventureclamco)) where we post photos and videos describing the work we do and the importance of clams in the ecosystem. We also love collaborating on podcasts and articles, like this one, to spread awareness of the industry. We aim to be transparent with the public so their trust and understanding of aquaculture deepen.
In addition to social media, we have a weekly newsletter that goes out through email. It contains industry news as well as seed availability updates for those who are interested in purchasing seed. We have a line of chowder soup whose branding and marketing campaign is all about educating on the benefits of aquaculture, and we're currently trying to expand distribution that will further fuel marketing and education.
Your hatchery also has a retail side and you've launched a couple of chowders. What are you hoping to do through your chowder line?
Our first line of products is our artisanal clam chowder line which comes from spawn to table. We produce millions of clam seeds each week and work with local clam farmers to grow these seedlings to maturity, which takes about two years. Once the clams reach adulthood, we buy them back from local Florida clam farmers, which in turn supports our amazing farmers and gives us the key ingredient to the tastiest and highest quality small-batch clam chowders. Our chowders use sustainably sourced ingredients that are great for the consumer and the environment.

Has the Covid-19 pandemic had any impact on your work? If so, how are you addressing this?
We have had to adjust our workflow and work in scheduled blocks to reduce contact with each other. Overall, we have fared ok compared to most industries. However, our farmers have seen a dramatic decrease in demand, due to people staying at home and not visiting restaurants or attractions such as Disney. Farmers plan for 1-2 years down the line, and therefore must continue purchasing seed to plant. This, however, can only go on so long without seeing revenue come in from their typical sources. Without more relief funding, I would expect to see closures throughout the industry and a lack of clam availability around two years from now. If this happens, then we will soon see the repercussions in our sales as a hatchery. Right now, we are doing the best we can to press on with the hope that restaurants and attractions around the country will open soon.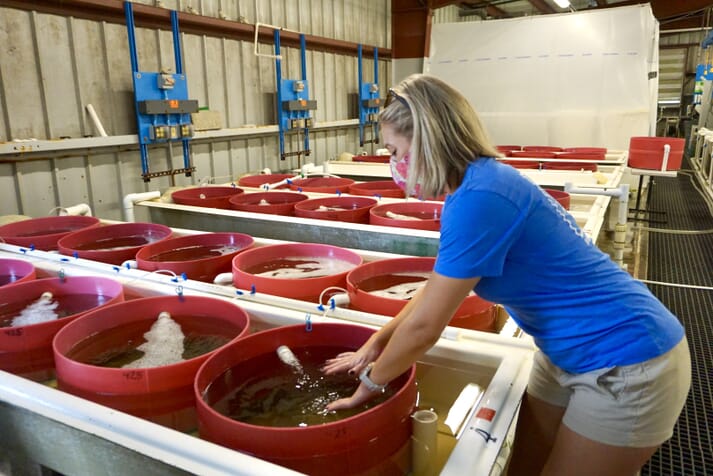 Are there any organisations or individuals in aquaculture who you've found particularly inspirational?
There are many brilliant and inspirational people and organisations in our industry that this is a difficult one to answer. To name a few: my advisor while at the University of Florida Dr Huiping Yang with her research on molluscan shellfish research and restoration, the amazing team at The Indian River Lagoon Clam Restoration Project, led by Dr Todd Osborn, Mooks Sea Farm and Hoopers Island for their innovative and sustainable farming efforts.
What advice would you give to women who are considering a career in aquaculture?

This is traditionally a male-dominated industry, but with every passing year, we continue to see more and more women getting involved in aquaculture. In any industry, including this one, diversity is critical to the advancement and that is why we need more women exposed to this field as a potential career. At the end of the day, if you keep pursuing what you love, the rest doesn't matter.
How do you see Seaventure Clams evolving in the years to come?
This has been my partner, Carolina Panoff (sales and marketing manager), and I's recent topic of conversation. We recognise that our population is growing, and the health of our planet is diminishing. Seaventure Clam Co is a branch of Seaventure Group, and under that group, we hope to pursue multiple avenues of restorative aquaculture that will ultimately take the pressure off wild food sources. For Seaventure Clam Co specifically, we're planning a facility expansion for 2021 that will allow us to produce 400 million clams for sale and restoration. A portion of our new facility will be dedicated to continued research on genetics and system optimisation to take us and the industry to the next level. We will also grow our involvement in collaborative restoration projects throughout the state of Florida.