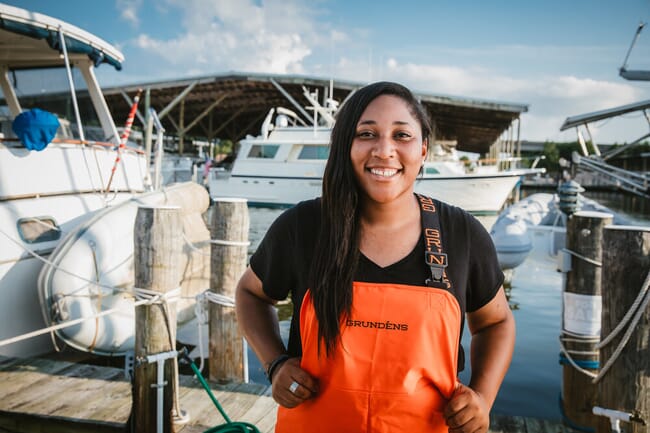 Can you briefly describe your aquaculture career?
During the summer of my senior year of college, I was an intern for Chesapeake Bay Foundation's (CBF) Oyster Restoration Team in Virginia. During the internship, I realised my passion for oyster restoration, and knew I wanted to pursue a career working on the Bay. During my last semester and season as a student athlete, I started the Oyster Aquaculture Training Program (OAT) at Virginia Institute of Marine Science. I graduated in May of 2016 from Old Dominion University (ODU) with a degree in marine biology.
As an OAT intern, I gained hands-on experience about oysters and the aquaculture industry. This opportunity was life-changing for me and it was the start of my interest in shellfish production and the commercial seafood community. After graduating from OAT, I worked for Ward Oyster Company in Gloucester, VA; at their oyster farm and hatchery. In 2017, I moved closer to home and started working for the State of Maryland as an environmental specialist.
After being out of the aquaculture industry for a short while, in 2018, I began working for Hoopers Island Oyster Company in Cambridge, MD, where I was the assistant hatchery manager, working at the hatchery, nursery and farm locations until May of 2020. My life and career, like most people in 2020, took an unexpected shift. Everything that was happening in our country towards racial injustice, and my own personal connection to these issues as a person of colour, forced me to reflect on my life, the people around me and the direction of my career. As I reflected on the industry that I love, I realised that there was indeed a lack of diversity in the various sectors of aquaculture. Since the onset of my career, I have not seen a person of colour in the industry in a management role nor in other positions of leadership.

This was just a grim reality at first, but I could not accept it, I struggled with it, it bothered me and then I started asking myself "why is this so important and what are you going to do about it?"
As a result, I began to research the history of African American watermen and their contribution to the Chesapeake Bay's seafood industry. Soon after, I realised it was important as an African American female in aquaculture to shed light on the lack of diversity in this industry and actively contribute to the solution. In October, I became the founder and president of Minorities in Aquaculture (MIA) which is a non-profit organisation that recognises that marine sciences, including the aquaculture industry, lack two key components: women and diversity. Although MIA is in its growing stage, it has garnered enormous support throughout the country. In addition to developing MIA, I am currently working as a faculty research assistant at the University of Maryland's Center of Environmental Science (UMCES) Horn Point Laboratory. In the Fall of 2021, I will begin graduate school at UMCES in the Marine Estuarine Environmental Science (MEES) programme.
What drew you to pursue a career in aquaculture?
At seven years old, I attended summer camp at Horn Point Environmental Education Center, and I fell in love with environmental science. I knew at seven years old that I wanted to work in marine conservation. At that time, I did not know the exact career path, but I knew it would be involved with conservation efforts of some kind. As a student at ODU, I thought I wanted to be a tropical biologist, I even studied abroad in South Water Caye, Belize, studying sea urchins. I loved the experience; but I wasn't sure if I wanted to pursue tropical biology. Luckily, when I returned to ODU, I started the internship at CBF. I can't express enough how much that internship affirmed my passion and desire to pursue a career in oyster restoration. The hands-on experience really helped to solidify my love in oyster restoration and shellfish. Over my career I've just enjoyed everything about the experience including the physical labour, working on the water, community events, and meeting incredible people that genuinely impact the aquaculture industry.
In this new direction of my career, what's really driven me and the work that I'm doing now, is the connection and relationships with the amazing women within the aquaculture community who strive to support the women that are a part of it as well. I'm honoured to call them my mentors, colleagues, and friends. I love seeing other women find their place and voice in this industry, and their strength and achievements inspire me to help create a larger space for future women in aquaculture. These women's drive and passion involve integrating and impacting the male-dominated aquaculture industry and as an African American woman, I want to continue to do my part.
What does a typical day in your current role consist of?
As mentioned, I've recently started as an FRA at University of Maryland's Center of Environmental Science (UMCES) Horn Point Laboratory. While working and taking graduate courses in the spring semester, I continue to develop Minorities In Aquaculture. Depending on the day, I could have between four to five virtual meetings developing partnerships and collaborations with oyster companies, environmental organisations and other non-profits that want to create opportunities for women of colour in aquaculture. I'm really excited for the projects and programmes that I'm developing and involved with. It's important to me to create the most educational and empowering resource that I possibly can and support as many women as I can in the process.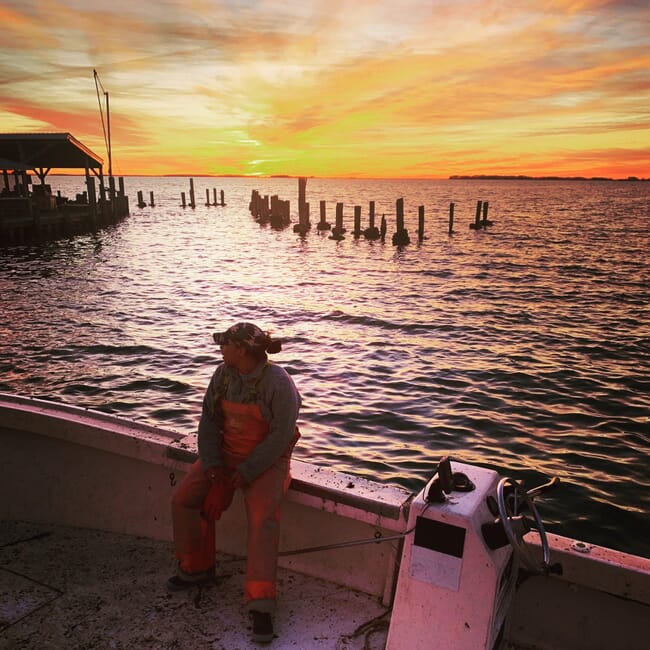 Can you tell us a little more about Minorities in Aquaculture?
It's a non-profit organisation that recognises women – specifically women of colour – are truly absent from various sectors of the aquaculture community.
Most aspects of the industry lack diversity, and I've noticed that people of colour, especially on the Chesapeake Bay, historically have – and still do – enormously contribute to the sustainability aspect of the industry, but lack opportunities and representation in management and leadership positions. From my perspective, this is not only unfortunate, it is also unjust.
There is a global demand for sustainable seafood and aquaculture is a rapidly growing solution for that resource. An industry that is becoming increasingly important in the production of viable sources of food should be a space that encourages people of all genders and races to want to contribute to its future ideas, innovations and policies.
Women are becoming increasingly present in the aquaculture industry but it's still seen as a male-dominated field as a whole. African American women are few and far between in aquaculture in the United States. I wanted to create an empowering environment for women of colour and provide hands-on aquaculture experiences, education programmes, and connections within various departments of the aquaculture industry to support women that want to be in this career field. During my career, I've had amazing people that have supported, empowered and educated me to pursue my passion to the fullest. Most importantly, they showed me examples of paying it forward and reaching back to help uplift others and that's been the foundation for everything within Minorities In Aquaculture.
How has the initiative been received so far?
The industry has responded so positively. I am so thankful and at times overwhelmed by the support. Organisations agree diversity and inclusion are essential. There is a need for more active attention on this issue. MIA has been a platform that has created a space for me to share my experiences from an African American female oyster farmer's perspective. These collaborations and partnerships have provided insightful and powerful conversations about diversity and inclusion in this section of marine science. It has been an honour to work with many organisations, non-profits, and aquaculture companies desiring to create and develop a pipeline of opportunities that will benefit future women of colour.
Additionally, the support from my family and friends has been incredible and their belief in me and all the things I aspire to create only inspires to work harder and be the best person I can in the process.
Have you encountered any race-related challenges in the sector?
Yes, I have encountered my fair share of race-related challenges. Unfortunately, not all of my experiences have been pleasant. First, minorities are discouraged from pursuing careers in the marine science fields in general. Consequently, throughout my educational journey from elementary school to certain parts of my professional career, I've not always been supported in my career goals. Even during those challenges, I've been incredibly fortunate to not only have the passion for what I do but to have a support system that has helped me push through those more difficult times.
However, I recognise that other minorities may lack that supportive network to help them navigate being a minority in a predominately white career field. Diversification of the industry hinges on exposing minorities at an early age to marine-related fields. In a lot of ways I'm grateful for the challenges that I have faced because those experiences have helped me grow, personally and professionally. By being opened and honest with the future women of colour in this field about my experiences, I hope that it can create some understanding and awareness around the challenges that minorities go through in marine sciences.
Have you encountered any gender-related challenges in the sector?
Yes, unfortunately I have. At times, women are "looked out for" and perceived to be the weakest link, when it comes to the strenuous demands of certain marine job responsibilities. This perception is inaccurate and women in the industry have been battling for years to combat such misconceptions. As a former student-athlete, I was used to heavy lifting and intense physical activity. However, some of my male bosses and co-workers would assign me "more manageable tasks" and lighter duties. They deemed the physical aspects of the job as being "too hard" for me.
At times, I became frustrated because I wanted to contribute to the team. Most importantly, I wanted to do my job just like everyone else. In working to overcome the gender stereotypes I started to insert myself into the most demanding activities on the farm, proving to the people around me that I could handle the job's rigorous demands.
Are there any individuals or organisations that you've found particularly inspirational?
The pandemic has caused the seafood industry to reinvent itself. Like most industries, the aquaculture community has had to shift their approach of selling their seafood. The challenge of Covid-19 has proven aquaculture to be an essential industry. Now, customers can receive a first-hand glimpse of where their seafood is coming from. Farmers are selling their products at more local farmers' markets, doing curbside pick-ups, and home deliveries which is giving them the ability to educate customers about aquaculture production. The farm-to-table philosophy provides customers a greater understanding of the production process and in turn helps the community foster a greater appreciation of the environment and the Chesapeake Bay. Farmers are continuing to showcase the quality of their products and gain more opportunities to get local support by actively engaging with their community. The demand for seafood is increasing, and giving local communities of all economic standing more opportunities to access other sources of sustainable proteins will positively contribute to aquaculture's efforts and the longevity of our wild fisheries and coastal communities.
What advice would you give to women who are considering joining the aquaculture sector?
The advice I would give to other women would be to stand your ground, do your job well, and don't be intimidated by the fast-paced and labour-intensive job demands. Exploration is paramount in this industry. There are so many different aspects of aquaculture, which gives you the opportunity to pinpoint your interest and career path. Dive into the field, get all the experience you can, and figure out what you truly want to do. Through that process, reach out to other women doing what you aspire to.
I've had the incredible opportunity to know and meet some amazing female trailblazers in this industry and the relationships that have been supportive and empowering have really helped me through my career journey. When women really rally around each other and cohesively battle against the perception of women in male dominated fields, powerful changes start happening for you and around you.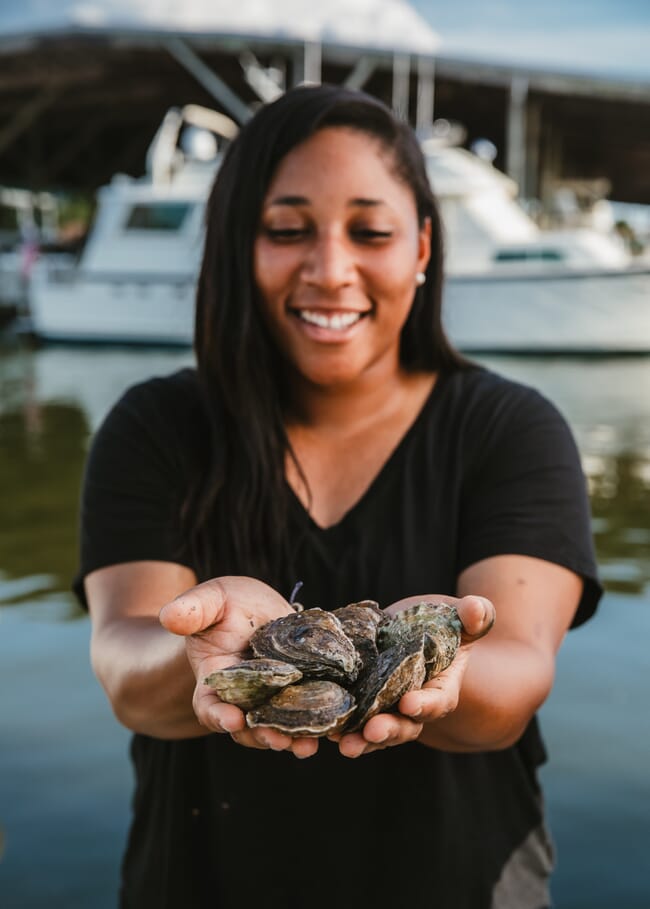 If you could solve one issue in the aquaculture sector, what would it be?
One issue would definitely be making equity and inclusion an active priority within this industry. Over the years, women and people of colour have been overlooked and underrepresented in aquaculture, creating a culture of exclusion. The challenges and evolution of the aquaculture industry and the accessibility of sustainable seafood is an issue that impacts people of all genders and races, locally and globally. If our current environmental situation is that important to preserve, restore and conserve, then it should be just as important to not only gain the perspectives and experiences from different racial communities, but to give everyone the opportunity to become educated about our global need for environmental conservation.
Diversity in marine sciences has been a discussion for many years, yet people of colour are still the minority. African Americans, and other people of colour in the marine science fields, are taking the lead in the efforts and opportunities towards the issues of diversity, minority presence and representation. It's extremely important that diversity and inclusion continues to be an important conversation and an issue that we actively fight for.
Where would you like to be in 10 years' time?
This past year was full of uncertainties. I am not entirely sure where I will be in 10 years. In all the chaos of 2020, one of the best things that happened for me was my redirection. I was really forced to do some self and career reflection and I'm grateful that I had the time to be able to truly think about how my career was impacting my life and what I wanted to do. I envision Minorities In Aquaculture's advocacy efforts resulting in industry awareness, creating gender diversification and cultural sensitivity while creating safe environments for all women, regardless of race working in the field of aquaculture. Even though I can't truly pinpoint where I will be in the future, I am a firm believer that if I continue to genuinely love all that I create, continue to be compassionate and driven in all things that I do, then everything will be exactly how it's supposed to be. I'm really excited for the future and the opportunities that I'll have over the next decade. This is just the beginning and I'm just getting started.