Approximately 70 percent of all aquaculture is reliant on supplementary feeds, which can provide an effective means of nutrient delivery for aquatic organisms. The continued intensification of the aquaculture sector, coupled with an increase in new culture species, provides growing opportunities for aquafeed producers.
Aquaculture feeds represent may only 4 percent of the total livestock feed sector, according to Alltech's 2020 Global Feed Survey. However, although small in comparison to production of broilers or pigs, aquaculture still has the ability to expand into offshore waters, while land availability for terrestrial animals continues to dwindle. The outlook for aquafeeds appears promising.
The albatross for aquaculture has always been the marine ingredients in feed. One of the largest criticisms of the sector is its reliance on wild fish as a source of protein and fat, in the form of fishmeal and fish oil. The aquafeed sector utilises almost 20 percent of all ocean catch and, while the sector has become more efficient in its use of marine ingredients, the fishing industry continues to struggle with accountability and controls. So, when reports surfaced of human and labour rights abuses on fishing vessels in Thailand and these led to lawsuits of major retail chains, a portion of the sector abandoned the multi-species trawl-caught fish for tuna trimmings, thinking the tuna sector was more professional and more refined. However, reports continue to surface – almost weekly – of worker mistreatment or illegality in the tuna sector.
Now, think about the processors of shrimp in Thailand, how do you think they were treated after their retail customers were sued for product they had provided?

The lawlessness of the fishing industry has opened a Pandora's box for the feed sector and there is no way to close it. And, while it is logical to point to deforestation and conversion of diverse ecosystems for the production of soy, palm and corn, the fishing sector's treatment of people has once again taken centre stage. While more restrictive import policies are poised for products that cause deforestation and conversion, the financial and legal ramifications of labour and human rights abuses in supply chains are currently much more severe.
If you are a retailer and worried about the liabilities of your aquaculture products, it is only logical that you squeeze your suppliers to disclose all the information they have about how their product was produced and what safeguards are put in place to prevent inappropriate or illegal activity in the supply chain.
In the case of smallholder farmers, their identities are typically masked by a lack of traceability and they tend not to interact with retail and food service, but if you represent a multi-national tilapia company or multi-national salmon company the stakes are much greater.
While you may have obtained every certification under the sun, what of your knowledge of how ingredients for your feed are produced?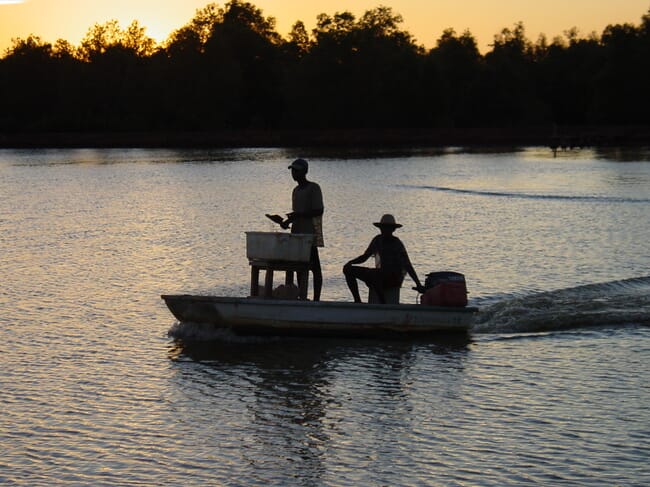 The seafood industry was turned on its head following the situation in Thailand, but that was only based on the provision of one ingredient. Now try 20 ingredients purchased in fluctuating commodity markets from many ingredient suppliers.
If a feed company has packaged all these ingredients from different providers together for your feeds, what information are you entitled to as a grower? What information about feed is a retailer entitled to as the purchaser of your product? Pandora, indeed, makes a mean box.

The aquafeed sector is not an industry in isolation – most companies that sell aquafeeds also sell feeds for other animals. Those other feeds are in for the same supply chain analysis that is in store for aquafeeds – in fact the process has already started. Transparency will no longer be optional, and it is likely that having an increasingly transparent feed supply chain will become a key competitive edge for feed companies.
Feed companies may black-list certain feed ingredient providers and large aquaculture producing companies will want to back this up with due diligence, so they can demonstrate to their customers that they can see this far back in the feed supply chain.
Another example which looms large is the greenhouse gas (GHG) emissions reduction targets for countries in the Paris Agreement. Governments will need the companies in their nations to take the necessary steps to meet national targets. Specifically, the knowledge of Scope 3 emissions, ie the emissions in the supply chain, will require a greater breadth and depth of information that must be passed down the chain by feed companies.
The knowledge now that a single feed ingredient can cause a dramatic cascade of supply chain and legal implications means that feed companies will be required to share more information to ensure market access. The liabilities are too great to ignore.