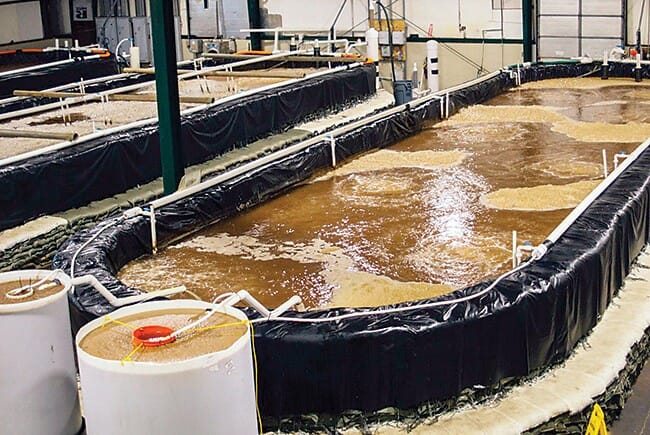 Emerging research from Suez University has concluded that using wheat flour as a carbohydrate in whiteleg shrimp biofloc is associated with improved production parameters like feed utilisation, survival rates, microbial floc composition, body composition and growth performance.
In biofloc systems, carbohydrate supplementation allows heterotrophic bacteria to proliferate and balance nitrogen levels in the water, allowing producers to maintain good water quality parameters without needing to exchange their water. Including carbohydrate or carbon sources can increase shrimp production by balancing bacterial populations in the system. This supplementation can also yield better-quality shrimp at the end of the production cycle.
Different carbon sources have been used to promote microbial development in biofloc, including molasses, glycerol and glucose. However, researchers have noted that using organic sources of carbon promotes the growth of beneficial heterotrophic bacterial communities.
Though the system can yield production and environmental boons, maintaining the bacterial quality in the system is a challenge. Without constant management, the bacterial load can exceed the permissible standard level and harm the shrimp in the system.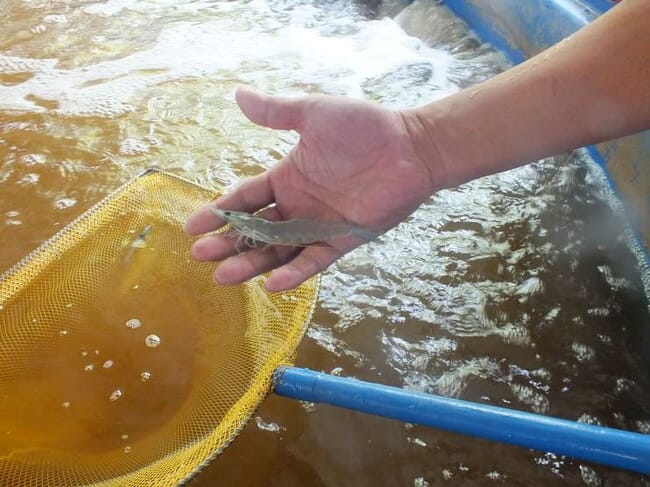 The research trial at Suez University wanted to identify which carbon source would perform better in a shrimp biofloc system – testing sugar can molasses and wheat flour during the production window. Their trial compared the substrates' effects on water quality, yield in growth, feed utilisation, floc composition, shrimp composition and the surrounding microbial community.
Key results
Water quality analysis indicated that using wheat flour was associated with higher concentrations of dissolved oxygen. They noted that no significant differences between the substrates were reported when it came to ammonia, nitrite and pH levels. "An increase in turbidity (64.27 NTU) and the volume of flocs (18.40 mL/L) was recorded with the treatment with molasses," they report.
Growth performance, including final weight, weight gain, average daily gain, weekly weight gain and specific growth rate were reported as 12.37 g, 12.34 g, 0.096 grams per day, 0.68 and 4.70 percent, respectively. They were significantly higher in the molasses treatment. The researchers report that, "the treatment with wheat flour was associated with a higher survival rate (99 percent), higher biomass (71.16 kg) and percentage increase in biomass (395,337) in shrimp."

The researchers also report that the wheat flour treatment improved feed utilisation, leading to a lower feed conversion ratio (1.37) and higher protein efficiency ratio (1.92). Likewise, the chemical composition of the biofloc and the whole body of the shrimp were more nutritious in the treatment with wheat flour. When it came to the bacterial parameters in the culture water, the researchers noted that total heterotrophic bacteria counts were the similar between the wheat flour and molasses treatments – finding that there were no significant differences between the groups.
Based on these results, the researchers concluded that wheat flour was an idea carbohydrate source for shrimp biofloc production.