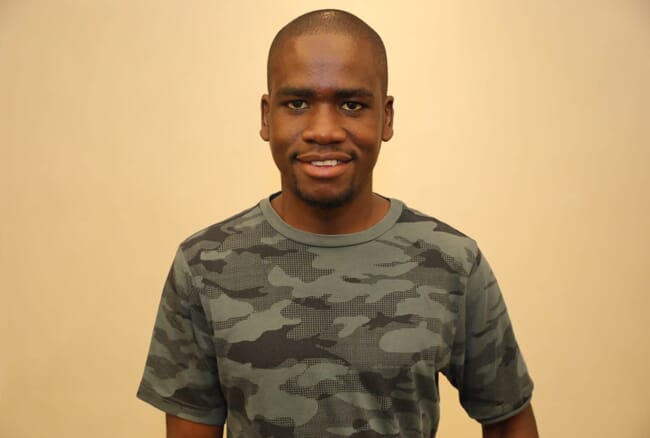 Can you describe the highlights of your aquaculture career to date?
My journey in aquaculture began in 2018, when I offered extension services to fish farmers in Kiambu, Kenya, while at university.
In 2019, I moved to Kisumu to work as a volunteer in the VicInAqua project. During this time, I gained practical skills in operating and maintaining advanced recirculating aquaculture systems (RAS) and water purification using a membrane bioreactor system (MBR). I also acquired advanced water quality monitoring skills through Oxyguard. As a volunteer, I managed the day-to-day activities at the VicInAqua hatchery. One of my key achievements during this time was bringing together unemployed graduates in aquaculture to form and then register the Victoria Aquaculture Youth Group. I was elected the group's chairman, leading the group to secure job opportunities and set up seven new farms across four counties in Kenya.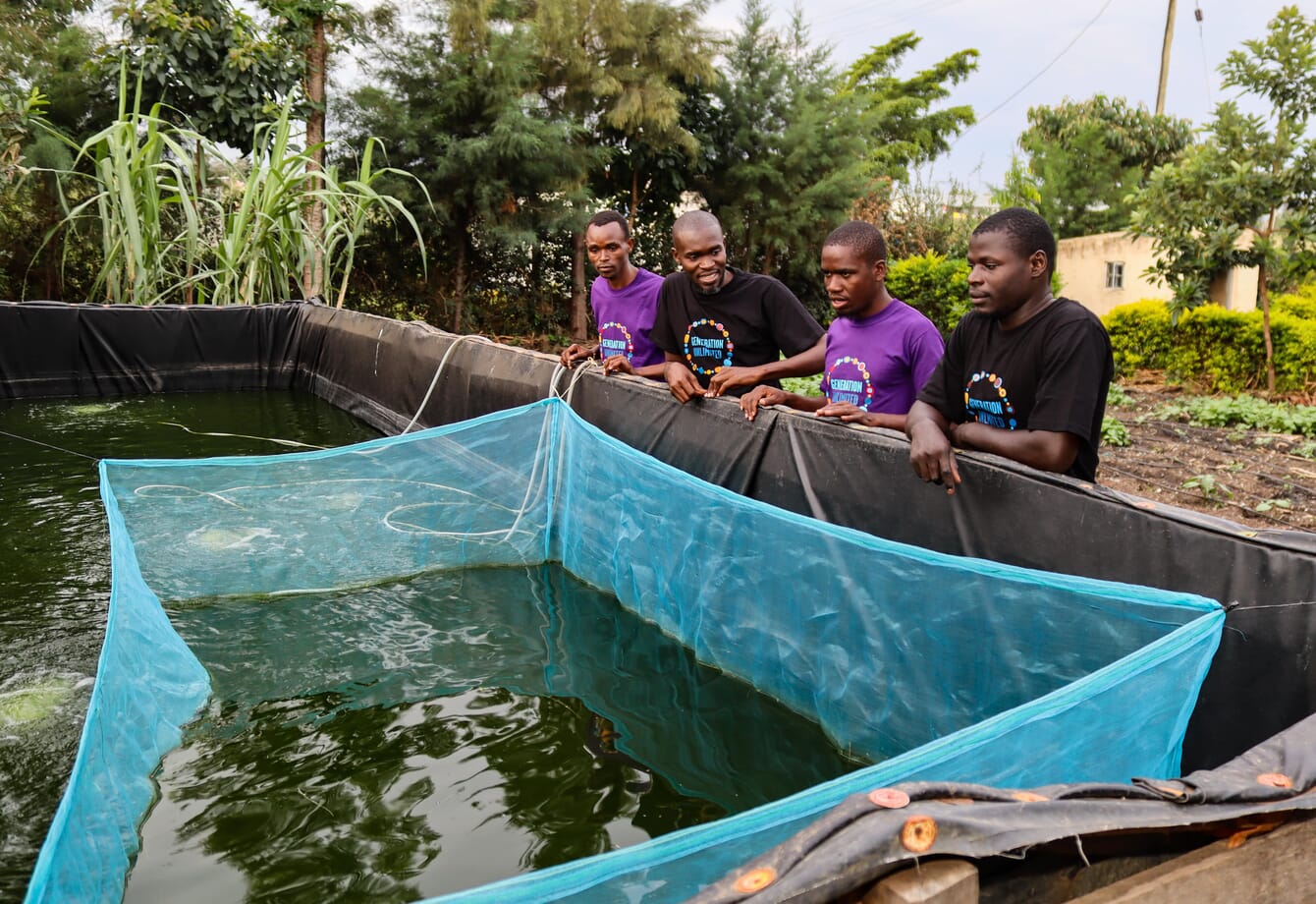 Currently, I serve as the CEO of Aquaculture Barn Limited, and recently received the prestigious "Most Innovative Fish Farmer" award 2023 in Lattice Aquaculture's best fish farmer competition – an event featuring over 600 farmers from across Kenya. The award brings with it a great sense of pride and validation for the hard work and innovative approaches my team and I have taken to develop the local aquaculture industry.
As the winner, I will receive 1,000kg of quality fish feeds and get an opportunity to attend training at the Aquaculture Academy, which is known for its provision of best-in-the-region practical aquaculture training.

I also represented my company in the Vijana Na AgriBiz competition, where we emerged as the 2022 national winners.
In addition to my work, I have attended several workshops and conferences to stay up-to-date with the latest developments in the field. I am a certified trainer and have completed training as a community-based coach for the Farmer Field Schools – groups of 15 to 30 members, who farm in the same region. They meet regularly to share experiences. These meetings are often chaired by their coach, who is usually the most experienced farmer in the group.
Looking ahead, my goal is to continue promoting sustainable aquaculture practices and innovation in the industry while creating job opportunities for unemployed youth in the sector.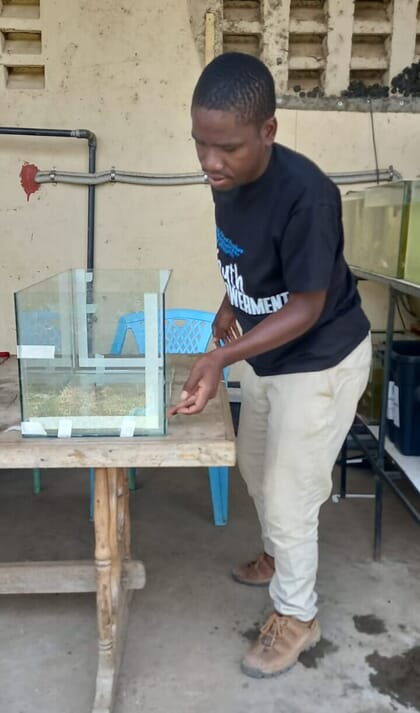 Can you provide some insights into operations at Aquaculture Barn?
Aquaculture Barn focuses on supporting the success and profitability of small- and medium-scale fish farmers in Kenya by providing high-quality fingerlings, innovative fish farming systems, and expert extension services. We specialise in supplying catfish and tilapia fingerlings to the market, with an average monthly supply of 30,000 tilapia and 10,000 catfish.

We use closed recirculating aquaculture systems and raised liner ponds for production to ensure that we maintain high-quality standards. We are proud to support young people in fish production, currently employing five females and four males.
We currently serve 368 customers in Kenya. Our customer base includes Nyanza, Western, Rift Valley, Central, and Coastal region counties. We have achieved this reach through our online presence, and the majority of our customers get to meet us online.

Other than providing juveniles for on-growing, what other services does the company provide?
We design and develop innovative fish farming systems and offer expert extension services to fish farmers on best aquaculture practices.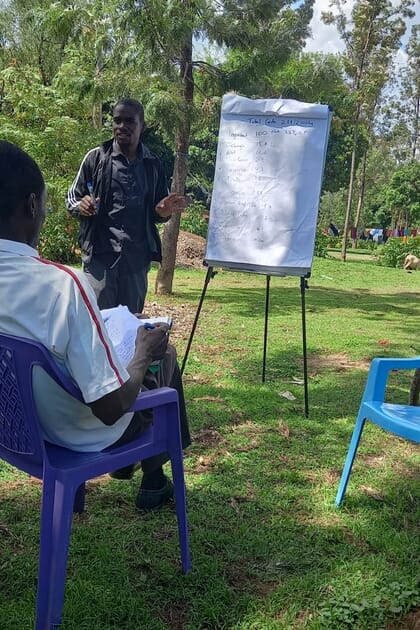 What does your own role for the company involve?

I serve as the CEO and my general role is to oversee the company's day-to-day operations, develop and implement the company's strategic plans, and ensure that the company's overall vision and mission are achieved. Additionally, I am also at the forefront of securing strategic partnerships and creating networks to expand the company's reach.
What are the main challenges facing the company?
Finding suitable land for aquaculture to increase our production capacity.
The high cost of commercial feeds. The feed prices are unstable and often move upwards, increasing production costs.
Unavailability of local expertise to repair RAS equipment.
Power failures sometimes result in huge losses.
Difficulty in acquiring quality broodstock.
What are the wider challenges that the Kenyan aquaculture industry needs to overcome in order to achieve its full potential?
Most challenges in the aquaculture industry in Kenya are faced by small-scale fish farmers. Some of the key challenges they face include:
Lack of supportive policies and regulation, especially in cage fish farming, to guide the sector's development. This has continuously exposed aquaculture investors to losses and creates a cloud of uncertainty, hindering the growth of aquaculture.
Access to finance is a major challenge for many small-scale fish farmers in Kenya, which limits their ability to invest in new aquaculture technologies and infrastructure.
Poor infrastructure, such as roads, electricity, internet connection, and water around fish farming areas, especially in the lake and coastal regions, make it difficult for farmers to access input, transport their products to the market and to connect with their customers and suppliers.
Unregulated prices of fish and fish products have exposed many fish farmers in Kenya to struggle to access local and international markets, limiting their ability to sell their products at profitable prices.
Many small-scale farmers do not have access to the latest technologies and training to improve their productivity and profitability.
What would you like to be doing in 10 years' time?
As the co-founder and CEO of Aquaculture Barn, I hope to expand the company's operations and reach the East African region and beyond, establishing partnerships with other aquaculture companies and organisations.
I also hope to provide mentorship and support to more young people interested in pursuing careers in aquaculture and to have contributed to the development of the industry's next generation of leaders.