The Covid-19 pandemic had a negative impact on Indonesia's aquaculture industry – due to the government's policy of restricting the movement of people and the reduction of people's purchasing power.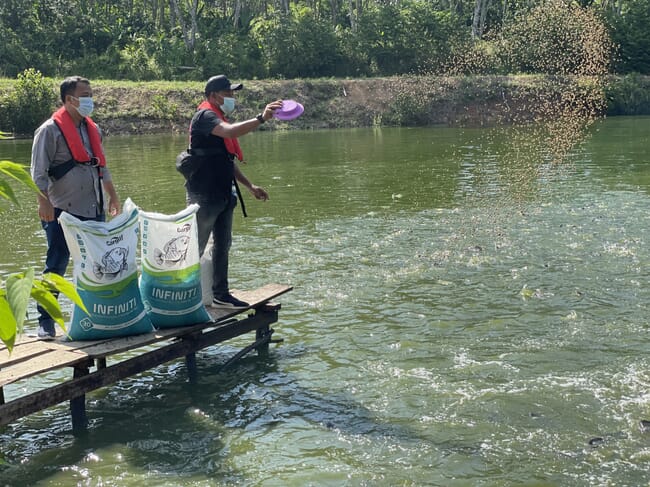 As a result of the declining demand for fish, many farmers reduced or postponed stocking fish and shrimp. This automatically reduced the demand for domestic aquafeeds. Based on data from Indonesian Feedmills Association (Gabungan Perusahaan Makanan Ternak/GPMT), the average growth of domestic aquafeed production in 2017-2019 was 7.4 percent – rising from 1.55 to 1.79 million tonnes. However, it then decreased by 8.2 percent in 2020 to 1.64 million tonnes, and is predicted to decrease a further 1.6 percent this year, to 1.62 million tonnes.
However, given the significant downward trend in Covid-19 cases and the increasing vaccination rate in the community, aquaculture production is predicted to rebound rapidly in the coming months and will hopefully be much better in the next year. Although aquaculture has been affected by the pandemic, the human need for protein means that it has fared better than many sectors.
The chairman of GPMT, Deny Mulyono, confirms that the pandemic has been the main challenge facing the aquafeed industry over the last two years. Other challenges have included the flood that hit the key milkfish farming region on the north coast of Java (Pantura) and Kalimantan early in the year, which also reduced the demand for feed. However, he hopes the industry will begin to recover by the end of this year, so it can refocus on larger and longer-term issues.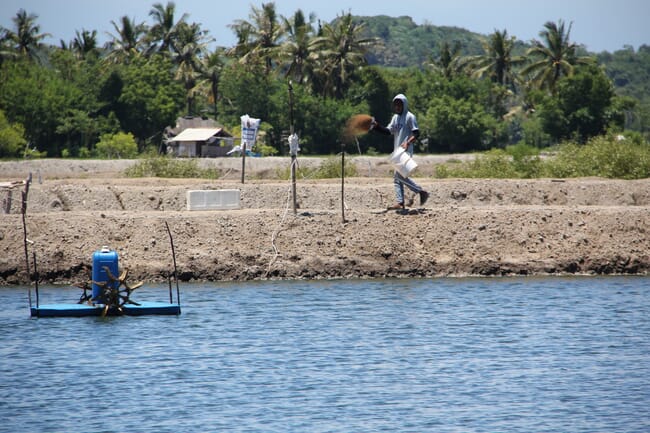 Despite its decline in the last two years, the aquafeed industry in Indonesia is still very attractive for investors and the government has set targets to increase aquaculture production – especially for the shrimp sector, which it aims to increase by 250 percent – in terms of sales volumes – by 2024. Mulyono says that there are already 25 aquafeed companies that are members of the GPMT, and there are two or three new investments expected soon. Several existing companies have also launched new products and opened new plants to increase their production.
A focus on sustainable and traceable alternative feed ingredients
Mulyono emphasises that the biggest challenge faced by the aquafeed industry today is looking for alternative raw materials, specifically to replace fish meal as the main source of protein. This brings up further considerations such as the types of alternatives, traceability, maintaining a competitive price, sustainability and maintaining a continuous supply. The industry must produce a better feed in terms of diet, but still at an affordable price for farmers.
The feed price is a major concern for finfish farmers, in particular those producing freshwater fish. The price of fish such as catfish, tilapia, pangasius and carp tends to be low, unlike shrimp and mariculture commodities, and feed can account for up to 80 percent of production costs.

In an aquafeed seminar Professor Agus Suprayudi, a nutritionist and researcher from IPB University, once said that a good feed shouldn't be measured only in terms of its quality, but must also be good from a business perspective for all stakeholders along the supply chain. Good for feed millers, feed agents and retailers, and also good for farmers in terms of price and its quality.
The traceability and sustainability of raw materials must also be considered, in particular for shrimp feed, as Indonesia's shrimp are mostly exported to the US, Europe, and Japan. These markets require complete traceability – from the farm location, to the raw materials of the feed used.
"Aquafeed producers who make feed for species that will be exported are starting to look at these opportunities and make changes that are deemed necessary," Mulyono confirms.
Another important issue is the origin of alternative feed ingredients. Suprayudi argues that feed stakeholders must use more locally-based raw materials so that they do not depend on imports. Nevertheless, the local raw materials must be scaled up to an industrial scale.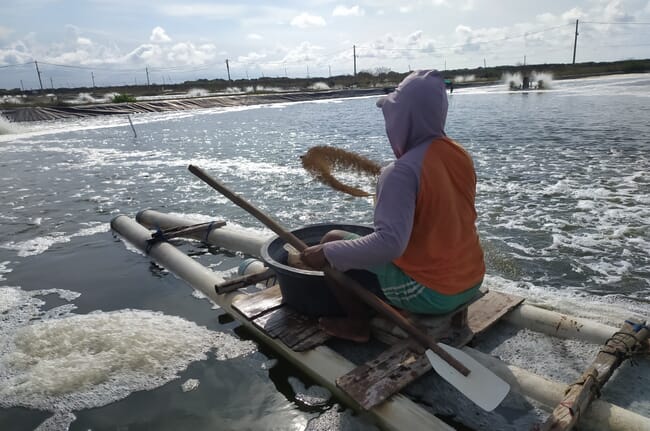 Some of local alternatives that have been tried are black soldier fly larvae meal, rubber seed (Hevea brasiliensis) meal, and winged bean (Psophocarpus tetragonolobus) meal. These have been tested on several freshwater fish, including catfish, tilapia and carp. Suprayudi says the results were promising and that all of these raw materials have protein contents ranging from 41.27 - 45.35 percent and have similar essential amino acid profiles to fish meal.
Collaborations between academia, business and government plays an important role in creating a supportive ecosystem for locally-based raw material innovation. Academics must conduct research in accordance with industry needs.
The Government can help by prioritising which locally-based raw materials should be developed, so research institutions can focus on them. Patents can act as an incentive for institutions who succeed in developing locally-based raw materials that can be industrialised.
Functional feed will be a new trend
If we explore further, the development of alternative ingredients to replace fishmeal can be oriented towards two goals. One is looking for raw materials to complement or replace the protein provided by fish meal, the other is looking for raw materials which contain essential amino acids which are specifically needed by fish and shrimp.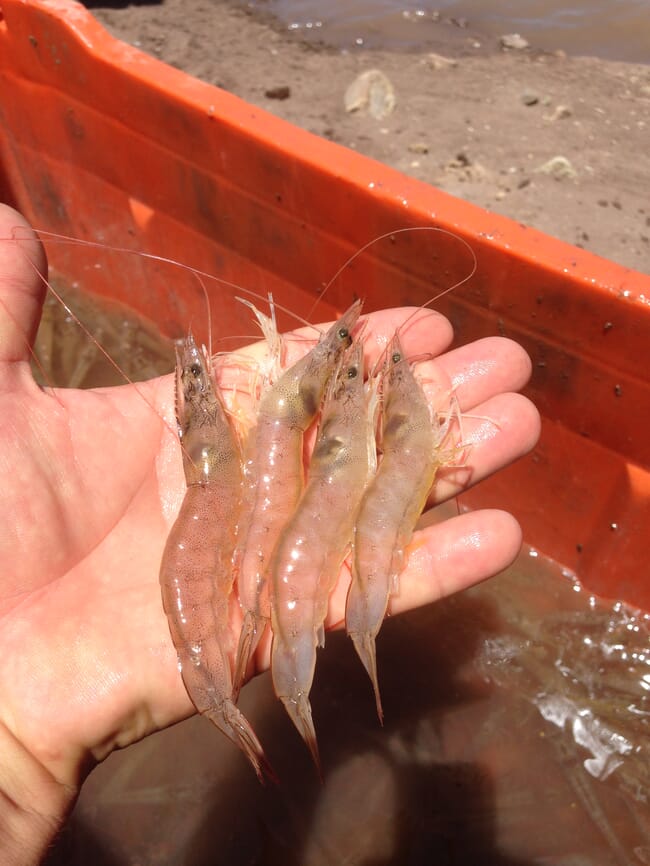 This topic is the speciality of Romi Novriadi, a researcher and lecturer at the Jakarta Technical University of Fisheries (Politeknik AUP). Novriadi argues that the focus for developing fish and shrimp feed in the future could shift from ensuring the correct protein content to optimising the essential amino acid profiles that make up the protein itself – in other words developing functional feed.
"If we can meet the specific essential amino acids, the fish will grow with any protein level," Novriadi told TROBOS Aqua recently.
The main market for functional feed is currently shrimp farmers who have a good knowledge of feed management and are looking for specific nutrition for their specific cultivation programme. Whether the programme pursues growth, health, or both at once, depends on the needs of the shrimp. Functional feed has been designed to meet these specific challenges.
Independent feed producers
As well as the big feed millers, entrepreneurs also have opportunities in the aquafeed industry. A number of creative fish farmers who need cheaper feeds for their fish have taken to making their own feeds, and have formed the Indonesian National Independent Feed Association (Asosisi Pakan Mandiri Nasional/APMN). Most of them initially produce feed for themselves, but if their feed performance is good, they tend to scale up production, catering first for other farmers in their area. There are currently 40 members registered in APMN throughout Indonesia.

The chairman of the APMN, Syafruddin Darmawan, who is also a pangasius farmer, claims that during the first half of this year, APMN's feed production had reached 42,700 tonnes. However, he predicts that output in the second quarter will decline, due to the restriction of movements after the second wave of Covid-19, which began in early June.
One of the main challenges for independent feed players is the availability of alternative raw materials. They also should be looking for local alternative ingredients – both animal-based and plant-based – to fish meal and soybean meal.
"The application of science and technology in aquafeed formulation has not been widely used, even though it is quite simple," Darmawan says.
He has also encouraged the government to build a logistics system in each cultivation area, in order to help ensure the availability and continuity of raw materials with affordable prices for every independent feed producer.