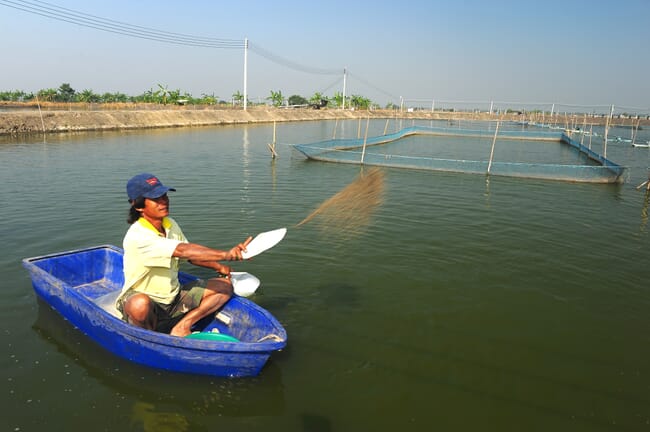 The aquaculture industry is on its mission to figure out the most feasible strategy to find an alternative feed source. Fishmeal (FM) has traditionally been one of the main ingredients of aquafeeds, but the rapid growth of aquaculture has driven its price up significantly – rising from $500 per tonne in the mid-1990s to $1,510 per tonne in May 2018.
The shrimp industry consumes 31 percent of all the fishmeal used in aquaculture and accounts for 16 percent of global aquafeed production. The demand for fishmeal from the shrimp industry is likely to keep rising, since it is projected that shrimp production will double by 2030 and this could lead to a 90 percent price rise in fishmeal and 70 percent increase in fish oil prices.
Feed accounts for more than 50 percent of shrimp production cost and is considered to be one of the most, if not the most, important components in making shrimp production successful and profitable. While FM contains balanced, high-quality essential amino acids, vitamins and minerals necessary for optimal shrimp performance, and has excellent palatability, the steady increase in price and the desire to find more affordable, efficient alternatives have led the industry to look elsewhere for its protein.
In the last two decades a number of studies have been conducted to find the perfect sources and strategies for substituting or replacing FM. Plant-based protein sources, mainly soybeans, have garnered the most interest and application, due to their availability and cost, but other sources including poultry byproducts, single cell proteins and insects. On a side note, some of the ingredients we discuss here are still in their early stage and experimental studies may not always translate well to production and commercial success.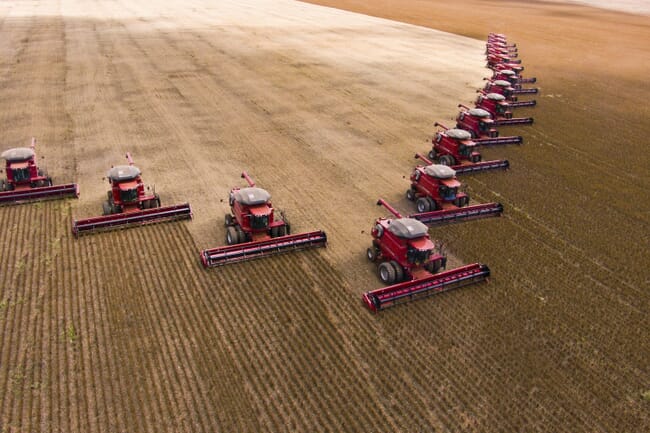 Looking at the alternatives

1. Soybean-based meal
One of the most commonly used alternative protein sources in aquafeed is soybean meal. It is considered as a reliable source, due to its stable supply and affordable price, while offering a lot of benefits, including balanced amino acid profile and good digestibility. This means it provides a reasonably affordable choice of feed, with similar qualities to FM.
Previously, soybean meal was found to be inferior to FM because of the imbalance of essential amino acids and low level of minerals. It also contains antinutritional substances, such as proteinase inhibitors, agglutinating lectins, glycinin, oligosaccharides, lectins and saponins which cause reduced growth performance and poor feed palatability. However, various technological innovations in feed processing have been made to improve soybean meal quality in shrimp diets, including fermentation, extraction and the application of supplemental ingredients.
A study in 2018 showed that fermented soybean meal has better digestibility, reduced antinutritional substances and could be used to replace up to 253.6 g/kg fishmeal in L. vannamei diet without adversely affecting growth and feed utilisation. Another study in 2019 reported no significant difference between fermented soybean meal and FM, while using 20 percent fermented soybean meal in L. vannamei diets resulted in the highest survival rate as well as weight and growth performance. Meanwhile, it is reported that soybean protein concentrate can replace up to 75 percent of FM in L. vannamei diets without significant difference in feed utilisation or survival, and with no adverse impact on growth.
A study also stated that the combination of plant and animal protein sources could be utilised to completely remove FM from L. vannamei diets. In 2020, a study found that partial or complete replacement of marine ingredients with fermented soybean meal, combined with poultry meal resulted in similar rates of survival and growth performance in L. vannamei.
2. Poultry-based meal
Animal protein sources have also been tested as an alternative to FM and have been used as a supplement to soybean meal in efforts to increase the rate of FM replacement. Poultry-based meal is one of the most popular animal sources of protein because it is a more affordable option which is available in large quantities and contains a high crude protein content, a balanced amino acid profile and good palatability.
However, previously, there were concerns of variable quality of poultry-based meals, which resulted in the lack of essential amino acids and variability of digestibility. Improvement in feed processing technologies were made to address the challenges through computerised control of time and temperature in the cooking process.
Among various poultry-based ingredients, poultry byproduct meal (PBM) is one of the most commonly used in feed formulations, consisting of cleaned, rendered parts of poultry, including head, neck, feet and undeveloped eggs. It is stated that PBM contains a similar nutrient profile to FM and is suitable to be utilised as a substitute of FM in shrimp diets. It allows better digestibility, contains higher crude protein content with balanced essential/non-essential amino acids, and has no anti-nutritional factors.
An experiment found no difference in survival and body composition of shrimp fed with PBM and FM and showed that shrimp fed with 30 percent to 50 percent PBM experienced the highest growth. In addition, the study stated that up to 70 percent of FM can be replaced with PBM without adverse impact on key performance indicators, such as growth, survival and FCR. Another study produced similar results, stating that 66.7 percent of PBM could be used as replacement without affecting shrimp growth. A further study found that pet food grade poultry by-product meal can replace up to 80 percent of FM in L. vannamei diets.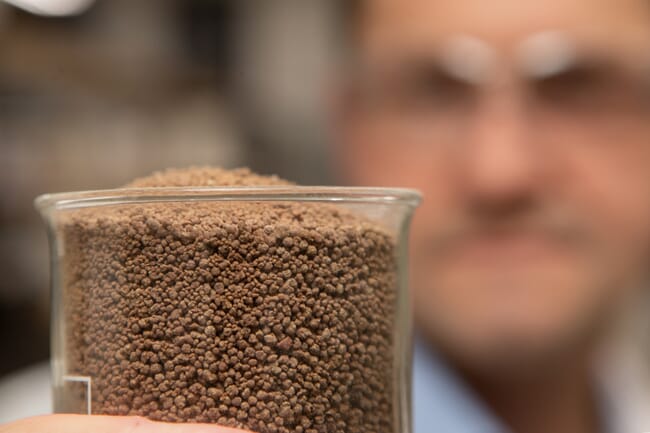 3. Single-cell proteins
Single-cell protein (SCP) meal is produced from single-cell microorganisms, such as yeast, bacteria and algae. Numerous studies have indicated that SCP is a promising alternative to FM and FO due to its high level of protein with excellent amino acid profile, lipid, vitamins, minerals and nucleic acids. Crude protein content in each SCP ranges from 50 percent to 83 percent for bacteria, 30 percent to 70 percent for yeast, and 45 percent to 73 percent for algae.
Both bacterial and yeast proteins have the ability to grow rapidly in varying substrates, contain high crude protein content, and are rich in nutrients, such as cellular vitamins and photopigments. Over the years, a number of studies have shown reassuring results that yeast and bacteria can be used as additives to or replacements for FM in shrimp diets.
A study in 2015 found that up to 45 percent of FM in L. vannamei diets can be replaced with yeast extract, without any negative effects on growth and digestibility. An experiment in 2017 indicated that the bacterium Methylobacterium extorquens can be used as a substitute of FM in L. vannamei diets at 50 percent and 100 percent level, resulting in similar growth and FCR. A study in 2019 stated that 4 percent of SCP from bacteria Corynebacterium ammoniagenes can replace up to 20 percent of FM in shrimp diets, with similar performance in weight gain.
4. Insect meal
In recent years, insect meal has been gaining popularity as a FM substitute or replacement for its nutritional content and quality, excellent feed efficiency, and the health benefits it can confer on cultured species. It is rich in amino acids, lipids, vitamins and minerals and has shown immunostimulatory effects in various aquatic animals. Most insect meals contain high crude protein levels, ranging from 40 percent to 63 percent, and these numbers go higher for defatted insect meals, which have up to 83 percent crude protein.
In terms of shrimp, multiple experiments have been done on L. vannamei diets using mealworm, silkworm, fly maggots, and black soldier fly with considerable success. It is important to note, however, that insect meal is still in its very early developmental stage and most studies suggested, as we have seen with other protein sources, insect meal to be used as a partial replacement of FM.
A recent study found that mealworm can be used to replace as much as 50 percent of FM in shrimp diets with optimal growth performance and without any detrimental effects. In the case of silkworm, an experiment on defatted silkworm meal indicated that it has the potential to replace 75 percent of FM in shrimp diets without negatively affecting growth. As for maggot meal, a study concluded that housefly maggot meal can be used as FM replacement of up to 60 percent with similar weight gain, survival rate, and FCR. A multitude of studies on black soldier fly (BSF) meal suggest that it can successfully replace FM for up to 25 percent for optimal performance without adverse impact on shrimp growth. Defatted BSF meal, however, showed more promising results, with a study in 2021 reporting quality growth performance and enhanced immune capacity of shrimp fed with 60 percent of defatted BSF meal.
Looking to the future
It is best to understand that despite the promising results of various studies, these alternatives are not without their own challenges. Most notably, scientists are still figuring out the long-term health impacts of FM replacement in shrimp diets. There is a concern that replacing FM and FO completely from shrimp diets may lead to impaired digestive functions and weaker immune responses.
The best scenario for the foreseeable future is to combine FM with suitable alternatives, to minimise its inclusion. The most important thing to note for now is that the numerous examples of alternative protein sources suggest a promising path to a future where quality shrimp feed can be affordable, readily available and more sustainable.
*Alune is part of Hatch's investment portfolio, but The Fish Site retains editorial independence.