This was the central theme of a presentation recently delivered by Gorjan Nikolik, senior seafood analyst at Rabobank.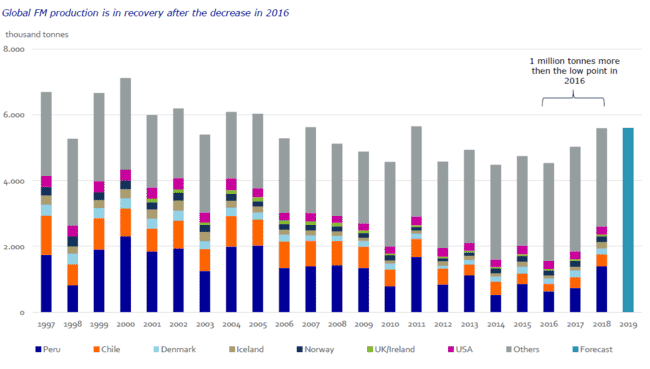 "While fishmeal prices may be $300 per tonne lower than they have been and soy prices are being depressed by China's decision to impose a 25 percent import tariff on US soy, prices for key proteins are only going to go up," he reflects.
And, as a result, he believes there is scope for the growth of alternative protein production sectors such as those made from insects bacteria. Nikolik backs up his assertions with plenty of statistics, not least the fact that Peru's anchoveta harvest last year reached almost a million tonnes more than in 2016 – and landings are highly unlikely to increase.
"80 percent of last year's fishmeal growth was from Peru, where 5.5 million tonnes of anchoveta were landed during the two seasons combined. This was the highest landings since 2011 and won't be surpassed, due to the government policy to limit the TACs [total allowable catches]," he explains.
Equally, he argues, soybean meal is at a price trough, barely broaching $300 per tonne over the last six months, but this is not likely to last.
"Alternative protein producers are not just competing with fishmeal, they are also competing with soy," he points out, "which has experienced depressed prices due to the strong supply and because the biggest buyer of soy (China) has put a 25 percent tariff on imports from the biggest seller (the US)."
"This tariff aimed to depress global soy prices and China has been quite successful in cooling down the soy market. But if Trump and Xi agree a new deal, which we will find out more about shortly, soybean prices will increase again," he notes.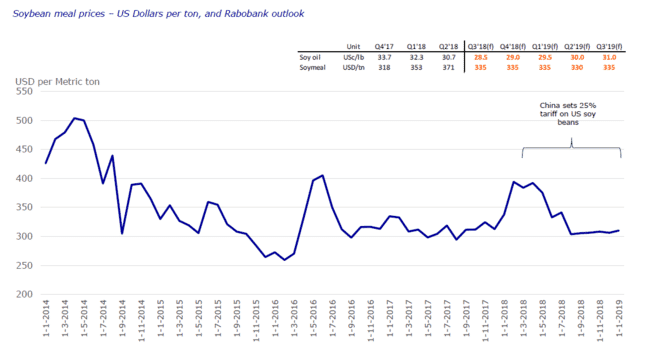 Rising demand
Nikolik also reflects that there are at least two reasons why demand for proteins from the aquaculture sector is likely to keep rising.
The first is the growing demand from the shrimp sector – caused by both the overall growth of the sector in terms of volume, and the possible trend towards growing larger shrimp.
"Robbins McIntosh [senior vice-president of Charoen Pokphand Foods] noted that producing larger shrimp has become more profitable (due to better genetics, lower mortality and higher market prices). Larger shrimp have a higher FCR and require proportionally more feed to reach market size. If this trend continues, the sector would require over 200,000 extra tonnes of fishmeal," says Nikolik.
The other factor to take into account, according to Nikolik, is the growth of the marine finfish sector, in particular in China.
"There are currently about 1.5 million tonnes of these species – about half the global production – farmed in China, and it's likely that China's marine finfish sector will grow by about 500,000 tonnes in the next five years," Nikolik reflects.
"These fish require high levels of fishmeal in their feed and this growth in production would increase fishmeal demand by at least another 300,000 tonnes a year," he adds.
The combined added demand of these sectors would, therefore, require around 500,000 extra tonnes of fishmeal, or fishmeal substitutes, a year.
"Combined with a likely decrease in anchoveta landings – which are unlikely to match 2018's levels – this opens up opportunities for alternative protein producers," Nikolik argues.
Focusing on microbial- and insect-derived proteins, he notes that, while these sectors are lagging behind previous production forecasts, they should be capable of meeting this additional protein demand in the near future.
"It's hard to make an accurate forecast. If we were to add up the totals predicted by the companies these sectors would already be producing huge quantities. However, given that only about 20,000 tonnes of each are likely to be produced this year, our guesstimate would be for each sector to be producing around 200,000 tonnes a year by 2025, which would help meet the rising demands of the shrimp and marine finfish sectors," Nikolik notes.
As a result, he argues, these sectors may find that it's a good time to start up-scaling in earnest.

"Even if African swine fever has an impact in the short term, in the long-term demand will continue to grow. And if another El Niño comes – as is likely – there's reason to be optimistic about the future of fishmeal alternatives," he concludes.