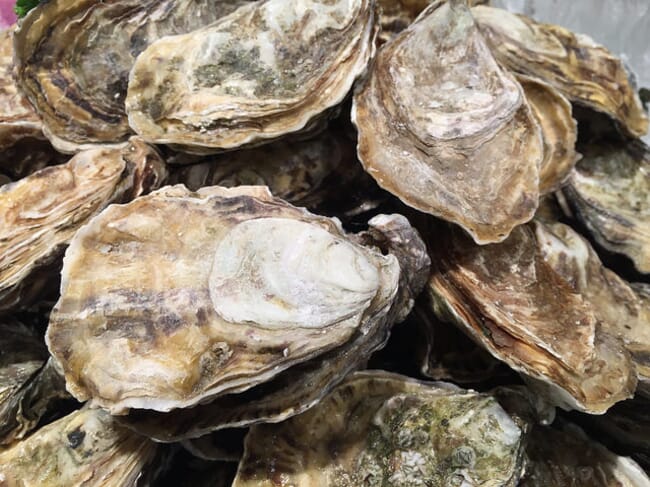 During the 1970s, native oyster reefs covered over 400 hectares of New Hampshire's Great Bay area. Currently, however, natural oyster reefs in the area have dwindled to cover just 30 hectares.
In order to reverse these trends of declining oyster populations within the Great Bay of New Hampshire, University of New Hampshire researchers Krystin Ward and Professor Ray Grizzle have been working for over two decades to support the existing oyster populations, and promote their recovery and growth within the bay.
"When I began at UNH in 2005, Ray had already been doing oyster reef restoration in the bay for five years," Ward says. "In 2009, we partnered with some major organisations, including the USDA's Natural Resources Conservation Service and The Nature Conservancy, to really grow these efforts and to use a barge every summer to deposit several tons of oyster and clam shells on or near depleted beds, building them up so that oyster larvae will set and grow upon them."
"We deposit the shell in early summer so that when the oysters begin breeding as the water warms - usually about July-August - the larvae they produce will have new area to set upon," she explains.
Using underwater cameras, Ward and Grizzle monitor both the reef growth and the addition of new spat and juvenile oysters. The cameras allow them to know when an area has a good, solid substrate in place, and when the oysters in the area begin reproducing and growing the reef naturally by attaching and settling upon one another.
"For the Nannie Island reef, we're beginning to see more spat settling on the living oysters, indicating that they're growing the reef naturally. If this trend continues, we're hopeful that the oyster population may rebound and some of this area will be open to recreational harvest again," said Ward.
Grizzle emphasised the positive impacts of the COVID-19 pandemic, which affected the oyster farming industry due to restaurant closures.
"A major step forward came as a result of COVID when we were able to secure funding to purchase live oysters that couldn't be sold by the local farmers because restaurants were largely closed. We have added those live oysters to reef sites and the results so far have been encouraging, mainly because the farmed oysters have higher survival rates and we've found greater concentration of spat in the areas where they've been deployed," explained Grizzle.
Laura Brown, an oyster producer in the Great Bay area commented on the restoration project, and the benefits of oyster farming for the wider ecosystem.
"Through research, we've found that even the oyster farms in Little Bay are acting like reefs and supporting greater diversity. It's really neat to think about the impacts of local oyster farms toward supporting the overall health of Great Bay and its many tributaries," she explained.
"I don't think you can be an oyster farmer in this area without being an environmentalist to some degree too. Being involved in the restoration effort has been a goal of mine over the years and one that I'm excited to pursue more now," she added