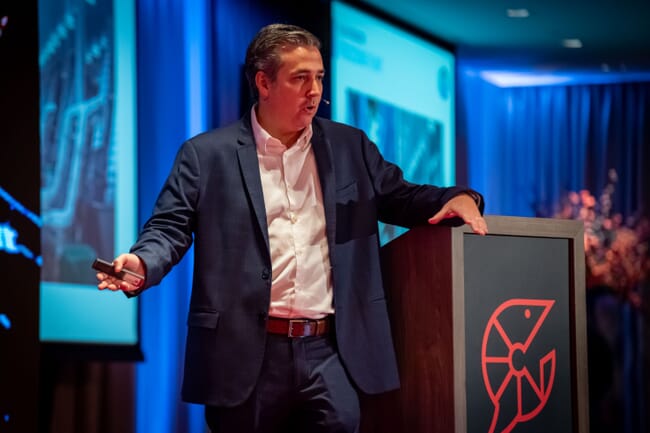 So explained Diego Illingworth, CEO of Naqua, in a presentation at the recent Global Shrimp Forum in Utrecht.
Illingworth explained that the research phase of Naqua's operations, which are based at a site on the Red Sea Coast, 180 km south of Jeddah, started in the 1980s. Since then Naqua has grown to have 4,000 employees from 32 countries and is currently producing around 50,000 tonnes of fish and 60,000 tonnes shrimp.

Despite being on the edge of the desert the location has a number of advantages, according to Illingworth, including the meagre nature of the local population, which reduces the risk of any water quality issues, and the lack of other local aquaculture operations from which disease can spread.
Because of its isolation, vertical integration is essential and the site includes 17 different shrimp production farms, a feed mill, hatcheries, broodstock units, sea cages for fish, processing plants and laboratories. The site also includes resources such as desalinisation plants for producing drinking water for its employees and generates enough electricity – 50 megawatts – "for a small city", according to Illingworth. This integration both helps to keep the cost of production in check, while also allowing the company to maintain product quality, he explained.
Farming strategy
As far as shrimp production is concerned, Illingworth detailed how the company has 500 10-hectare ponds which are capable of producing 60,000 tonnes a year and he characterises the operation as an example of "high tech extensive farming".
Key tenets of this model include the use of specific pathogen-free (SPF) shrimp in order to reduce the risk of disease outbreaks.
"I was operating in Ecuador before and if I had a pond with whitespot it was no problem – I'd harvest, I'd have many ways to go. But in Saudi I don't have many ways to go, so I need to keep the operations stable," Illingworth reflects.
Another area of focus is on genetic improvements "to keep competitive and adapt to the environment" – one that varies in temperature both on a seasonal and daily basis, he explained.
A multi-phase production process is also important, as it enables the company to produce more cycles each year and all ponds are equipped with automatic feeders that use acoustics to monitor the appetite of the shrimp. The use of automatic oxygen management is also standard on the farm.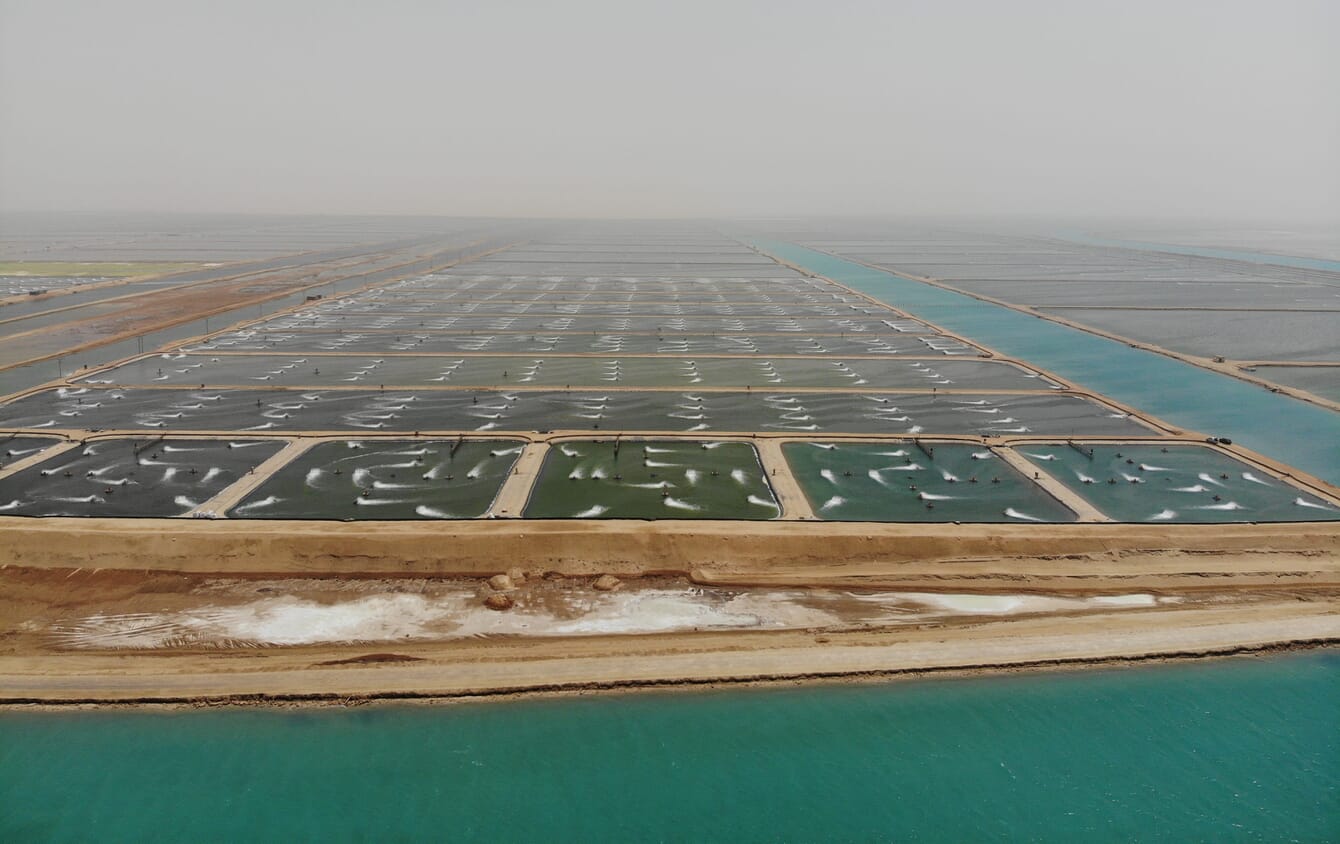 Due to the high salinity levels of the Red Sea – which averages 42 parts per thousand (ppt), compared to an average of 30-35 ppt.
"That works fine for us – the shrimp has a very good flavour and texture and there's a low risk of algaes growing that can give off-flavours to the shrimp. It's not the best in terms of the growth of the shrimp but it balances out in a good way for us," Illingworth explained.
Meanwhile the company's fish production occurs at three sites, with a capacity of 50,000 tonnes and a focus on barramundi, with marine tilapia also in the mix.
All fish and shrimp are processed on site at a plant that's within no more than 30 minutes from the furthest of the company's ponds and five minutes from the closest, ensuring fresh product at all times, Illingworth explained. Unlike in Ecuador, when the harvests are conducted at low tides, the minimal tidal range of the Red Sea means that harvesting can take place at any time of day, he added.
While the company exports to 30 countries, 90 percent of their fish and 40 percent of their shrimp are consumed domestically.
Next steps
Looking ahead, Illingworth went on to outline the company's vision for the rest of the decade – one that's likely to be bankrolled by SALIC, the food security subsidiary of the Saudi Investment Fund (PIF).
"We're finalising the transaction at the moment, right now we're going through the regulatory steps, but they will own 42 percent of Naqua. This is a very important investment for us and for the government, which is made to allow us to achieve the target of [producing] 250,000 tonnes [of seafood] by 2030. So we have to grow," he concluded.
It's an eye-watering target, as session chair Gorjan Nikolik observed – there's currently only one aquaculture company, Mowi, that's producing greater volumes. And if Naqua hit their 2030 target it's likely to put them right up there with the top two or three producers in the world.