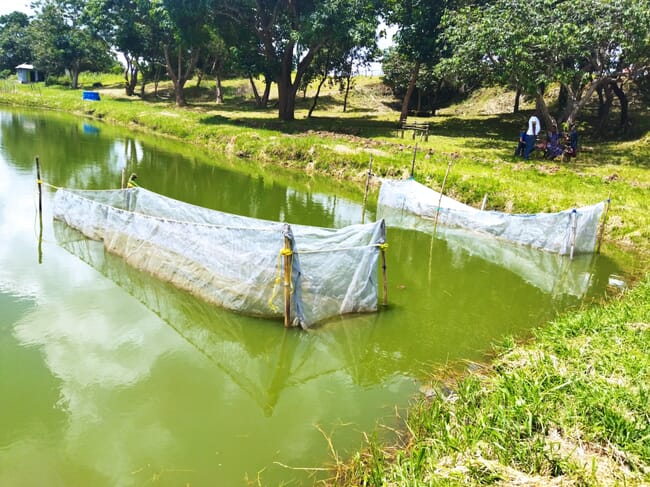 In 2019 the Kenyan aquaculture sector produced 12.8 percent of the total fish production in the country, totalling approximately 18,000 tonnes, while fisheries production was 129,000 tonnes, which clearly shows the dominance of the capture fisheries sector. However, over the past decade, production from capture fisheries has stagnated and declined.
In aquaculture, earthen pond-based semi-intensive culture systems – largely located in the western part of Kenya – are the most popular systems, with Nile tilapia and African catfish being the main freshwater cultured species, accounting for 93 percent of the total production between them.
Pond aquaculture gained popularity in the 1960s, after the government's "Eat more Fish" campaign. By 1970, over 30,000 ponds were dug in the Western and Nyanza regions of Kenya, but production later declined due to most farmers abandoning the ponds. Between 1970 and 2006, aquaculture production ranged between 1,000 and 4,000 tonnes a year.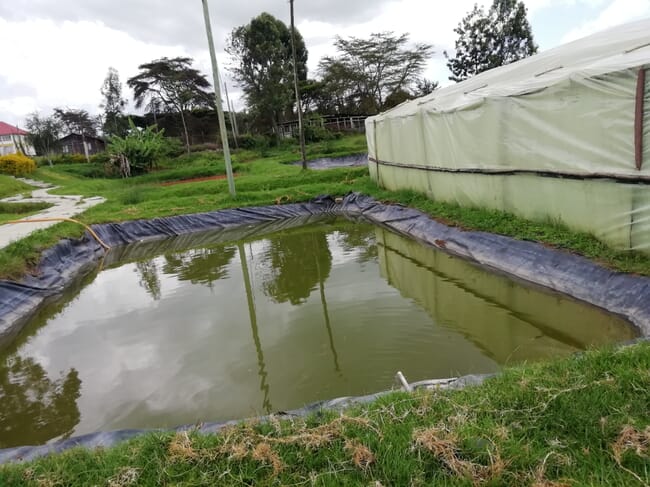 In a commitment to revitalise the economy, the Kenyan government introduced the Economic Stimulus Programme (ESP) between 2009 and 2013, in which suitable areas for pond construction were identified and mapped out. This included 9.5 million hectares, 40 million hectares, and 3.2 million hectares identified as having high, medium and low suitability respectively. The initiative caused the number of fish farmers to increase to 49,050, with an estimated 69,000 fish ponds. However, by 2015 the number of operational ponds had reduced to approximately 60,000, due to poor water retention capacity by the ponds in some regions, among other factors.
Cage fish farming, on the other hand, was introduced to Kenya in 1988 by the Lake Basin Development Authority (LBDA), which was established by the Kenyan Government to promote meaningful development of the Lake Victoria region. Trials were undertaken at Dunga beach, in Kisumu County, and the first commercial farm established by Dominion Farm Limited in Siaya County in 2005. Initially triangular BOMOSA cages were used by farmers. However, following high escape levels and interference by fishermen, most farmers transitioned to bigger cylindrical or rectangular cages that could hold a lot more fish and provided room for better oxygen circulation.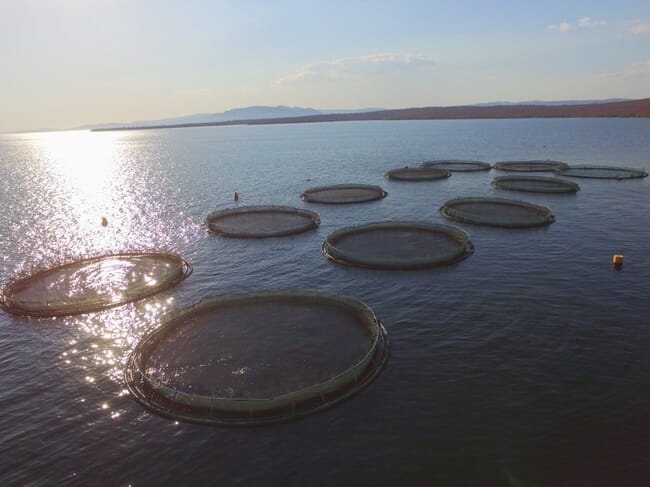 A closer look at pond culture
Over the years, pond-based fish farming has dominated the aquaculture sector, while cage and pen culture systems have been relatively scarce. This is because most pond-based aquaculture initiatives require relatively low levels of capital to establish and farmers can opt to fertilise their ponds to supplement the feeding, unlike in cages where farmers have to buy expensive formulated feeds. Pond operation levels are rated as small-, medium- or large-scale, depending on the number of ponds they operate.
Large-scale and medium-scale producers utilise a surface area of 4,000–80,000 m² (more than 13 ponds) and, between 601–3,999 m² (5 to 12 ponds) respectively. Meanwhile those who operate fewer than five ponds are classified as small-scale farmers, and operate mainly for household consumption purposes. In 2016, there were more than 60,000 ponds in Kenya, covering an approximate area of 1,800 ha. Most pond farmers stock three fish per m² of pond, which typically 1kg of fish per m² (Orina et al, 2018).
Margaret Mwema, founder of Laguna Aqua Farms, practices pond culture on half an acre and produces approximately 1.2 tonnes of fish annually.

"The advantage of pond farming is the durability of the ponds; the ponds also require small water administration and fish grow faster," she says.
Site and location are also a major factor to consider for fish farmers to decide which method to engage in. James Mugo, owner of Ornamental Fish Aquafarm, practices pond culture on a 1-acre piece of land in Kirinyaga county. The major determinant for him to venture into pond culture over cage and RAS was the site. His farm holds 33 small units, focusing on production of fingerlings. He says the main advantage has been the good growth performance of the fingerlings. Compared to cages, ponds are also suitable for fingerling production, as cages would require very fine meshed nets, leading to a danger of low oxygen flows, which would be exacerbated by any biofouling. Equally, harsh conditions in exposed cage sites can lead to high mortality rates.
Despite the low initial capital required to start, pond farmers face a number of challenges – including environmental factors, fish diseases and lower production rates compared to cage farming. If not well managed, ponds undergo faster water quality deterioration, mainly due to excess fertiliser application or poor feeding practices. The ponds are also in danger of flooding, which destroys ponds and may wash away all the fish.

Mugo attests to this, saying: "One of the most memorable moments was when I experienced fish mortality due to poor water quality".
Soil type and topography are other important considerations, as the wrong type of soil will lead to the ponds losing water, as experienced in the past where many pond farmers abandoned their ponds due to this challenge. It is essential to have a percentage of clay in the soil to prevent water from seeping through the pond. In areas where the soil is not suitable for earthen pond construction, pond farmers can use liners in order to retain the water. However, good quality pond liners are expensive, thus farmers who cannot afford it often use poor quality non-durable liners.
Additionally, poor pond construction leads to high maintenance costs and low durability, which not only affects production levels but also the overall cost of production. Some pond farmers have had to spend more money than initially planned to reconstruct their ponds, due to building them with the wrong slope and depth dimensions, for example.
According to Mwema, one of the major challenges is that: "it's difficult to monitor fish and conduct other operations like sampling compared to using other culture systems".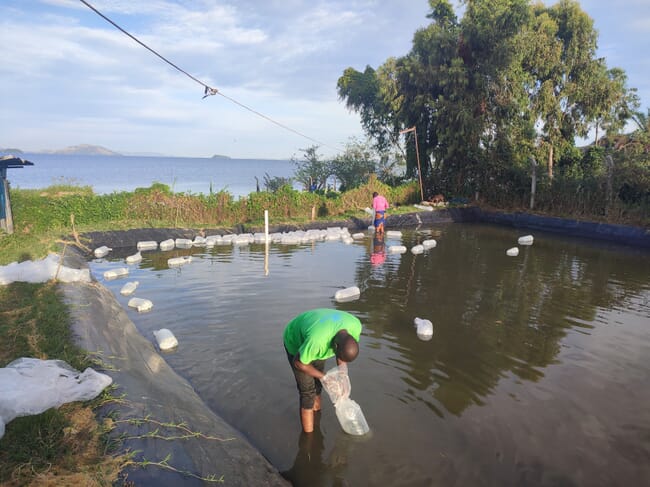 Looking into cage culture
Since its introduction, cage fish farming has gained momentum in the Lake Victoria region and attracted both local investors and foreign ones, such as Victory Farms and Global Tilapia, a European-American Farm and a Chinese farm respectively, which are among the few cage fish farming enterprises that provide significant amounts of fish for the Kenyan population.
In 2017, there were approximately 3,000, but this has since doubled and there are now approximately 6,000 cages on the Kenyan side of Lake Victoria, with the highest number located in Siaya County. The production capacity of these is projected to be over 10,000 tonnes – largely of Nile tilapia.
Cage fish farming has become attractive because it reduces pressure on land use and the fish are in their natural habitat, where there is natural exchange of water, high productivity, ease of harvesting and monitoring (Orina et al, 2018).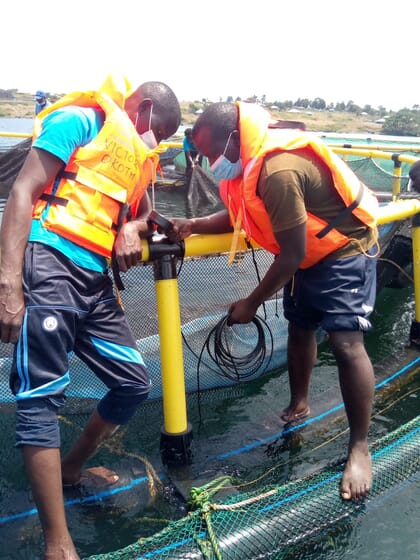 The initial cost of setting up cages is usually high, but the returns are rewarding because one can keep a large number of fish in a small area on the lake, with the carrying capacity ranging from between 60 to 250 fish/m³ and cage sizes ranging from 8 to 125 m³. Kenya's total cage production was approximately 12 million kg of Nile tilapia per 8-month cycle. Cages hold multiple times the number of fish compared to ponds, where the stocking density is usually three fish per m² and in rare cases, six juveniles per m².
The high returns are a major attraction for farmers like Fredrick Juma – founder and managing director of Hydro Victoria Fish Hatchery Farm Ltd.
"I have 65 cages, with a stocking density of 40 fish per m³. I currently produce 18 tonnes of fish annually from the 38 cages that are currently operational," he explains.
Juma mentions that some of the advantages of cage culture include "the high stocking density, access to clean water hence less management required, predictable harvests and planned marketing of fish on order."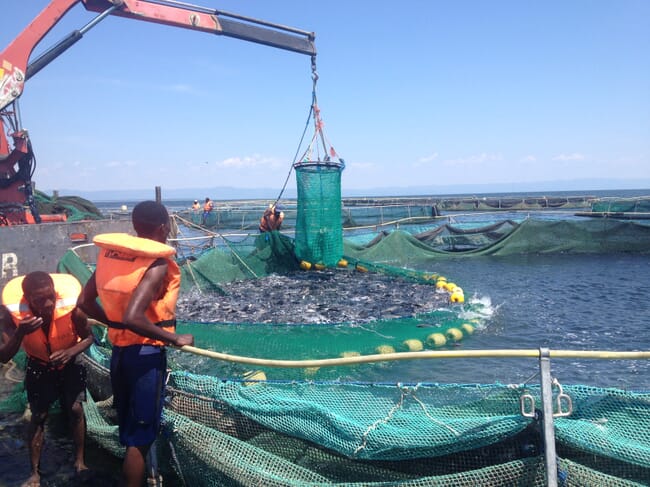 However, he warns against stocking small fish in cages.
"Stocking post-fingerlings (of not less than 15 g) is paramount in cage culture, as they can be exposed and harsh environments."
This indicates the need for land-based hatcheries and nurseries to keep the fingerlings until they reach a suitable size to be transferred to cages.
"The lessons learnt have been bitter, but worth all investments done in aquaculture, including setting up a hatchery due to sector gaps, inefficiency, conmanship, knowledge gaps and brokerage involved, so I positioned myself to the sector to transform challenges to opportunities," he adds.

Roselinda Onditi, founder of Roevense Company Limited, says: "I prefer cages because they function like a community farming system, where cage farmers look out for each other in terms of security. There is always a guard to watch over the cages, unlike in pond farming where there are many instances of theft, when one is not around."
Onditi has eight cages. Between them they currently produce 800 kg of fish annually, but she aims to increase this over time .
The major barriers to sustainable cage farming are the high initial investment costs, disease, resource use conflicts, and high cost of feeds – as most cage farmers import expensive high-quality feeds from other regions, since most locally produced feeds lack essential nutrients, minerals and additives.
Another major challenge is security, as most cage farmers have suffered from incursion by poachers who steal their fish or – in extreme cases – even steal the cages themselves. Environmental challenges include anoxia, where the fish lack oxygen due to thermal stratification of Lake Victoria, and storms can also cause massive fish kills.

"Farmers can lose over 40 percent of their juvenile fish due to storms, mortality and escapes," notes Juma. "Other disadvantages include theft of fish from cages, poor access to quality feeds, inadequate access to fingerlings of the right size (eg 20 g tilapia) and threats from climate change effects, such as cyclic lake turnover events."
Out of the 65 cages that he owns, 28 have not been stocked since 2020, he explains, due to the the poor security situation in Anyangi beach.
He has now resolved to sell the small cages to help mobilise resources for large circular cages, which are more secure and can support high stocking densities.
For Onditi, theft and predators – including birds – are the major challenges, therefore she uses cover nets to protect cages.
Water hyacinth also poses a danger for farmers' boats when travelling to and from the cages. It also lowers the oxygen levels of the water and may carry predators.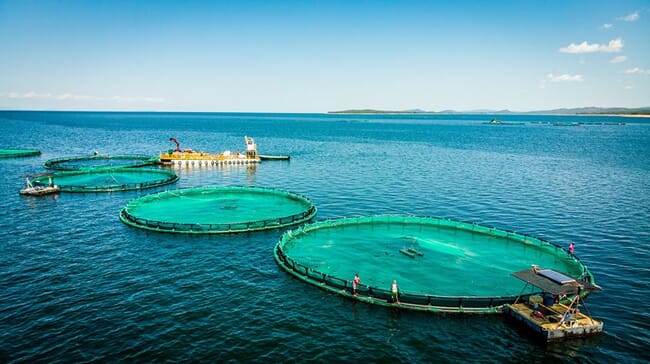 Conclusions
The fisheries and aquaculture industries play a critical role in human livelihoods through food supply, employment creation and income generation. Although capture fisheries remain the dominant source of seafood in the Kenyan market, the maximum sustainable yields (MSY) for most rivers and lakes have been exceeded, leading to a declining output from these sources over the past five years. This has created an opportunity for sustainable aquaculture to bridge the widening gap between the limited supply and growing demand for fish in the market.
Pond and cage culture production capacities are yet to be fully exploited, hence the need for innovative and sustainable solutions, including climate-smart aquaculture practices to increase the production capacity. Sustainable and profitable pond-based aquaculture is ideal for farmers with sufficient access to land and water, but the system has several technical and functional challenges which in some cases has led to abandoning ponds that could otherwise be useful in creating employment and boosting fish production.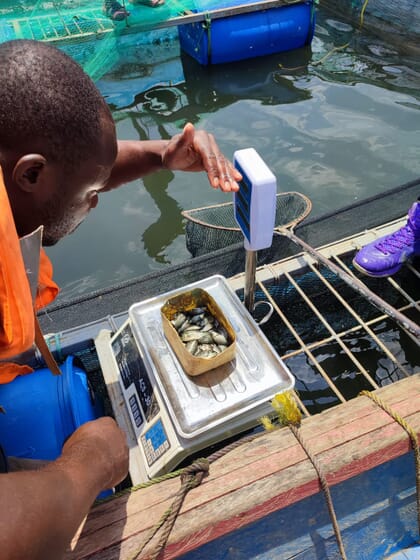 Pond aquaculture has a relatively low level of productivity, but it can be tripled by transitioning into intensive pond aquaculture (IPA) technology, which has been proven to work well in places like the USA. This can be achieved through incorporating aeration systems and removing waste frequently.
Despite Kenyan aquaculture production being predominantly based on semi-intensive culture systems, new farmers are investing heavily in intensive farming technologies like cage culture, RAS and aquaponics, which can be more productive and profitable than pond aquaculture.
The increasing number of cage farmers has brought with it a number of challenges that should be addressed in order to fully exploit this technology and create opportunities for further establishment of cage culture in inland waters such as rivers, ponds and reservoirs. More research is needed to gain economic information on cage performance, cage design and size and further aquaculture training to impart best management practices for fish farmers, which are currently lacking, leading to huge losses.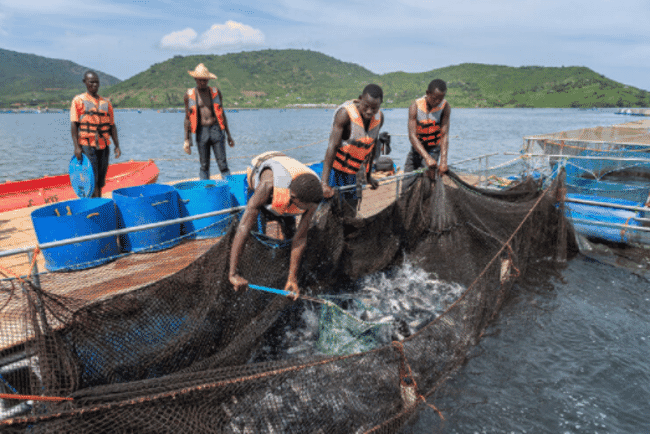 In order to protect local economies through improved business practices and to ensure the sustainability of lacustrine ecosystems, there is an urgent need for policy and regulations to guide cage investment, as the increasing number of cages on Lake Victoria creates a massive risk of diminishing water quality. Proper regulations for cage installation need to be put in place to protect breeding grounds and navigation routes, in consultation with all stakeholders to avoid conflicts between cage fish farmers and fishermen.
Lake Victoria is shared among three countries and management requires all three to come up with a trans-boundary and cross-border policy to address key issues. These include conflicting interests in a shared resource, the conservation of the aquatic resources and establishing the lake's maximum carrying capacity.