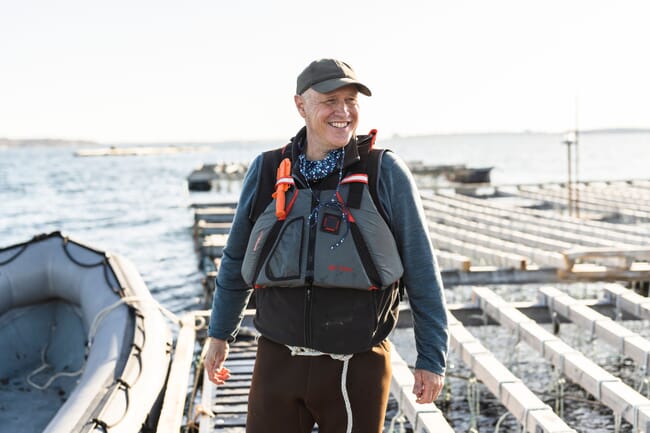 It was in 2018 that Dobbins, who had recently sold the first commercial seaweed farms in the US, was persuaded join WWF as senior director of impact investments – at a time when the organisation began their first meaningful foray into seaweed.

The conservation charity had been given some research funding to look into the space and Dobbins was tempted to emerge from retirement after leaving Ocean Approved (later renamed Atlantic Sea Farms) by the opportunity to channel his investment and farming skills into the promotion of a sector that he was still a firm believer in.
"The reason I started in seaweed was to create jobs. I'd had a career in biotech and had created jobs all around the world, and I now wanted to create jobs in coastal Maine. The assets in the area included a highly educated and experienced [fishing] workforce that was already captialised with the most expensive components – boats and engines – and has significant downtime in the winter. And that's why we moved into seaweed farming," he explains.
"I told my board that I'd do it for 10 years, but once we knew that the model worked and we could turn it over to fishermen then I really wanted to retire. In the spring of that year we'd given our first cheques to fishermen who were now also farming – I knew we could do it and I handed over to my board member, Brianna Warner," he recalls.
Choosing Warner was, Dobbins reflects, extremely in keeping with the seaweed sector in general.
"Seaweed is the only women-dominated industry in the ocean and, what's interesting, is that in the new coasts for seaweed farming it's turning out to be the same thing. There are more women seaweed farmers and more women processors and more women researchers than men – it's fascinating," he explains.
"It's for different reasons on different coasts, but there's a thread that runs through it – it's an extractive industry, but it's restorative at the same time. It's healthy food, it's good for the environment and it's something that women can get into. Whereas sometimes, either through cultural reasons or unintended consequences of regulations, women are not able to get into marine industries," he continues.
"In Indonesia, men fish offshore – it's a cultural thing – but seaweed farming, which is closer to the coast, works well for women who are care providers for their families. On our coasts, on the other hand, there's such a long wait for a lobster licence, but seaweed farming allows women to work on the water if they want. Our first mate on our mussel farm, Colleen Frankie, has a husband who's a lobster fisherman, while she is a seaweed farmer, because she can't get a lobster licence but wants to work on the water," he adds.
Market opportunities
One of Dobbins' first actions on joining WWF was taking part in a comprehensive study of the seaweed sectors in 23 countries around the world.
"This gave us an idea of what it was going to take to advance this sector of food production beyond the six countries that account for 98 percent of seaweed production," he says.
In terms of markets, the study suggested that livestock feed was one of the most promising applications for seaweed.
"Half of the grain in the world goes to animal feed, so if we can displace some of that with a feed additive that doesn't use any fresh water, land or pesticides, that's a real win. And it also includes an animal health opportunity," he notes.

A second market singled out by the study was to replace petroleum-based packaging, such as conventional plastics. While Dobbins is realistic about the challenges that need to be overcome to substitute such a versatile product as plastic – and one that is eminently suited to dealing with wet products – he is also optimistic that it can be done for many uses.
"I love the phrase 'there are no new ideas' – in the 1930s, in the UK, all the cellophane was made with seaweed feedstocks. There's huge opportunity to do this again," he points out.
"Even if seaweed feedstocks can't meet the technical specifications of some forms of conventional packaging, maybe they can do so for lower specification products, like shirts or shopping bags," he adds.
The third main opportunity singled out by WWF was using seaweed as a source of protein for human foods.
"Talking to the alternative meat companies. Part of the challenge they have with chickpea protein is that it doesn't taste great and you need colourants to mask it, which gives it what the food industry calls a 'dirty label' – which means it contains many ingredients. But with seaweed proteins you don't need that flavour mask, you don't need as many colourants. That challenge is finding something to do with the carbohydrates once you've taken the protein out," he explains.
Social licence for seaweed
One of the key areas that WWF is working on is trying to improve social acceptance of seaweed farming – given that they take place in a common resource.
"You need public acceptance to farm in the ocean – that can be a significant barrier to advancement, for different reasons in different coves. I've seen areas where communities on one side of the bay want the farm and want the jobs, while the other side of the bay say it's their ocean and they don't want to support it," he explains.
"If you're in China or North Korea, those are federally mandated decisions and there are not a lot of water skiers. If you're in Maine, we have very busy waters – from lobstermen, to wealthy coastal homeowners – and what we find is that it's a very small number of people who will actually make the final decision," he reflects.
On a positive note, Dobbins observes, the seaweed sector in his home state of Maine is beginning to gain support from fishing families – with some of them now making more money from growing seaweed in the off-season than they are making from their traditional fishery activities. However, he adds that some fishermen are being recruited by anti-farming groups to limit the sector's development.
"It's politics, it's heart and minds and that – I think – is our greatest challenge," Dobbins adds, which is why about 60 percent of WWF's seaweed fund is spent on learning more about the issue, looking at positive examples from other industries and gaining public acceptance.
"Much of this funding goes into forming small, local community groups that want to discuss this issue," he explains.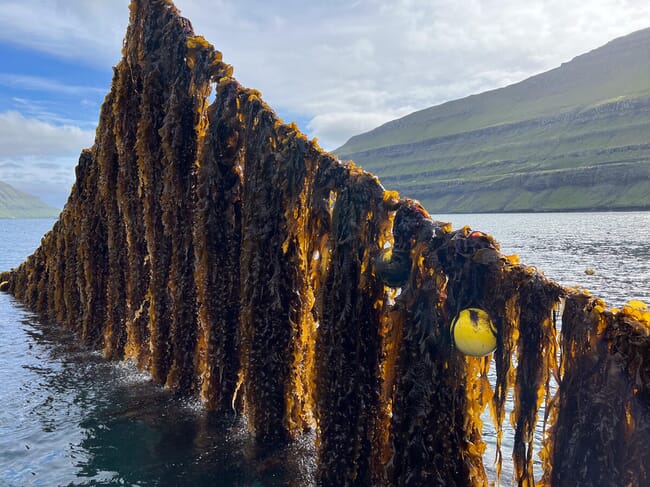 Financing promising startups
Meanwhile a significant part of the remaining 40 percent of WWF's seaweed budget is channeled into what Dobbins refers to as "catalytic investments" into companies that have the potential to bring the industry to the next level.
"The investments really fill in pieces of the puzzle that are needed to move the industry forward," he explains. "We look at a 7-10 year investment cycle – innovation on the ocean takes a little bit of time, particularly when you're dealing with biology and seasons – although we've seen some promising results already.
The first of these investments was in Ocean Rainforest, the Faroese kelp farming pioneer.
"One of the projects Ocean Rainforest is investigating is putting farms in higher energy environments. The rigs not only survived but also saw great yields which could be harvested. It proves the concept that you can farm in high energy environments and if you can farm further from the coasts, farms are likely to be more widely accepted by the public," he notes.
The second was in Oceanium, which is developing a biorefinery near Oban, in Scotland.
"They're developing a green cascade biorefining process that will pull different feedstocks out of seaweed, so that there's very little waste. It addresses a number of markets for which using seaweed will have a lower impact on the environment than current feedstocks, which is very exciting, although they are still doing a lot of research. It's not an easy thing to do, but our role is to support companies that are doing the hard thing. When they develop their process and get pilot plants up-and-running it's going to create significant demand for seaweed, which will enable more farmers to get into the water," Dobbins explains.
WWF's third investment was in Seaweed Solutions, which is based in Trondheim, Norway.
"Norway has the second longest coastline of any country in the world and there's a significant opportunity to develop seaweed aquaculture there – it's the home of salmon farming and they're an ocean-facing nation – and Seaweed Solutions is putting a lot of resources into developing nursery capability. Our proceeds will be used expand their capacity so that other farmers have the opportunity to grow seaweed," he reflects.
Dobbins adds that they are currently looking to make further investments into various parts of the value chain – with a focus on innovative processing, public acceptance and education of children.
Finally the remainder of the charity's efforts is spent on "traditional programmatic work", such as education initiatives and farmers' field trips.
Technological issues
As a pioneering seaweed farmer himself he is also aware that there are a number of technological barriers to overcome, especially in the West.
Indeed, he notes that productivity levels in the West are a long way behind those being achieved growing similar seaweed species in Asia.
"In Korea farmers are producing up to 28 kg of seaweed per metre of line, while farmers in Maine will be jumping up and down if they manage 3-4 kg per metre. Part of that is learning how to farm – there is a farm in Tokyo Bay is 350 years old, so they've figures out how to farm, we [in Maine] have been doing it for 14 years. We need to develop that blue thumb," he reflects.
He also points to the long-running selection of specific strains of seaweed in Asia.
"It's not CRISPR Cas-9 or GMO, it's selective breeding and it's why Korea and Japan get such high yields, but selective breeding is just beginning in the Western Hemisphere," he observes.
Dobbins is keeping tabs on a number of projects that are currently aiming to improve seaweed genetics, such as the Horizon 20-20-funded SeaMark initiative, which involves leveraging the expertise that the Carlsberg brewery has developed with barley and trying to apply that to kelp.
"There are lessons to be learned from 10,000 years of agricultural farming and take the best of what they've done and apply it to seaweed," Dobbins says.
Meanwhile farming techniques also need to be improved – especially in the West – and Dobbins notes that WWF are helping to fund a number of projects in that field too, but he is confident that these challenges will be relatively swiftly overcome, allowing for scale-up of production, increasingly advanced processing of the finished products, and the evolution of markets over time.