Super grouper: advances in RAS production in Asia
Despite being overfished in China and South East Asia, a suite of advances in sustainable aquaculture of a number of grouper species is bringing benefits to producers and consumers alike.
Groupers are popular fish in Asian restaurants. Football-shaped, bug-eyed and armed with oversized mouths, these coral reef hunters are in increasingly high demand. Of the 162 species, the most valuable is the leopard coral trout (Plectropomus leopardus) – a handsomely patterned red fish which fetches up to US$300 per kilogram in mainland China, especially during the Chinese New Year, when serving savoury red fish is considered both lucky and a symbol of high status.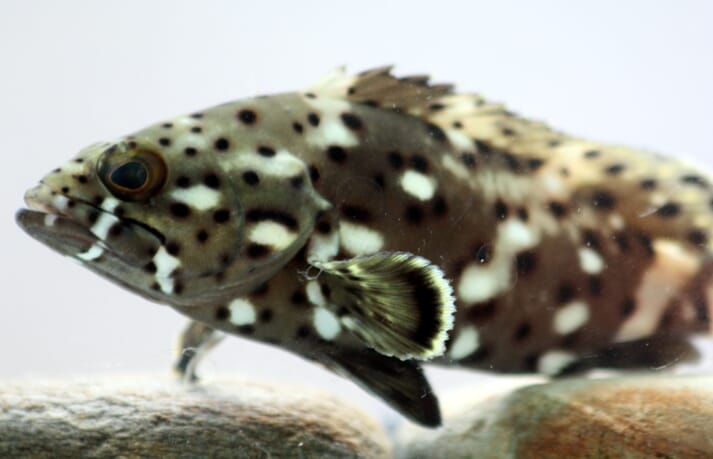 As the popularity of grouper species has been increasing, however, so their natural stocks have been declining. In response, a shift from wild-capture fisheries to mariculture is occurring. Taiwan has led this revolution since 1975 by ranching wild-caught juvenile groupers until they attain market-size at around 30cm.

Taiwan remains the world's top supplier of farmed grouper. The United Nations Food and Agriculture Organization estimates that of the 70,000 tonnes of grouper bred in 2007, Taiwan supplied 24.6 percent and accounted for 58 percent of the US$205 million global yield – mostly because Taiwan's groupers are sold live and thus fetch higher prices.
Full-cycle or "closed-loop" grouper mariculture was first achieved in the 1980s for two species – the orange-spotted grouper (Epinephelus coioides) and Malabar grouper (E. malabaricus). More countries followed suit and around a dozen species can now be grown through full-cycle methods.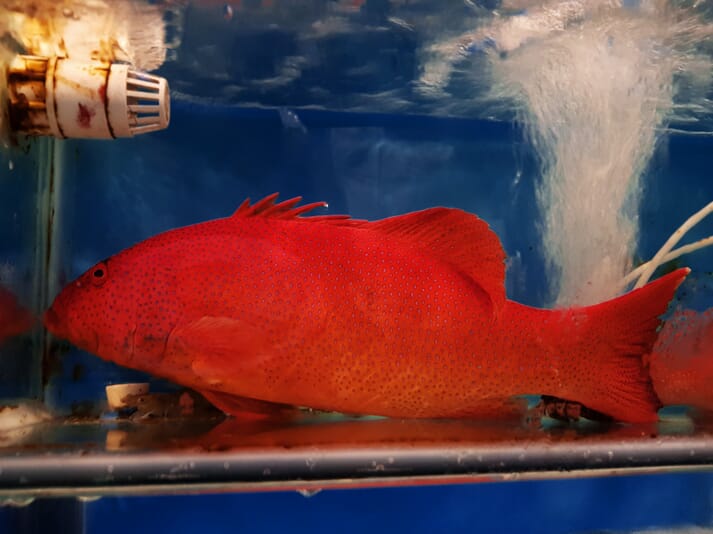 For most countries in South East Asia, however, fingerling production remains unstable. The majority of players still farm groupers in cages submerged in coastal areas which are often heavily polluted. Grouper feed still consists mainly of trash fish, which are sourced from already heavily overfished pelagic stocks.
The industry is ripe for further development – particularly in producing high-quality fish at commercial scales with lower environmental impacts.
Advances in cryopreservation
In Vietnam, a government agency and a university teamed up to develop the country's first protocol for the cryopreservation of the sperm of tiger grouper (E. fuscoguttatus) – one of the more expensive grouper species.
Thuy Thanh Thi Nguyen of Vietnam's Research Institute for Aquaculture and Minh Hoan Le of Nha Trang University aim to use their protocol to improve the production of fingerlings in hatcheries and help mariculturists produce tiger grouper year-round. Tiger grouper broodstock is currently limited and semen collection for breeding is often difficult.
All groupers are born female, with older fish turning male – making it hard to find sufficient male breeders. Male groupers are also surprisingly hard to stimulate and will often not engage in breeding. The availability of cryopreserved sperm will make a great difference for mariculturists. The study found that 15 percent dimethyl sulfoxide can be used as a cryoprotectant for semen via a two-step freezing method with temperatures set at -80°C and -196°C for the two stages in the process. The protocol results in fresh sperm regardless of whether samples are frozen for a week, a month, or even a year.
This can promote further genetic and breeding studies, enhance seed production on a commercial scale and give breeders better artificial propagation and even hybridisation options.
RAS in China
Meanwhile, the Chinese government is pushing its aquaculture producers to become more sustainable by reducing their impacts on China's natural environment. This government drive initially meant moving from cage-farming systems to pond-based operations, but in recent months the country also forced thousands of pond-based shrimp and fish farm operators to move or close down their operations.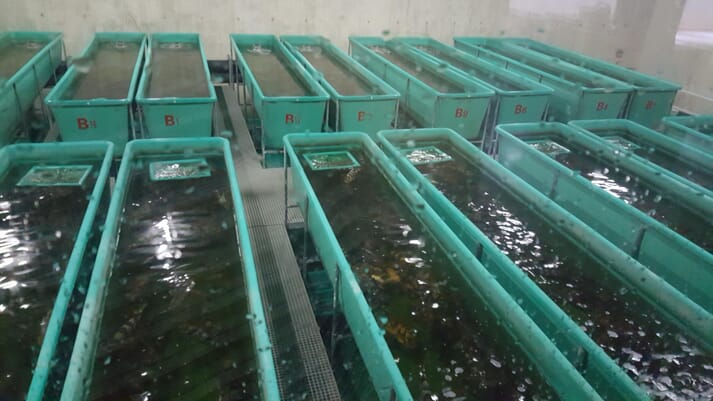 However, global and local seafood demand continues to grow rapidly and different production systems must be investigated. A key solution for China's pond operators, particularly those farming higher-value species, might be a very competitive patented recirculating aquaculture system (RAS) developed by Werner Gaus and his team of system providers, RecircInvest Biotech (RIB).
Based in Xiamen, in the southern Chinese province of Fujian, the company developed a patented RAS system using only parts and equipment from China to better compete price-wise with the culture of high-value species in low-cost pond-based culture systems.
The company has been running a model farm with groupers, coral trout and jade perch since 2013. As Gaus, the co-founder of the company, explains, the main species produced in the farm is a hybrid between the giant grouper (E. lanceolatus), which grows up to 300kg, and tiger grouper, which is known for its good taste and more colourful appearance.
Using stocking densities of 50-80kg per cubic metre, Gaus and his team have fine-tuned their system to be able to grow 10g fingerlings up to 750g within six months – "with a food-conversation ratio of just below one, solely using local pellet feeds," he proudly adds. Coupled with an overall survival rate of 85-90 percent, this is a tremendous achievement and allows their system to compete with pond-based grow-out systems.
RIB works closely with the government-founded Fisheries Research Institute of Fujian. Together they have calculated that the local production cost for the culture of groupers in intensive pond-based production systems is CN¥44.67 (€5.69) per kilogram, while in basic Chinese RAS systems, the production cost is ¥60.49 (€7.69) per kilogram. In comparison, RIB's German- and China-patented RAS system lowers the production cost significantly to ¥52.80 (€6.71) per kilogram.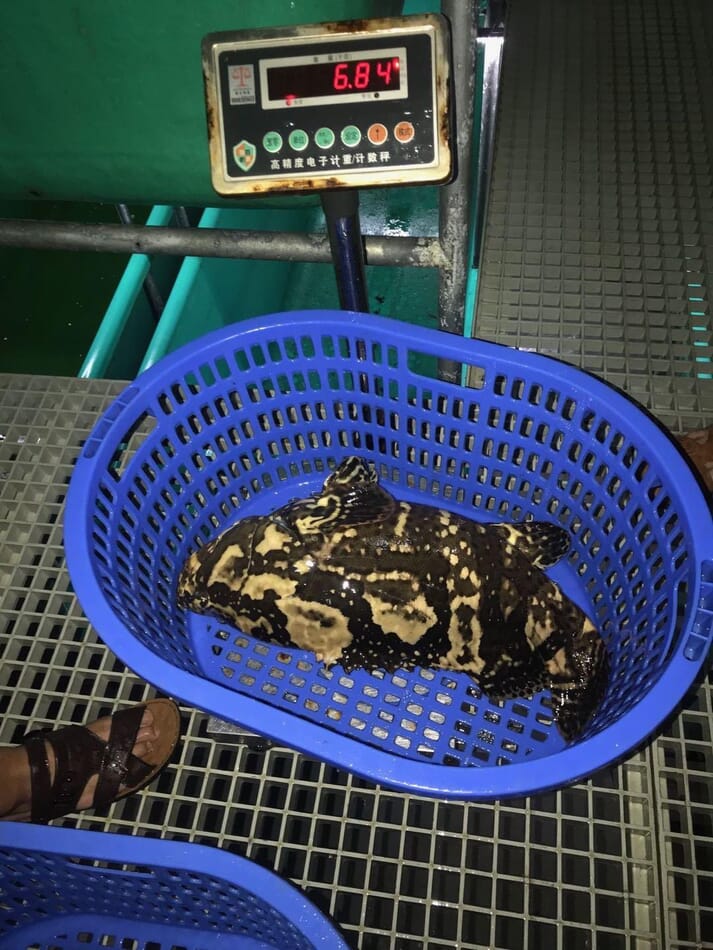 With live wholesale prices in China ranging from €9 to €20, depending on the season and on the groupers' quality, RAS systems can theoretically be highly profitable. Financially the new system is about 20 percent more expensive per kilogram of produced fish, and has a bigger start-up cost – but operators will have fewer issues with diseases, theft and predation, while simultaneously greatly reducing environmental impacts.
Additionally, it is easier to produce higher-quality fish which are more valued in wholesale markets. Since the company does not use antibiotics, hormones or chemicals during production, its fish stand out for China's increasingly health-conscious middle class. "All these claims are backed up by independent audits of sampled fish from SGS," explains Graus.
With groupers continuing to be overfished throughout most of their natural range, technological innovations – like the reported advances in the cryopreservation of grouper sperm, the development of faster-growing hybrids and efficient non-polluting farming systems like the RAS approach of RecircInvest Biotech – will be crucial in reducing pressure on wild grouper stocks. They will also help meet the ever-increasing demand for high-quality seafood across both South East Asia and China.