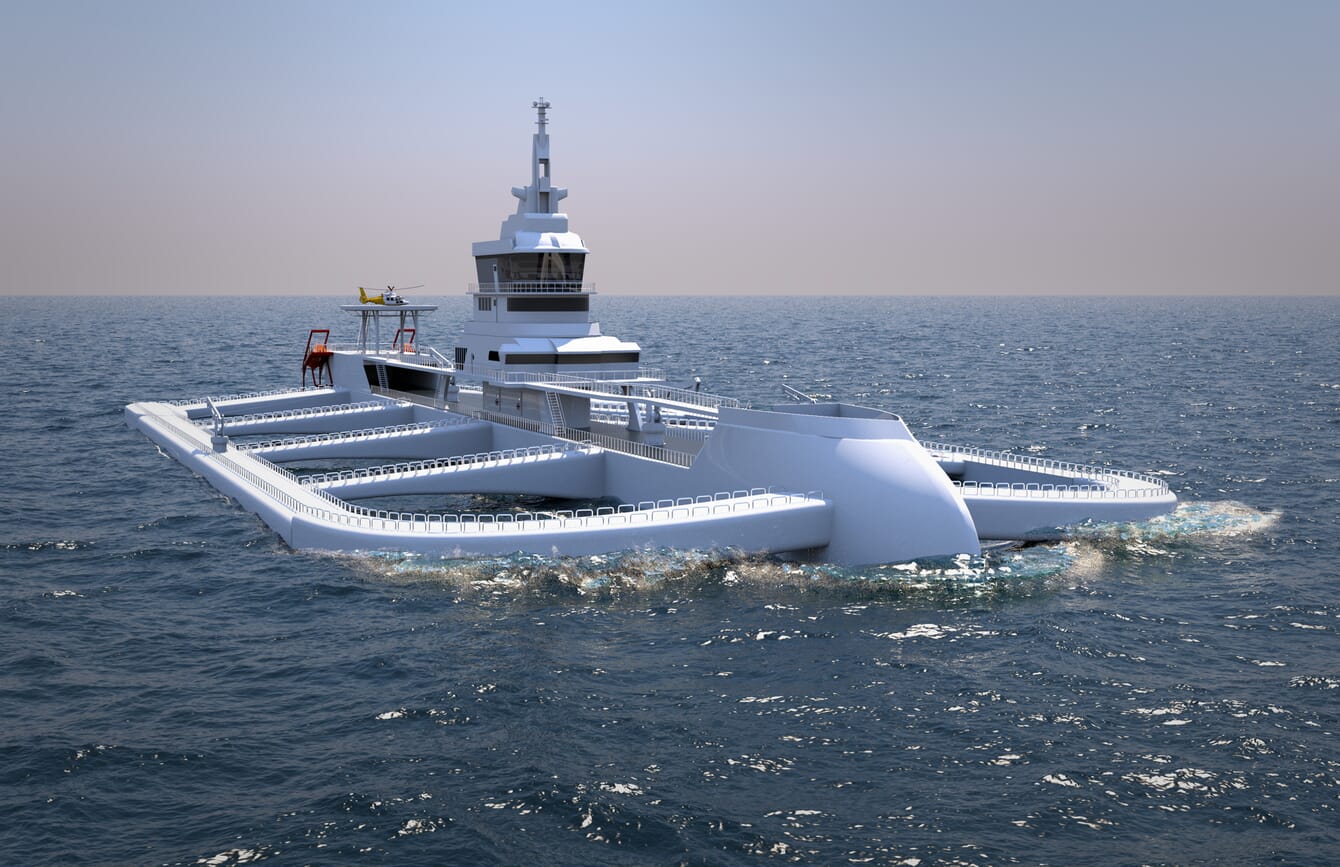 Called Ocean Sovereign, the company was established with the participation of its strategic ally Ocean Arks Technology (OAT), which was set up by Rodrigo Sanchez, the man who helped to introduce the use of copper-meshed nets into Chile's aquaculture sector. He is supported by Christino Stange, one of the pioneers of the Chilean aquaculture industry, who has over 45 years experience of fish production; Hector Ruiz, a former captain in the Chilean Navy, who brings experience in marine regulations and offshore navigation; and Karl Morris, an offshore specialist who brings experience in marine regulations, navigation and the offshore environment.
"Ocean Sovereign is the sole owner of the regulatory approvals, final execution/engineering plans and design including upgrades of the initial basic design in order to get the approvals. We have also secured agreements with leading shipyards capable of constructing such a special vessel," explains Karl Morris, the company's head of business development.
According to Sanchez, the concentrated nature of coastal aquaculture – in particular of the salmon sector – is limiting its growth and challenging its sustainability. With coastal aquaculture sites vulnerable to a range of problems including oxygen drops, algal blooms, red tides and the accumulation of parasites and pathogens.

"Mobility is our goal, keeping fish in the best water conditions is the key," he told delegates at the recent Blue Food Innovation Summit, where Ocean Sovereign had been invited to present its project.
"Basically we cut the ties that keep aquaculture on the coasts, we put a low emission engine on it, add the technology of fully recyclable copper meshes and transform aquaculture into a fully mobile activity," he added.
Key specifications
According to the approved plans, the Ocean Arks will:
Be 174 m long by 64 m wide
Have the capacity to store 450 tonnes of feed
Be able to operate without resupplies for up to 25 days
Produce 5,000 tonnes of fish per cycle
Have a cruising speed of 3 to 4 knots, depending on the species being farmed
While the first unit has yet to be built, the milestones flagged up by Sanchez include successful patent applications and approval from RINA. He also claimed that the "framework regulation for several territories to ensure production approval" exist.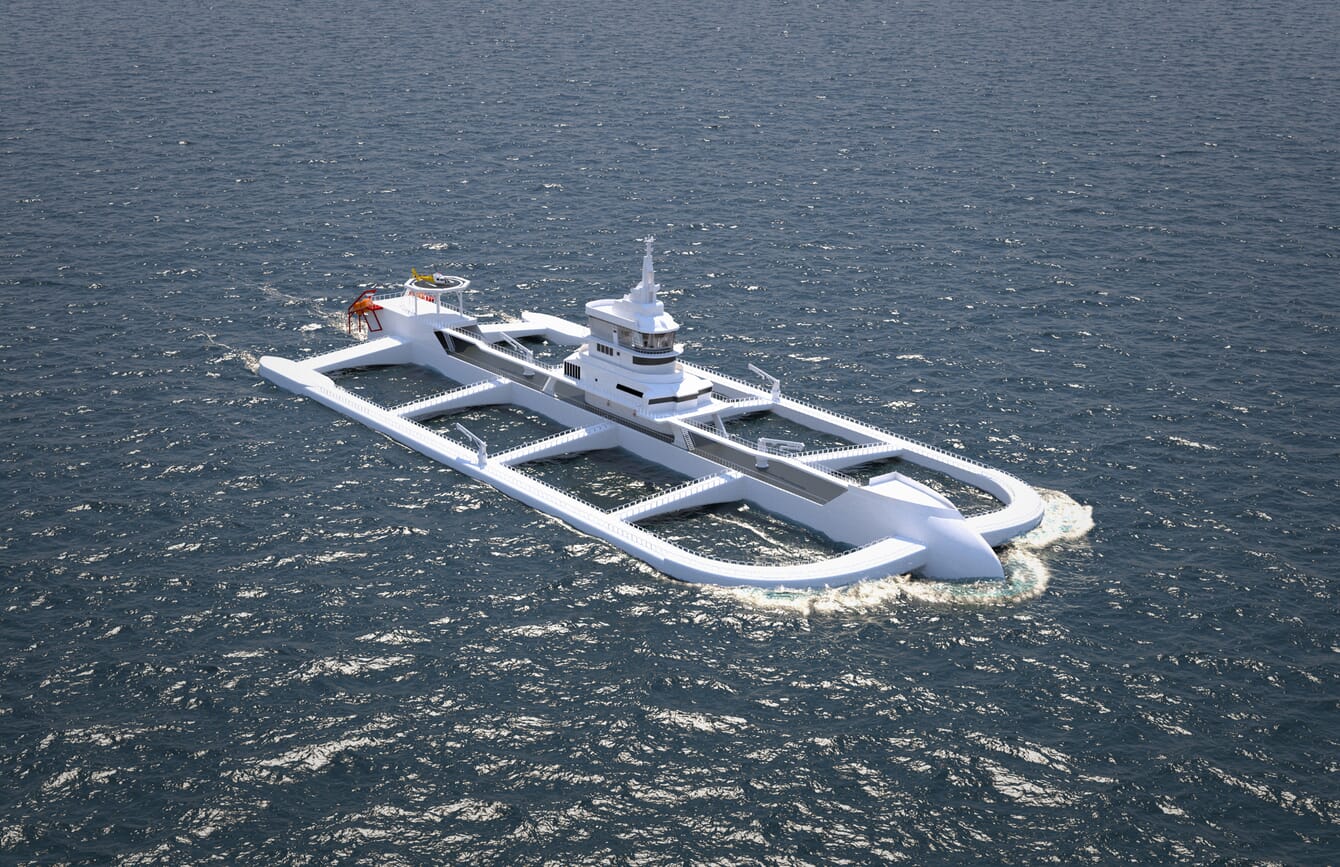 The economics
The original Ocean Ark was designed to hold up to 3,900 tonnes of fish and expected to cost $22 million. Ocean Sovereign says that this has increased by 50 percent, due to regulatory demands and the rising costs of raw materials. However, thanks in part to the new design increasing the vessel's capacity to 5,000 tonnes, Morris argues that the Capex would equate to around $7 per kilo of fish produced – a rate that compares favourably to other offshore production systems.
It's also broadly in line with cost of vessels used for shipping vessels, the offshore industry and high seas fishing, he adds.
Moreover, the companies say that they have managed to raise enough funding for the first vessels from maritime industry finance organisations and venture capital, so are not under pressure to raise more at this stage.
Next steps
While the design has been deemed sufficiently seaworthy for both navigation and production, there will be many more legislative hoops to jump through before actually farming the fish will be permitted in the exclusive economic zones (EEZs) of individual countries. Meanwhile, according to Morris, production is already permitted in the High Seas.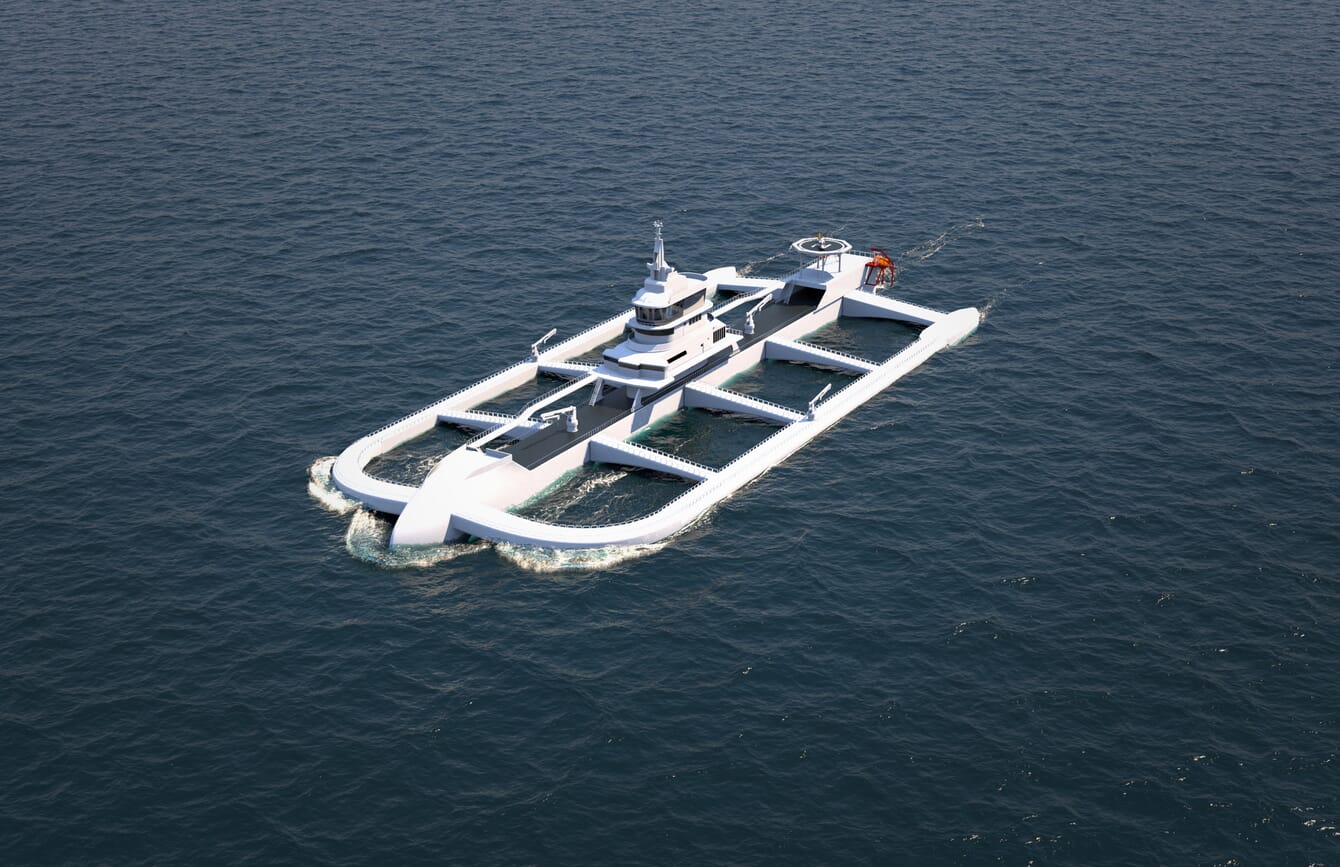 "The environmental impact assessment is mandatory in EEZs and discretionary in international waters, as the impact is very low – just like any natural shoal of fish. So, we don't consider this to be a hurdle and it is being worked on for the EEZs," he says.
Morris also believes that the mobile nature of the system will help to ensure the health and welfare of the fish.
"The Ocean Ark with low density in high-quality waters drifting with natural currents as fish shoals is a fish farming solution that is the closest a fish can be to its natural habitat, bringing back fish to where they belong, the ocean," he explains.
Working with the industry
According to Morris, Ocean Sovereign is committed to working with the established aquaculture sector.
"For Ocean Sovereign, which comes from the maritime world, we are not only open to collaborating with conventional aquaculture partners, we have to. And we can count on strong expertise from Chile with the OAT team and other fish farming experts from Europe will be on board soon," he explains.

"We would like to see our technology reach as many producers as possible because it will not only improve their business but will also make aquaculture more sustainable, deconcentrating coastlines and returning fish to the oceans where they belong," adds OAT.
According to Morris, while there has been plenty of interest in the design from the existing aquaculture sector, there has been "much more interest from offshore and fisheries companies, as they are used to working in this environment and clearly understand the opportunity".
The company is not lacking in ambition and in the next five years Morris would like to see a fleet of Ocean Arks deployed that are capable of producing 120,000 tonnes for the US market and 120,000 tonnes for the European market, through collaboration with existing maritime, offshore, fishing and aquaculture operators.

"Ocean Sovereign business model goal is to have environmental friendly vessels, while sustainability, fish welfare and inclusivity are considered in everything we do. We want to include local fishermen from Europe and the USA in part of the production – approximately one third will be reserved for them and they will be able to supply their own local market with the fish they will bring from the Ocean Ark," says Morris.
"Our initial deployment plan will be orientated towards the European and US markets, as near as possible to the respective coasts, which will lower emissions in transportation. We will farm warm and cold water species such as – but not limited to – salmon, black cod and kanpachi. We are now reviewing the best flag conditions for the vessels with local authorities," Morris concludes.