"The competition series is a platform that brings together innovative businesses with potential investors, partners and expert advisors," said Fish 2.0 executive director, Monica Jain. "We're trying to create a community and network that can work together to grow the sustainable seafood and ocean sectors more quickly."
The event, which took place in San Francisco on November 29, attracted a wide range of ideas for sustainable seafood production. One company unveiled plans to collect wild sea urchins and on-grow them in tanks for market, with the added benefit of allowing wild kelp forests and abalone populations to recover. Meanwhile, a start-up outlined plans to produce fresh seaweed in land-based systems for the culinary market to decrease the state's reliance on dried and rehydrated imports. There was even a company planning to produce shrimp in a land-based, recirculating system – a first for California.
Technology was – not surprisingly – also to the fore. Ventures present included one company that has developed 'ocean weather' monitoring systems with predictive AI models for aquaculturists, and a water quality sensor developed specifically for the fish farming industry. The aquafeed ingredient innovations coming out of the Silicon Valley are also exciting for California. Companies in the area are producing feed ingredients for aquaculture from microorganisms, microalgae, and even from carbon waste streams.
The input of technology and funding from Silicon Valley, coupled with the presence of scientists and regulators who are keen to develop a dynamic and sustainable seafood industry, makes California a hotspot for seafood innovation. However, as a state with robust environmental legislation and commercial fishing steeped into its history, the development of a meaningful aquaculture sector is proving elusive. The state has the third largest coastline in the country but has only 4 percent of US aquaculture farms and makes up a mere 6 percent of the country's aquaculture sales. What's clear, is that marine aquaculture must work to complement wild-capture fisheries and collaborate with existing stakeholders and industries. This will require both cohesive legislation and a shift in public perception.


While there is a substantial freshwater industry in the state, the focus is primarily to stock marine/anadromous species like salmon. Meanwhile California's marine aquaculture currently consists mainly of oysters, mussels, abalone and seaweed and there are no commercial marine finfish aquaculture permits in state marine waters being issued until a new regulatory framework can be established. That's not to say that the possibility of marine finfish farming in state waters isn't being considered – it just has a long way to travel down the regulatory pipeline.
Jain explains that Fish 2.0 has a big focus on aquaculture for the first time this year, thanks to support from the National Oceanographic and Atmospheric Association (NOAA), The Conservation Fund and The Gordon & Betty Moore Foundation.
"I think aquaculture innovation is happening at a much higher pace now than I've ever seen it before. We're seeing much more private sector innovation and more technologies that are developed outside of aquaculture and ocean fields being applied to aquaculture or oceans," said Jain, "people come together around innovation and we really like that."
One of the biggest constraints to aquaculture growth in California right now is the permitting process. It's difficult, and very expensive, for farmers to open up shop in the sea. The California Department of Fish and Wildlife (CDFW) has been working on a Programmatic Environmental Impact Report (PEIR) for existing and potential commercial aquaculture operations. This would form a framework for the coastal marine aquaculture programme for shellfish, algae and finfish farming. CDFW has also been actively engaging stakeholders in discussions surrounding aquaculture policy. These regulatory developments are happening alongside a nationwide effort to establish legislation that streamlines the permitting process in federal waters (3-200 nautical miles offshore) and establish an office of marine aquaculture to fund research and development.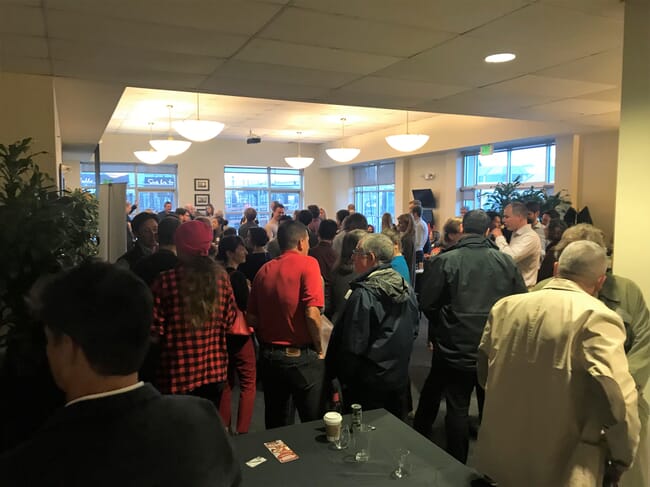 Another key hurdle for aquaculture growth in California is to reframe public perception of farmed seafood. Industry players like Aquarium of the Pacific's Seafood for the Future programme and NOAA's University of Southern California Sea Grant are actively working to initiate such a change. Their recent video series on sustainable seafood called Ocean to Table: Stories of Food, Farming, and Conservation features US marine aquaculture farmers, scientists and chefs in order to shine a positive light on aquaculture's story.
Each year, Fish 2.0 organises its competitors into 'tracks' that are based on the interests of the investors and sponsors. This year's seven tracks are: Australia, Pacific Islands, US Aquaculture, California, Global Aquaculture Innovation, Global Traceability and Transparency, and Global Tuna. The top scoring ventures from these events and from the online application process go on to pitch at the larger Fish 2.0 Global Innovation Forum, which will be held at Stanford in November 2019.
Deborah Halberstadt, executive director of the California Ocean Protection Council, noted that Fish 2.0 allows stakeholders to "create a more sustainable fishing economy in California, utilizing tools that the state often doesn't use."
Judging from the San Francisco event, this will come through responsible aquaculture development that complements wild fisheries, and it certainly seems as though this concept is gaining momentum.