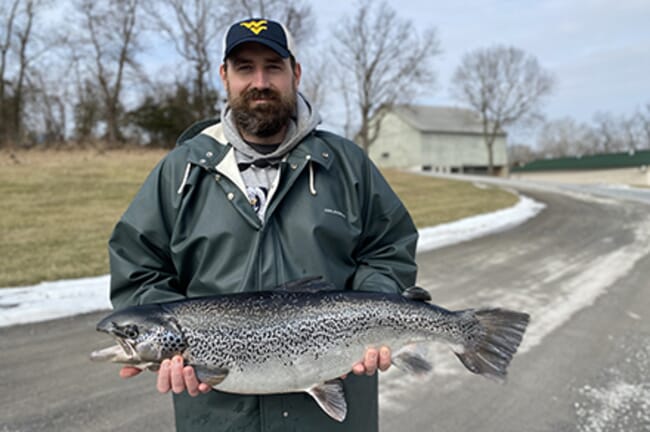 Researchers at the Conservation Fund's Freshwater Institute (TCFFI) in West Virginia are trying to solve some of the key problems facing those trying to produce Atlantic salmon in land-based recirculating aquaculture system (RAS) facilities.

"The recirculating aquaculture systems are designed so that the water used to rear the fish can exit the system, be treated, capture waste, and then be restored to a quality to where it can be returned to the fish production system," Caird Rexroad III, who is national program leader at the USDA's Agricultural Research Services (ARS), explained in a press release.
Although there are many advantages to RAS, experts are researching ways to improve the system. Researchers have observed that some fish reach sexual maturity early, and when they do, their feed efficiency is reduced.
"The longer that fish maintain their juvenile growth curve, the better it will be for the efficiency of farming and the better the product for consumers," said Rexroad.
Early maturation is mostly seen in male fish. Genetics, water temperature, photoperiod and gender affect fish and their reproductive cycle. By controlling these factors, through changes like decreasing water temperature and photoperiod, experts can minimise or eliminate early maturation.
"For over three decades, we have carried out research to characterise the optimal environment for different salmonid species, such as rainbow trout, and more recently, Atlantic salmon," said John Davidson, a research scientist at TCFFI. "We're still learning about the optimal conditions and also looking for ways that we can further reduce water use in these systems."
In addition to early maturation, which affects product quality, researchers are actively investigating how to improve flavour. The taste of the RAS-grown Atlantic salmon can sometimes be perceived as earthy or musty, according to consumers.
"That is something that I've been working on in my area of research for more than a decade," said Davidson. "We have developed solutions for "off-flavour," primarily a process called depuration. And now we're also looking at ways to completely avoid and eliminate the problem in the primary fish production system."