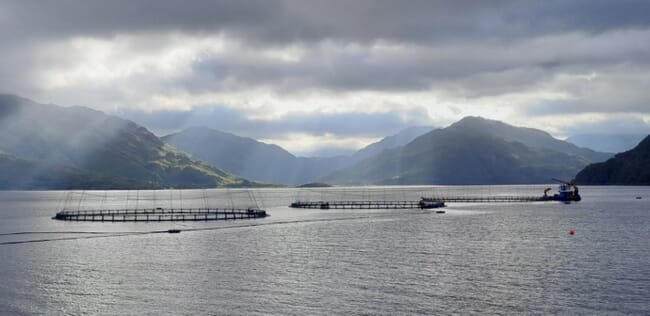 Some of Scotland's latest aquaculture and marine technology will be demonstrated at Aqua Nor - the world's largest aquaculture technology showcase - to an audience of 25,000 people from 75 countries
The event takes place in Trondheim, Norway, from 22 to 24 August and includes a Scottish pavilion attended by 18 of Scotland's aquaculture supply chain businesses, providing an opportunity to showcase new innovations.
The Team Scotland presence at the event has been arranged by a partnership involving Highlands and Islands Enterprise, the Sustainable Aquaculture Innovation Centre (SAIC), and the Scottish government.
Companies joining the shared Scottish pavilion will have access to facilities for technical demonstrations, talks and networking, to support new commercial opportunities. A further 18 Scottish companies are joining the wider delegation with their own stands or as visitors to the event.
Some of the Scottish marine technology on display includes Otaq's Live Plankton Analysis System, which employs machine learning to automatically detect potentially harmful species of phytoplankton. GenusWave is also displaying its advanced audio signalling technology, which helps to protect salmon from predators.
Other organisations taking part are MiAlgae, Krucial, Moredun Scientific, Otter Ferry Seafish, Tritonia Scientific, Brimmond, SAMS Enterprise, I&C Process Solutions, KelpRing, Aqualife Services, Underwater Contracting, Veramaris, DSM-firmenich, Fish Farmer Magazine, Tritech and the University of Stirling's Institute of Aquaculture.
The Scottish pavilion will be officially opened by Mairi Gougeon, Cabinet Secretary for Rural Affairs, Land Reform and Islands.
Gougeon said "I look forward to opening the Scottish pavilion at Aquanor, made possible through collaboration by businesses, the public sector and our innovation centre, and supported and funded by the Scottish Government. The pavilion showcases the innovation, technology and research of Scottish aquaculture to an international audience and will create economic opportunities for the sector, including Scottish small and medium sized businesses".
Heather Jones, chief executive officer of SAIC, said "The return of the Scottish pavilion, bigger and better than ever before, is a fantastic platform for showcasing the impactful marine technology and innovation coming out of Scotland".
"Some of the small and midsize enterprises joining the delegation may not have otherwise had the chance to come to Trondheim. This is why we have pulled together as Team Scotland, building on our role as a hub for connecting different areas of the sector and the academic community. I hope to see consultancy, new orders, and product and knowledge expertise exported from Scotland, contributing to our country's international growth," she added.