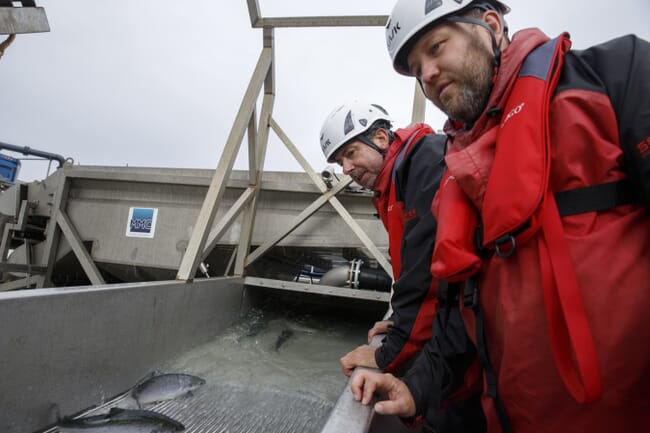 The Labour MP toured Bakkafrost Scotland's Loch Roag salmon farm on Lewis, which provides year-round jobs across the island.
He was joined by Western Isles Labour candidate Torcuil Crichton and welcomed to Loch Roag by Tavish Scott, chief executive of Salmon Scotland, and Iain MacIntyre, director of marine operations at Bakkafrost Scotland.
During his visit to the Hebridean salmon farm, Murray saw first hand how important farm-raised salmon is for coastal communities. In the Western Isles alone, the sector employs more than 400 people and contributes in excess of £150 million annually to the local economy.
During his visit to the Loch Roag site, Murray commented on the importance of the farmed-salmon industry for coastal communities.
He is quoted in a press release to say: "In some remote coastal areas, the jobs created by the local salmon farm are the only reason that shops, restaurants and other businesses are viable".
"It is the job of government to ensure the continued success of Scottish salmon, facilitating sustainable growth with animal welfare remaining a top priority," he added.
Scottish salmon is the UK's largest food export, with the export sales for the product reaching £306 million (€356 million) this year, constituting a 9 percent increase from last year. In order to facilitate the continued growth of the industry, the trade body Salmon Scotland is calling for an overhaul of the complex regulatory and planning system for aquaculture.
Through streamlined reforms, Salmon Scotland hopes to achieve additional sustainable growth for Scotland's rural and coastal communities, leading to the creation of more high-paid, high-skilled local jobs.
In a press release, Tavish Scott, chief executive of Salmon Scotland, commented on the need for these reforms: "With the cost-of-living crisis putting pressure on public services, the revenue generated by our farmers has never been more important".
"I am confident that, by working together, the Scottish salmon sector will successfully navigate the opportunities and challenges ahead to turbocharge the Western Isles' and wider economy," he added.