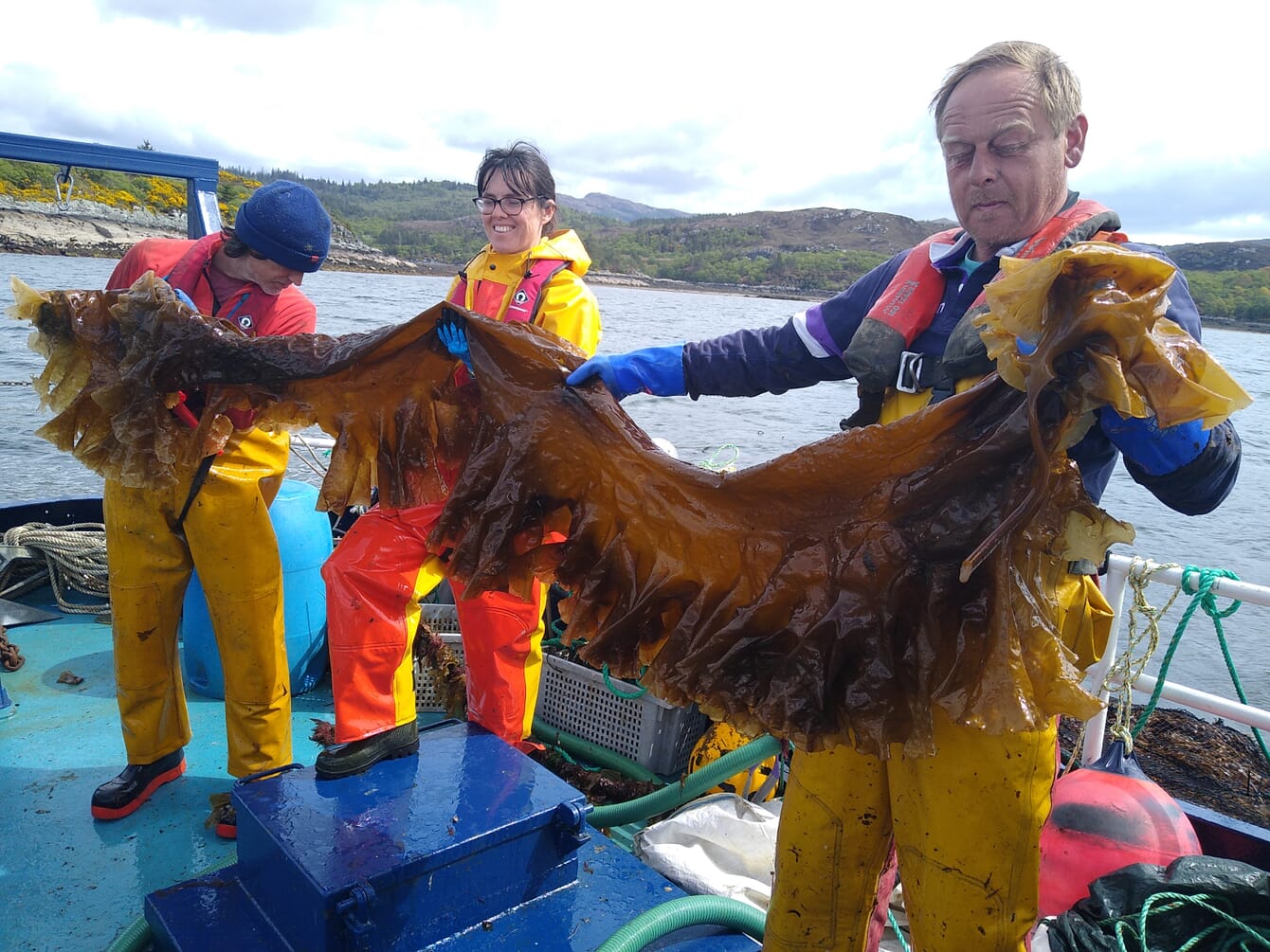 Can you briefly describe your career?
I spent seven years as a structural steel draughtsman after leaving school in East Kilbride, then mountain guiding for the next 25 years in Scotland, Norway in winter and the Himalaya, interspersed with rope access work on oil rigs. Spending 10 years of commercial scallop diving gave me a great insight into what goes on below the waves and how it's all connected, then spent eight years wrasse fishing for the salmon companies and now do kelp farming alongside the fishing.
What drew you to kelp in particular?
We were fed seaweed soup as youngsters during visits to our grandmother on Skye in the Highlands and from then on always had an interest in this fascinating plant, which was grown with no apparent input yet was full of minerals and good stuff for us humans. It's been used through the ages and it kept the highlanders alive during the potato famines, I'd used it in medical kits we took to the Himalaya, I'd seen the fish live within forests of it during my 10 years of diving and then used its forests to catch the wrasse from and in turn used it in the barrels to keep them alive and in great health before being transferred to the salmon cages. I found its strength fascinating, seeing it clinging to rocks in nine knots of current in Kyle Rhea and being pounded by waves.
Can you give a brief overview of KelpCrofting?
KelpCrofting is a relatively new company, established in 2020, and was set up to cultivate kelp in the waters off the Isle of Skye. It was co-founded by myself, marine scientist Kyla Orr and crofter/landscape designer Alex Glasgow. We're all like-minded people with an active interest in where we live and want to make a positive contribution to our environmental future and rural economy. We are very keen to recycle and up-cycle all that we can for the farm, and a lot of our materials are re-purposed fish farm equipment. We set up our own kelp hatchery in October 2020, and deployed our first crop of sugar kelp in December 2020 at an existing aquaculture site off the Isle of Scalpay (near Skye). This site has been used to cultivate shellfish for many years, and is also next to a Mowi salmon farm, making it a true integrated multi-trophic aquaculture (IMTA) site. We have also been granted a marine licence for a new kelp farm in the waters off Pabay (also near Skye), which will be installed in 2021. During May, we successfully harvested around 12 tonnes of high-quality food-grade kelp from the Scalpay site, which was a huge success for us, following a steep learning curve.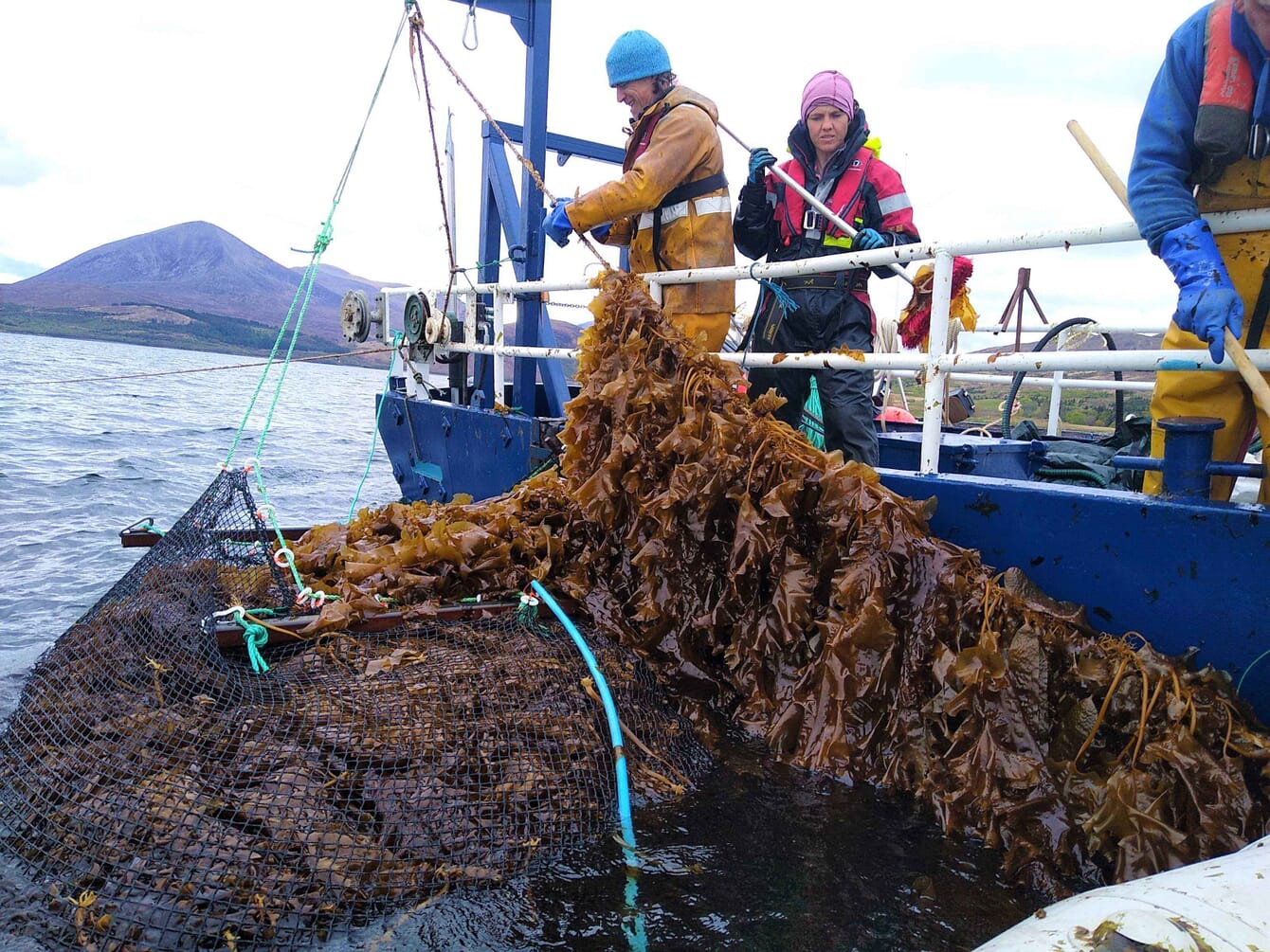 What were the major discoveries from your first production cycle?

It's very difficult to summarise the major discoveries, as there were so many, but we were happy that everything we designed and built worked well, with no major issues arising. We quickly improved on all our systems of seeding the ropes and harvesting, and will continue to tweak and adjust to speed up processes and efficiencies.
As with nearly all marine industries, we are slaves to the weather, and the supply chain needs to be organised to cope with that, from transport through to processing. For example, there were a few days where we had to cancel harvest due to strong north winds, and this involved rescheduling the crane for uplift, the transport lorry, the processing facility etc. It's a real logistical challenge to coordinate it all, but employing local people and companies to help during the harvest season makes a massive difference to success, as it allows for more flexibility to adapt around the weather. The month of May, which is peak harvest season for food-grade kelp, is also coincidentally the off-season for prawn fishermen on the west coast of Scotland because the prawns are moulting (known by fishermen as "May, no pay"). We employed a local creel fisherman to help during harvest and, as our production increases, we would like to provide more seasonal employment to local fishermen during a time of the year when fishing is poor.

How has working alongside salmon and shellfish producers worked out so far?
Working alongside Mowi has been great, and they have been generous with their help whenever it was required, for example using their workboat to re-tension anchors, helping us source materials for the farm, and sharing environmental data. We are also collaborating with Mowi and the University of Stirling on a PhD project that is investigation the utility of IMTA at the site, which will generate really useful information on food and nutrient cycling between the species being cultivated. But, on a day-to-day basis we just generally do our separate things and happily co-exist alongside each other, hoping that our farms are benefitting each other.
What are the principle environmental benefits of using kelp (both in the KelpRings and KelpCrofting)?
With KelpRings the environmental benefits could be huge, in that, if they prove themselves to provide the safe havens required for the cleaner fish and keep them alive in good numbers throughout the salmon cycle, so "when the cleaner fish thrive - the lice don't survive"! the fish will keep the lice in much reduced numbers. This will lead to a lessened treatment regime with dwindling amounts of chemicals required, that along with a reduction in the other high energy treatments used at present, could result in huge carbon savings for the industry and a much lessened chemical burden into the marine environment.
In terms of KelpCrofting's activities, there are multiple environmental benefits of farming kelp, for example the kelp absorbs nitrogen and CO2 as it grows, which helps remediate the water by absorbing excess nutrients and can help mitigate climate change. The kelp also acts like a large artificial 3-D reef, which attracts an abundance of sea life, including small invertebrates, fish and seabirds, and the seabed under the kelp farm essential functions as a small no-take zone or safe-haven for marine life.
What's needed to ensure the long-term success of the kelp aquaculture sector in the West?
Creating a market, creating an industry body to fast-track learning, facilitate processing, and create a stable pricing structure. Once this is in place many small-scale kelp farms could be successfully rolled out around the coasts, where community farms and small business employ and invest locally. Large-scale farms can be positioned amongst the offshore wind farms with the vast tonnages used for the bio-plastic revolution.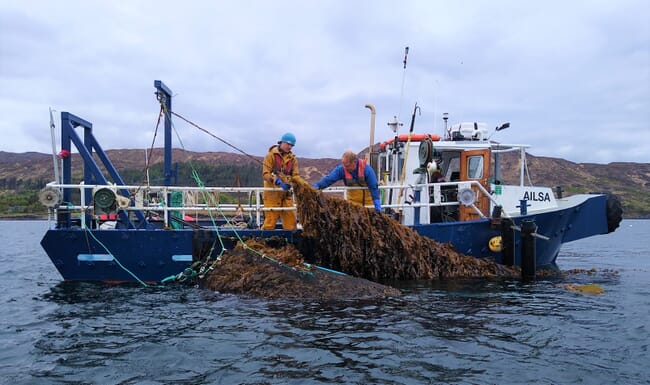 How has KelpCrofting been financed and what are the crucial factors required to make it an economic success?

The three co-founders invested their own funds to get the business up and running, and KelpCrofting also received financial support from Highland and Island Enterprise, Scottish EDGE, the Green Islands Recovery Programme (Scottish Government) as well as Innovate UK. Our whole ethos is to re-use, re-purpose and minimise, so as to avoid the high start-up costs involved in any new venture and avoid the unnecessary creation of plastics etc.
How does the KelpRing compare – in environmental, financial and fish welfare terms – to conventional cleaner fish hides?
With the KelpRings, the premise is simple - allow the cleaner fish to thrive - as by having healthy, long lived cleaner fish in the salmon cages, the lice numbers will be kept low. This in turn reduces the need for the costly - environmentally, financially, in fish welfare terms and industry PR terms - treatments of chemical baths, thermolicing, hydrolicing and fresh water treatments. All of which have high carbon footprints, along with chemical discharges into the marine environment, are highly stressful to the fish. KelpRings also don't generate microplastic disintegration into the sea unlike the fake kelp presently used as cleaner fish hides by many companies.
It only takes the industry to reduce 1.8 lice treatments per farm per salmon cycle, to cover the entire costs of using cleaner fish. So when you see treatment boats at farms every few weeks you realise that something needs to change, as the financial cost of these treatments on the companies must be crippling, and in fish welfare terms then the more they treat the tougher it is on the fish and the more susceptible they become to lice and disease and a downward spiral can ensue quickly. It is felt that the KelpRing will keep pushing back that downward spiral.
The KelpRing provides a positive contribution to the environment by being a nutrient absorber of salmon waste and an oxygen producer, it has medicinal properties used by the cleaner fish, along with the fact that the structure of the ring uses feed pipe and rope pre-used by the industry.

How would you like to see your two projects developing over the next decade?
I'd like to see the KelpRings become an industry standard, allowing a more passive and less intrusive method of salmon farming to become the norm and using biological control to fight the biological war. This will allow the industry to reduce its carbon footprint and environmental burden by a large margin as well, and in a short space of time.
In terms of KelpCrofting, we would like to maintain our vision of producing the highest quality, sustainable, rope-grown kelp, while employing local skills and resources. We would also like to see more support provided to the industry in terms of product innovation, with a dedicated facility setup to process and market Scottish-grown seaweed. It would be great to see more kelp products on our shelves locally, and we are currently looking to partner with companies who would like to use our kelp as an ingredient in their products - so I strongly encourage business to get in touch to discuss opportunities with us.
Looking at the bigger picture, what elements of global aquaculture have the greatest potential to help sustainably feed a growing global population?
Kelp has huge potential in sustainable food and feed production (for both the human and agri sector), as it is a rich source of source of vitamins, minerals and fibres. Dry sugar kelp also had a protein content of around 20 percent, and production of seaweed protein has a lower environmental impact than soy protein from Brazil. So, farming kelp could definitely help us tackle some of the challenges faced with feeding the world's population. There is still a lot of work to do on the processing and manufacturing side to get kelp into mainstream food production in Europe, but public awareness of the benefits of kelp are growing and that will hopefully fuel demand.
Every aquaculture country should have a research aquaculture farm in whatever species they are farming. This should be compulsory, funded by the industry and run independently to trial the dozens of great ideas that are generated every year. In this way, innovation can be fast-tracked, trialled and put to work in a short space of time, resulting in a shared success for the all the industry on a global scale.