Plants and algae prove their worth in boosting fish immunity
Farmers in West Africa are increasingly looking to the use of plants and algae to help improve the health of their fish.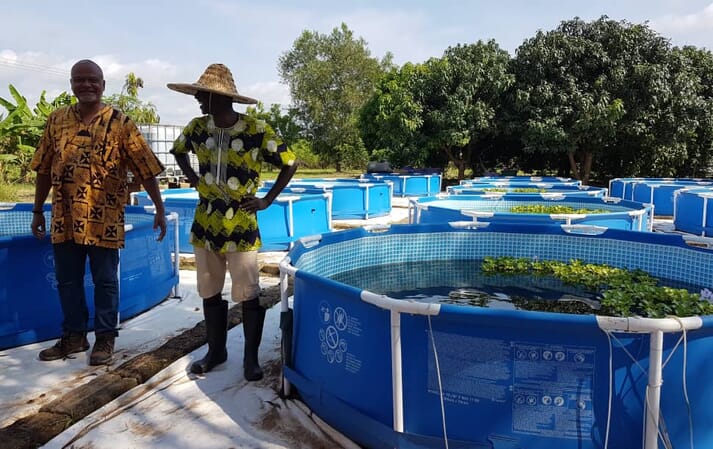 Water scarcity, fish health and antimicrobial resistance have all gained prominence in African aquaculture in recent years, with policymakers scratching their heads about the costs and environmental effects of conventional preventive and management measures. Fortunately, alternative herbal and algal treatments are offering interesting solutions.
While the larger farms have arrangements with international firms which provide custom made vaccines and other drugs, the majority of fish farmers are unable to afford such agreements. However, natural herbs have been used for decades in managing fish health in Africa and are currently gaining popularity.
The ISKN outbreak on Lake Volta in 2018-2019 led to mortalities of around 80 percent of tilapia, and farmers also suffered from unsold stocks as customers did not want to buy diseased fish, despite the fact that were safe to eat. The government started a three-year tilapia vaccination programme to deal with the challenge, but the larger farms have deployed other strategies. Apart from buying vaccines from international drug companies, most of them are currently using heat treatment to provide fingerlings with some immunity. In addition, a number of farms on the lake experimented with a garlic, ginger and turmeric cocktail, with varying levels of success.
Enoch Tetteh, a fish farmer operating at Akuse, also works as a private extension worker, assisting small farmers to maximise output. Since the ISKN outbreak, he has used the neem tree extract to help boost the survival and fitness of tilapia.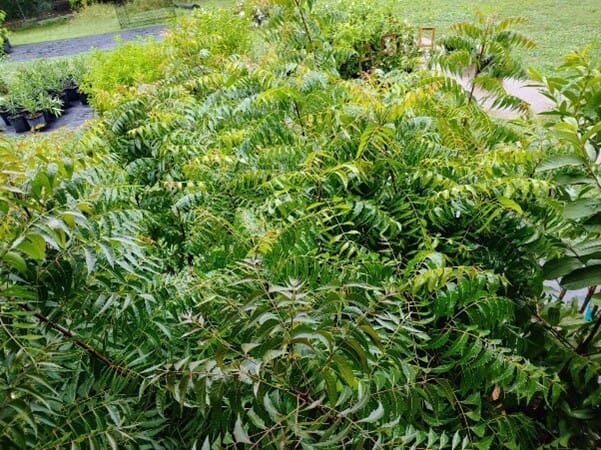 "I boil and blend the leaves of the neem tree, and mix them with the feed. I impose a two-day fast on the fish and introduce the feed. In most of the farms where I have done this treatment, improvements have been observed after five days. Mortalities have been substantially reduced, and more than 80 percent of surviving fingerlings have been introduced into grower ponds. I believe that herbal plants have a major role to play in African fish farming, and I am working with a few others to devise solutions," he explains.
At a recent forum organised by the West Africa Chapter of the World Aquaculture Society, Professor Rina Chakrabarti of the Aquatic Research Laboratory of the University of Delhi suggested that the prickly chaff flower (Achyranthes aspera), a traditional method used to induce fish growth and immune stimulation, is a viable candidate for solving similar challenges being faced globally. Herbal compounds, she said, are a better therapeutic agent than antibiotics. Among the other advantages of natural immuno-stimulants, she said, are biocompatibility, biodegradability, cost-effectiveness and eco-friendliness.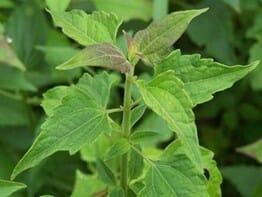 A recently published study Medicinal Plant Feed Additives Enhanced Survivability and Growth Performance of Clarias gariepinus (African Catfish) against Bacterial Infection (2021), reported that garlic (Allium sativum), Siam weed (Chromolaena odorata) and Ceylon spinach (Talinum triangulare) enhance the growth and survival of cultured African catfish. They noted the problem of antibiotic residues and the development of antibiotic-resistant microbial strains, and the fact that "the cost implication of usage of chemicals and antibiotic in fish culturing reduces the profitability and not all are effective".
In Diagnosis and Control of Diseases of Fish and Shellfish, (Chapter 9, Use of Medicinal Plants in Aquaculture), Miriam Reverter and others stated that: "The plant species that have displayed the highest potential for use in aquaculture are garlic (Allium sativum), pomegranate (Punica granatum), Bermuda grass (Cynodon dactylon), Indian ginseng (Whitania somnifera) and ginger (Zingiber officinale)".
They also stated that "Algae are considered to be a rich source of original bioactive molecules which display multiple bioactivities. In aquaculture, several recent studies have showed the potential of algae for the treatment of pathogens or to improve fish fitness".
Interesting findings are also being reported in the deployment of algae in bioremediation. In Application of photosynthetic microalgae as efficient pH bio-stabilizers and bio-purifiers in sustainable aquaculture of Clarias gariepinus (African catfish) fry (2018), Ahamefule and others reported that they found Chlorella lewinii and Scenedesmus dimorphus to be "very efficient in sustaining the quality of aquaculture water, and thus prolonging the length of time water can be used before changing". The objective of the study was "to develop a method of prolonging the retention of water, and thus reduce the frequency of water changes in fish ponds by regulating and/or stabilising water pH, and maintaining low concentrations of poisonous nitrogenous waste".
This will certainly resonate in Africa, where fish farmers are facing challenges with water supply. In Cameroon, a dispute between fishermen, herders and farmers over diminishing water resources resulted in violent clashes on 5 December, resulting in 22 deaths and the displacement of 30,000 people, many of whom have fled to hard-pressed Chad. And in Tanzania, which has experienced record high temperatures and little rainfall instead of the usual mid-October rains, the Dar Es Salaam Water and Sewerage Authority (Dawasa) implemented a water rationing programme through November, due to the reduction of water production from 520 million litres to 460 million a day. A Dar Es Salaam fish farmer explained that "fortunately I have a borehole, but my heart goes out to my colleagues who don't".

Although there is no apparent water crisis in Ghana, boreholes have become the usual source of water for fish farming. These days very few people would start a fish farm without constructing a borehole, and some existing fish farmers are now building them to ensure regular access to water.
In an interesting development, Fredrick Kpamber director of research for the Bio Green Agro project, focusing on sustainable aquatic derivables in Ghana, says he is convinced that diets with adequate algae in a chemical-free colloidal suspension reliably prevents fish infections, especially ISKNV and Streptococcus from affecting their land-based operation along the Volta River, which is their source of direct untreated water; although other neighbouring fish farms upstream and downstream of their location have been struggling, with the diseases causing huge losses and even farm closures.