Dubbing the system "eco-aquaponics", its developers believe that the approach can help the region's crop and fish farmers alike, while improving food security.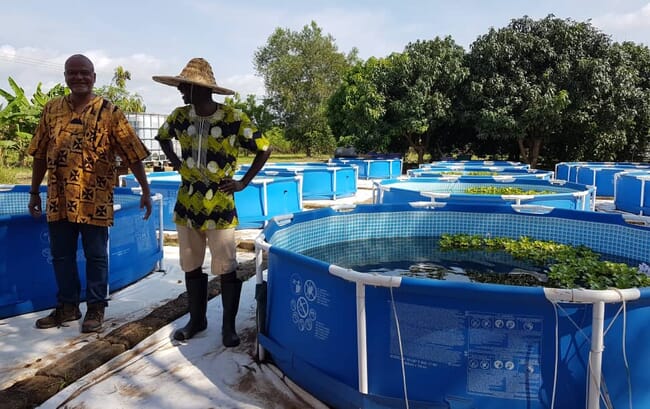 An unlikely start

When Fredrick Kpamber and Kingsley Safo met in Accra, Ghana, in 2012 they originally planned to discuss possible collaborations relating to the ornamental fish aquarium sector.
Kpamber had been engaged in an ornamental fish and accessories business in the Middle East for several years, while Safo brought experience of the handicrafts sector and had a keen interest in aquaculture. Both noted the interesting developments and challenges in Ghana's and Nigeria's tilapia aquaculture sectors and they soon started an enterprise – Bio Green Agro – and the experimental production of high-quality tilapia fingerlings.
"The Akosombo strain of Nile tilapia (Oreochromis niloticus), developed by the Aquaculture Research and Development Centre (ARDEC) has great potential as a high-quality food fish. In the course of commercial production of tilapia fingerlings, we also carried out research on its characteristics, especially the correlation of its feeding and breeding behaviour, which enabled us to achieve some groundbreaking results. Our investigations led us into the field we now call 'eco-aquaponics'," says Kpamber.
One of the interesting observations they made related to the feeding habits of the fish.
"When this omnivorous fish is not deprived of diverse dietary choices, it is instinctively a very choosy feeder, with a clear preference for vegetative, natural diets, and an intense appetite for certain types of algae. When these are abundantly available, they have profound positive impacts on its natural immunity (health), physical appearance, taste, flesh texture, fecundity and fry survival," says Kpamber.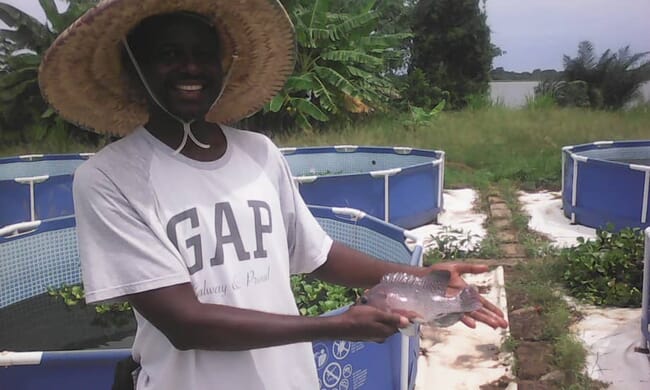 Algal cultivation

The duo's solar-powered (off-grid) farm currently consists of 19 4,500-litre pools, one 7,000-litre pool and four of 12,000 litres. As well as tilapia they also actively cultivate local algal strains and continuously assess the feed value of these plants.
"We symbiotically cultivate algae in a regulated way within our fish-rearing pools and these algae serve as primary nutrition for our fish and other plants. They tend to be motile species which grow in colloidal suspension, as they are rich in nutrients and possess a very high autotrophic regenerative power," Kpamber explains.
"The challenge is that these are more difficult to separate from water. However, over the years we have developed a cost-effective chemical-free technique for extracting algae from the fish farm environment into thicker concentrations, making it cost-effective to transport to agricultural farms where it can be used as a fertiliser," he adds.
Trials suggest that the concentrated algal fertilisers, which they sell for only 10 US cents per litre, are very effective.
"We have found that soils and crops respond very positively and quickly to these algal nutrients. We have conducted trials at several farms, and have confirmed that our cultivated algae are excellent providers of soil and plant nourishment. This process has been inspected and certified as organic by the Participatory Guarantee System (Ghana) under the International Federation of Organic Agricultural Movements," says Kpamber.
Tailoring aquaponics for Africa
After Safo attended a number of aquaponics exhibitions in Europe, he was "struck by the amount of high-tech resources that were mobilised to produce a few kilos of vegetables".
Kpamber says he was too, noting that: "If the benefits of aquaponics were to be effectively harnessed in Africa then some effort must be put into developing more efficient systems with fewer limitations." The aim would be to "support farming of the heavier staple crops we mostly consume – going beyond just certain varieties of vegetables, as are mainly produced in conventional soil-less aquaponics."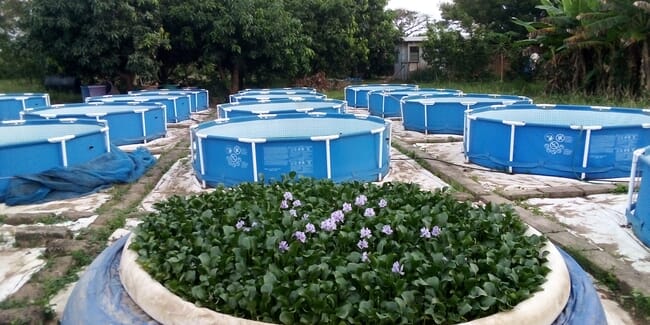 While most aquaponics systems involve cultivating plants for human consumption, the two West Africans are concentrating on feeding their live aquatic plants directly to fish.
"All the floating plants we cultivate (varieties of Eichhornia, Azolla, Spirodela, Lemna and Chaetomorpha) are served as fresh feed to our fish and they relish consuming most parts of these plants, including the roots and flowers," explains Kpamber.
Meanwhile the excess cultivated nutrient-rich algae is captured to use in agricultural land cultivation.
"Fortunately, our tilapia research had already provided us with interesting results about the benefits of certain algae to flora and fauna, especially on the plants at our project site. We really pushed for ecologically driven optimisation and we now have results from eco-aquaponics that we believe are game-changing," he adds.
According to Kpamber, Bio Green Agro's eco-aquaponic live algae concentrate enables farms to maximise quality and yield substantially.
"Even on our farm's hard clay soil, 200ml of the concentrate grows a maize plant to harvest without any other nutrient additives. And six litres applied without any other nutrient additive grows banana or plantain to harvest in 12 months or less, where other relevant conditions are adequate for the crops. The concentrate should be applied directly to the soil. It may be diluted with more water, only if doing so is more convenient on a particular farm," he explains.
Kpamber is confident that the results obtained by Bio Green Agro will help deal with the problems of desertification, soil degradation and low food production.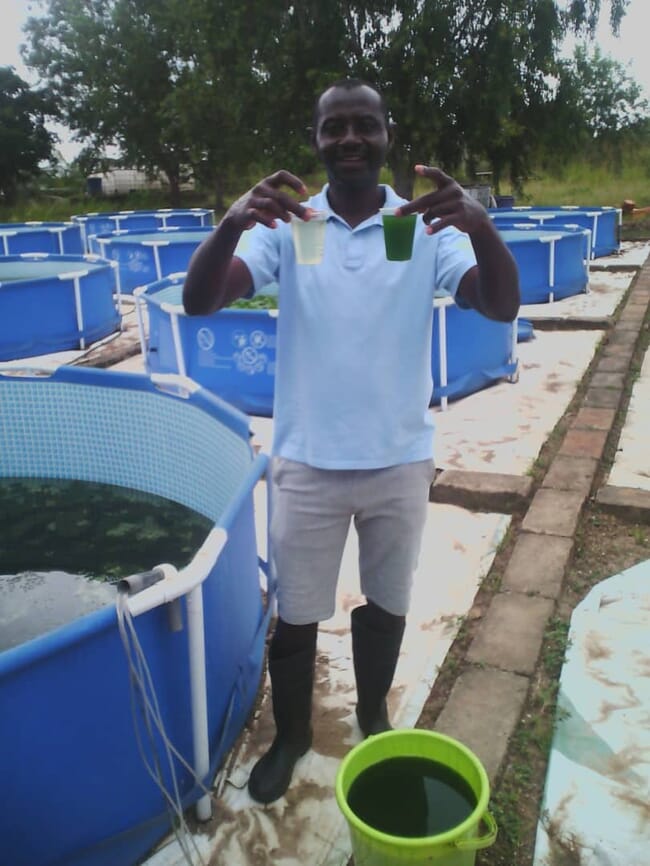 "Ours is a proven, cost-effective, locally accessible solution that enables farmers to boost and diversify production, and it is free of the institutional procurement and supply bottlenecks of regular fertilisers. Farmers who have tried our algae concentrate on several varieties of crops are delighted with the effectiveness, very low cost and non-hazardous ease of handling. We normally follow up supplies to first-time clients and then collect/check their feedback for our records and further guidance," says Kpamber.
Local strains for local people
Kpamber believes that the Akosombo strain of tilapia is "a godsend for Ghana and Africa, but it must be protected ecologically from foreign genetic threats".
"Ghanaians and Africans love tilapia, but our people must learn how to discern and differentiate between our very tasty high-quality local strains and the other, cheaper, lower-quality options appearing in our markets. We must take effective measures to protect our health," he argues, alluding to cheap imported tilapia.
Fish is an important protein source in Africa, especially in Ghana where annual fish consumption per capita is 25kg. Bio Green Agro is glad to have a niche client base for whom it provides high-quality tilapia.
"Now, much of our effort is going into harnessing the peculiar natural feeding attributes of Akosombo tilapia and towards cultivating rich live algae in sufficient volumes to achieve a broader range of positive agricultural and ecological impacts. Hopefully, we will expand other aspects of our vision gradually – to derive greater value from aquatic organisms and resources for the balanced benefits of humanity and environment," Kpamber concludes.