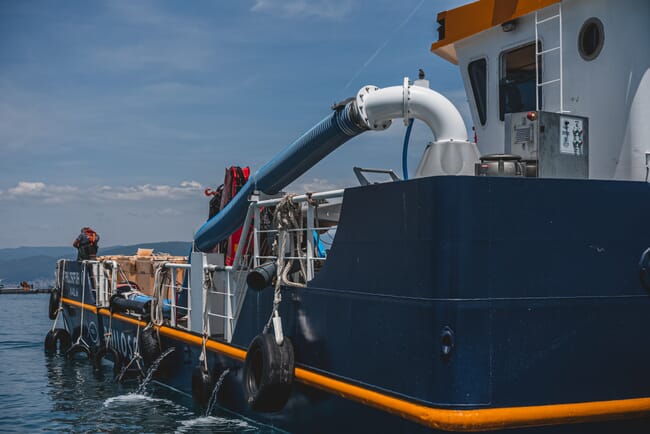 Philosofish has committed to installing the high welfare technology across all new boats, in a bid to improve their production and efficiency.

According to Ace Aquatech*, as well as providing a more ethical, stress-free harvesting experience for the fish, the installation has greatly improved the quality of the final product – with "an enhanced meat texture and appearance, that customers who value both ethics and quality appreciate".
Nikos Liberis, Philosofish CEO, said in a press release: "We opted for Ace Aquatec's humane stunning technology as it aligns with our inherent responsibility towards our fish and our commitment to setting industry benchmarks for animal welfare. Making this investment underlines our vision to inspire change and push the boundaries in the Greek aquaculture industry.
"We consider Philosofish to be a pioneer within the sector. That's why we've adopted in-water stunning, because we believe that it's the right, humane thing to do. As a leader in sustainable fish farming, our goal is to not only embrace progressive practices but to inspire others within the industry to follow suit. We're committed to our pursuit of delivering the highest quality seafood while leading the way in advocating for animal and employee welfare."
Tara McGregor-Woodhams, CSMO of Ace Aquatec, added: "Philosofish is an innovative and genuinely caring company with strong expertise in the aquaculture industry. They are leading the charge when it comes to fish welfare. It's been inspiring working with Philosofish as they install our humane stunners on their harvesting vessels. They are already seeing operational efficiencies and quality improvements as they embrace their role as leaders in humane aquaculture practices in Greece and the wider Mediterranean area."
Costa Skotidas, EMEA sales & partnership manager at Ace Aquatec, added: "Philosofish's latest vessel, designed by our partners Stamatiou Aquaculture, shows what can be achieved when welfare and sustainability are high ranking strategic priorities. This collaboration signals an important advancement for harvesting standards in the region and will help Philosofish to blaze the trail for improving animal welfare while continuing to deliver high-quality products."
*Ace Aquatech is, like Hatch, part of Aqua-Spark's investment portfolio, but The Fish Site retains editorial independence.