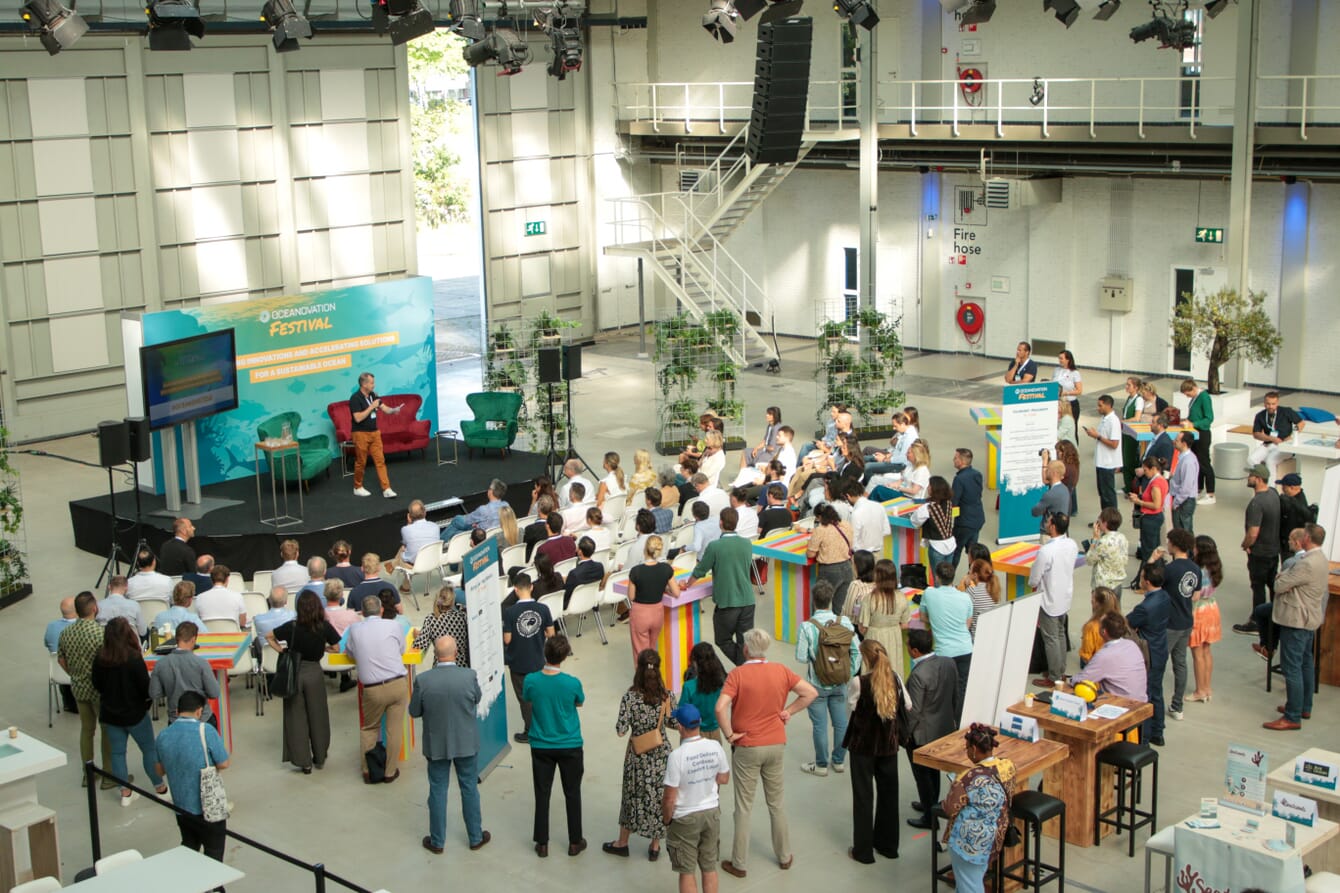 Over the course of two days in the impressive setting of the Fokker Terminal – a vast aeroplane hangar once used by trainee aeroplane mechanics but now a unique event venue – some of the most forward-thinking minds in the ocean space gathered to identify, implement, and scale the innovations needed to make a positive impact on our oceans and marine ecosystems.
Welcoming over 300 attendees and showcasing 40 ocean-inspired startups, it was a first-of-its-kind event that brought together innovators, investors, corporates, incubators, and experts from different sectors and backgrounds, all driven by a common goal of creating cleaner and healthier oceans.
The open and friendly atmosphere saw early stage startups networking with blue investors in the relaxed hubbub of the open-plan central area, before taking to the stage to pitch their innovative and sustainable solutions to an audience of enthusiastic ocean changemakers. In breakout rooms, topics ranging from blue carbon and regenerative ocean farming to renewable energies and the future of seaweed farming were discussed by panels of industry experts, while a dedicated investors panel – curated by and for investors – explored a range of subjects relating to blue finance and investing in ocean innovations. Back in the spacious central area a programme of talks on the main stage saw experts from an array of sectors share advice and insights with ocean innovation startups, diving into topics from company culture and collaboration to international law in the maritime sector.
After the event The Fish Site caught up with Oceanovation director Elodie Delagneau to get some of her insights into the maiden Oceanovation Festival.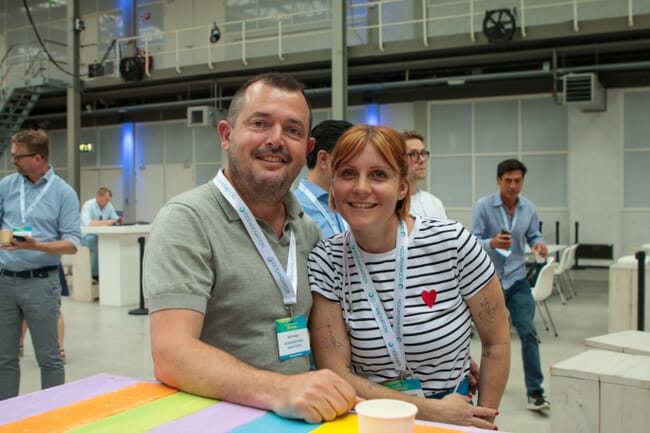 How would you summarise the overall impact and success of this year's Oceanovation Festival in terms of advancing ocean conservation, fostering collaborations, and inspiring attendees?
Oceanovation was established 18 months ago with a primary objective to support and harness the efforts of startups and innovative technologies that contribute to cleaner and healthier oceans. What began as an idea has blossomed into a community that collaborates closely to overcome barriers and accelerate the potential of these collaborations. Unlike typical ocean events that focus on specific sectors or verticals, we embraced the challenge of covering the entire value chain while emphasising the connection between startups and investors.
We aimed to gather a relevant ecosystem, and the response we received was overwhelming. Many attendees expressed that they not only engaged with their existing partners, but also met individuals who they had no prior knowledge of, yet had a significant impact in their respective fields and could drive progress forward.
The venue's space and location played a pivotal role in the event's energy and dynamics. The innovation showcase, located at the heart of the venue, created an immersive experience for all participants. Instead of struggling to approach investors or corporates, they freely roamed the floor, actively engaging with the founders and adding value to their ventures. This environment allowed investors themselves to gain valuable insights into the potential of innovation in the ocean space, highlighting their previous lack of awareness regarding certain verticals and companies. The growth potential in this field is immense, and there are still many untapped opportunities to be explored.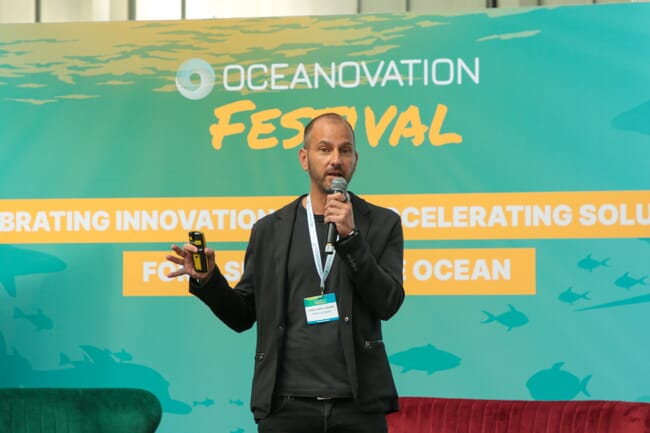 Could you share some of the most memorable speakers or panel discussions that took place during the event?
To be honest, it's difficult to single out a specific session or speaker because the remarkable attendance in the workshops was a clear indication of the interest and eagerness to deepen knowledge in strategic sectors, such as blue carbon, ocean farming, and renewable energy. The enthusiasm was evident.
One aspect we particularly enjoyed was the investor panels, which went beyond discussing opportunities in the blue economy and instead focused on the 'how' aspect, emphasising the identification of the right match for portfolios and investment sizes. It was a welcome change that brought a new level of engagement and significance to the event.
Additionally, we appreciated the presence of Chris Gorell Barnes, founding partner of Ocean 14 Capital, and Ted Janulis, founder and principal of Investable Oceans, on the main stage who kicked off the event and set the tone. Their focus was not on convincing people why they should care about the ocean, but rather on discussing how to take action.
What were some of the most impactful innovations or discoveries showcased at the Oceanovation Festival?
We witnessed a remarkable diversity of innovators presenting a wide range of technologies and solutions, showcasing a truly representative ecosystem. The event encompassed various sectors, including ocean renewable energies, aquaculture, ports and maritime, plastic and waste management, ocean conservation projects, robotics, and more. It was not just the technologies themselves that stood out, but rather the realisation that many of them could synergise and collaborate across different sectors. For instance, the combination of floating solar and aquaculture showcased the potential for cross-sector collaboration. These discoveries highlighted the importance of breaking down silos and fostering collaboration.
One aspect that brought great satisfaction was the engagement between startups themselves, not just with investors. Witnessing these interactions demonstrated the positive outcomes of creating an environment that encouraged collaboration and networking.
If I had to highlight one startup personally, I was extremely excited to witness the presence of the women-led seaweed-based food company, Seatrients. Their presence on the stage and the enthusiasm they generated was truly inspiring.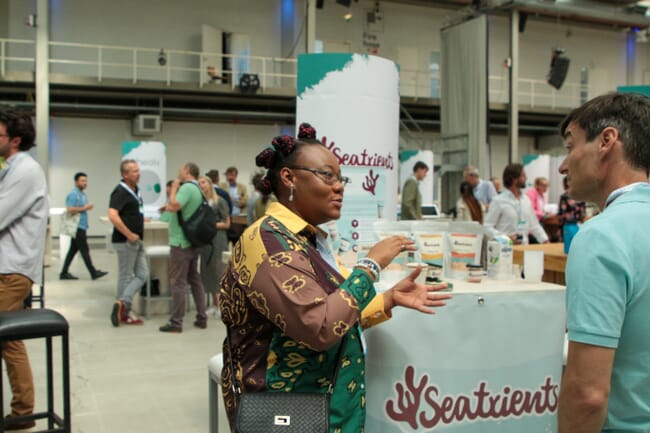 What do you hope attendees walked away with after attending and being part of the Oceanovation Festival?
Rick [Wall, founder of Oceanovation] and I have accumulated extensive experience in the event industry, with Rick having over 20 years of involvement. When we launched the festival, our primary objective was to steer clear of the traditional event format. While content remains crucial, much of it is readily available online through platforms such as The Fish Site, particularly in the realm of aquaculture. Therefore, we needed to provide something memorable and impactful beyond the sessions.
I believe we stayed true to our core mission: placing startups and innovators at the heart of our endeavours. The fact that investors freely roamed the venue and seamlessly engaged with innovators, uncovering previously unknown opportunities, speaks volumes. From an investor's perspective, they were thrilled by the multitude of 'investable' projects they encountered. For the startups, it was eye-opening to connect with investors who demonstrated genuine interest in their projects, some of whom they were previously unaware of. We genuinely hope to witness positive funding news emerging from the festival in the coming months.
However, the most significant success was the sense of community fostered onsite. We successfully broke down the barriers between different verticals and sectors that may have distinct processes but share similar objectives and challenges.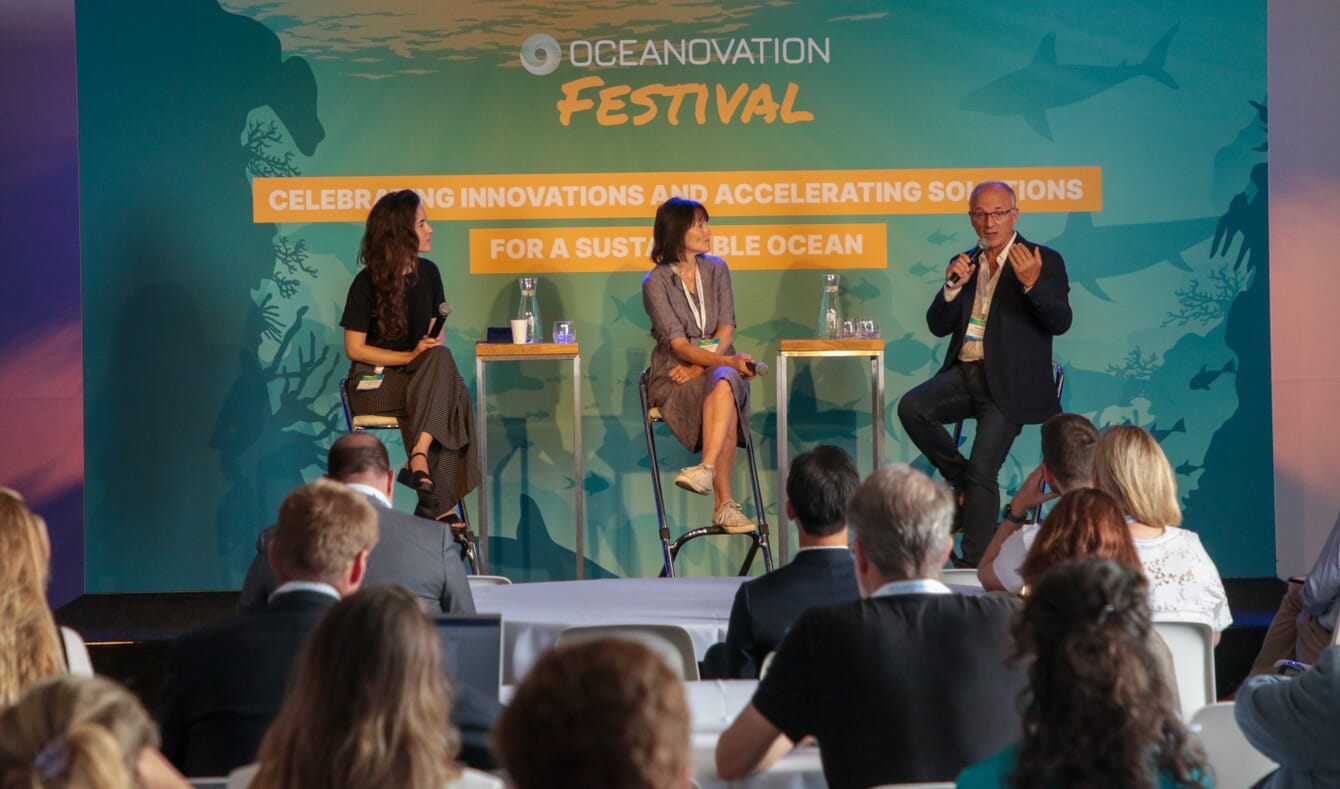 As the director, what do you feel made the event such a success?
We aimed to establish a highly unconventional environment, and I believe people genuinely appreciated it. We encouraged attendees to come as they were, without the need for formal attire, fostering an atmosphere of openness to learn and challenging the status quo. We wanted participants to question what they thought they knew. By bringing everything together in one spacious hall and carefully orchestrating a seamless flow of people and activities over the course of two days, we successfully created an immersive and engaging experience.
People not only gained knowledge and made valuable connections, but they also had an incredibly enjoyable time. The event was a source of excitement and delight for all involved.