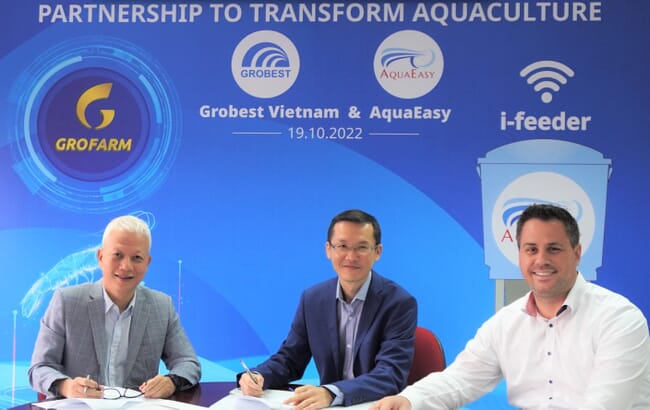 AquaEasy, the AIoT solutions for shrimp farmers, continues its journey of bringing AI to shrimp industry under the new partnership with Grobest Vietnam.
AquaEasy, a spin-off venture under Bosch's innovation hub grow, is a comprehensive AIoT solution commercially deployed in the Mekong Delta, assisting farmers to lower costs, increase productivity and put the shrimp industry on a more sustainable footing both economically and environmentally. According to the company, AI has the ability to streamline aquaculture processes and increase profits by 30 percent.
On 19 October, the startup announced its tie-up with Grobest Group with the aim to improve whiteleg shrimp farming, taping on the potential industry as Vietnam is the world's third-largest producer of farmed whiteleg shrimp and giant tiger prawn. Under the agreement, Grobest Group will introduce AquaEasy's smart innovations to their customers, including AI-driven solutions, intelligent feeders (i-feeder) and ShrimpTalk.
Grobest Group is a global leader in the development and supply of natural and antibiotic-free feed products for environmentally friendly and sustainable aquaculture. With the mission of, "respecting nature for healthy aquaculture," Grobest has continuously contributed to increasing added-value and sustainable development for aquaculture industry in Vietnam.

"The partnership is an integral step to realise the potential of high productivity and sustainable shrimp farming using AI, machine learning and the IoT, setting up Vietnam's aquaculture for greater success in the long run," TC Ang, CEO of AquaEasy shared.
i-feeder is a smart solution that can offer users feeding suggestions based on AI decision-making algorithms, with the use of data analysis from smart sensors and software that is stored on a cloud. By being able to measure and monitor shrimp farm environment in real-time, it is specifically designed to "listen" to the shrimp's behaviour, observe their hunger level, schedule appropriate feeding time, and provide optimised amount of food. As a result, over-feeding is avoided, enabling high productivity and improving farmers livelihoods.