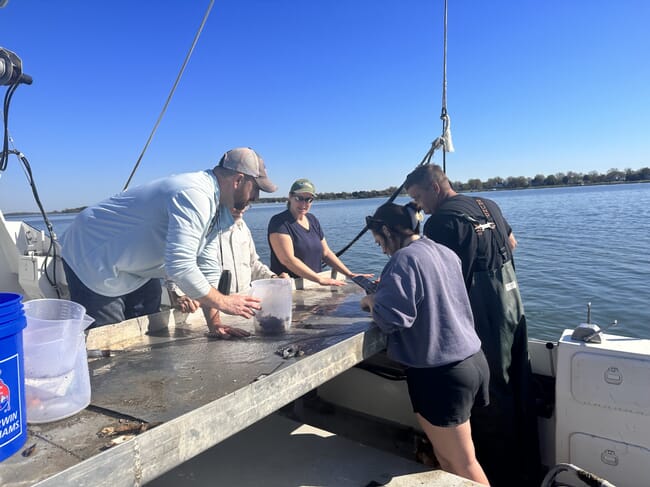 The contract has been awarded to WRF Group, following an agreement with the Maryland Department of Natural Resources (DNR).

More than 33,600 bushels of spat-on-shell are being planted in five sanctuary areas in Queen Anne's and Talbot county waters beginning this month: Cox Creek (10 acres), Mill Hill (12.5 acres), Miles River (10 acres), Prospect Bay (10 acres) and Wye River (10 acres).
Approximately 725 million diploid oyster larvae are being produced in Chesapeake Bay commercial hatcheries to achieve the required spat-on-shell seed for reef building.
The planting will be complemented by a series of ground truthing surveys – an analysis of bottom habitat – initiated in April to determine GPS coordinates for planting in future years. GIS, bottom topography and patent tonging are being used to collect data and identify sanctuary areas with suitable habitat for new growth.
Cambridge-based WRF Group was awarded the contract in February. It includes options to have WRF plant oyster seed on an additional 172 acres in the Eastern Bay Region over the next three years.
A new bivalve venture
WRF is owned by Cambridge entrepreneur Ricky Fitzhugh, a former managing partner of Hoopers Island Oyster Co. Fitzhugh sold his shares in the company in December and is launching a new company – Seed to Shuck Ventures – that will focus on developing advanced solutions for the shellfish industry, including hatchery production, aquaculture equipment design and manufacturing and reef restoration for sanctuaries and public fisheries.
"Through our extensive experience and expertise in commercial hatchery production, oyster farming and reef replenishment, WRF is uniquely qualified for this large-scale assignment to restore marine habitat and clean Bay waters," said Fitzhugh. "Moving forward as Seed to Shuck Ventures, we plan to be an active partner working with federal and state agencies, conservation organizations and watermen's associations to plant new growth in both sanctuaries and public fisheries in Maryland and Virginia."
Due to the size and technical requirements of the Eastern Bay project, WRF has partnered with several companies throughout the Chesapeake Bay region:
Larvae production: Ferry Cove Oyster Hatchery, Sherwood, MD; Oyster Seed Holdings, Hudgins, VA; Ward Oyster Company, Gloucester, VA; and University of Maryland Center for Environmental Science Horn Point Laboratory, Cambridge, MD.
Shell: Madison Bay Shell Recycling, Madison, MD; and Wittman Wharf Seafood, Wittman, MD.
Administrative and Programmatic Support: Clements Creek Ventures, LaPlata, MD.
Ground truthing surveys: Lane Engineering, Easton, MD.