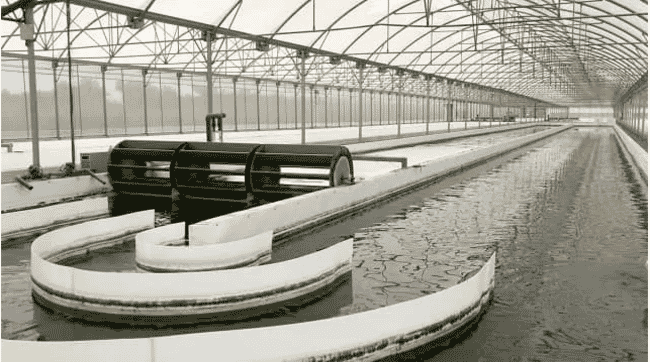 As freshwater supplies come under pressure, agricultural and industrial processes need to be redesigned to reduce their water usage footprint. Though some cultivation activities have been moved into resource-efficient greenhouses, effluents from drain water can damage the surrounding ecosystem. Nitrogen, phosphorus and other nutrients added to the irrigation water as fertilisers can be washed into rivers and lakes. The increased nutrient load makes wild plants and algae grow excessively, damaging the water quality. The water cannot be easily reused either – direct reuse of the drain water can spread plant diseases and destroy entire harvests.
Microalgae can help combat these issues. Instead of using pure fresh water, microalgae can be cultivated in drain water from greenhouses. This frees up fresh water for other purposes like crop irrigation or the production of drinking water. As the microalgae grow in the drain water, they remove the nitrogen and phosphorus from the stream. This prevents the accumulation of these nutrients in the environment, keeping freshwater bodies clean.
European microalgae researchers, agricultural producers and technology experts connected the dots and initiated the new research project REALM: Reusing Effluents from Agriculture to unLock the potential of Microalgae. They plan to join greenhouse farmers with microalgae producers in the most economical way.

"Recycling irrigation water is a cost. With microalgae, this cost can be turned into revenue," explains microalgae specialist Alexandre Rodrigues from Necton, the company that coordinates REALM. "By having microalgae production facilities close to the greenhouses, microalgae producers will be getting free water and nutrients. They will clean that water and transform it into valuable microalgae, which can be used in innovative products to grow plants faster or to grow fish healthier."
Microalgae are rich in essential nutrients and produce compounds that can boost the health of plants and animals. Together, greenhouse farmers and microalgae producers can grow microalgae to manufacture aquaculture feed or agrichemicals like bio-pesticides and bio-stimulants. As microalgae only need sunlight, CO₂, water and nutrients, their growth is highly environmentally friendly.
"The production of microalgae can be very sustainable. In REALM, we will use the drain water as a source of both water and nutrients. We will use the sun as the main energy source, and we will try to validate a direct air capture system that concentrates CO₂ from the air. Because microalgae perform photosynthesis and transform CO₂ into oxygen," says biotechnologist Mariana Carneiro from Necton. "Microalgae can be a natural and sustainable source of interesting compounds, which is why we should keep exploring its potential and improving its production."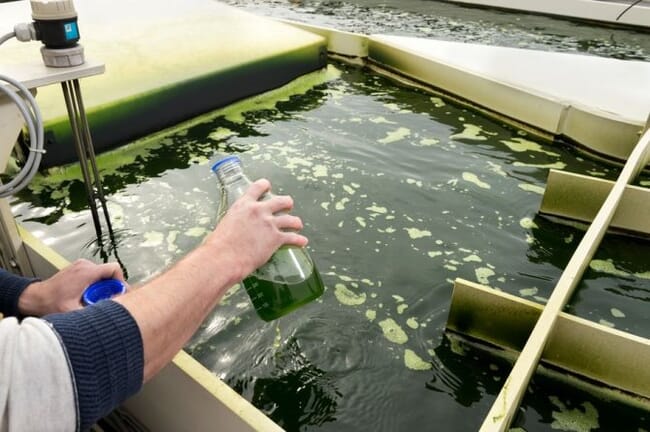 Last month, the interdisciplinary team started working to make the REALM concept a reality. In the next four years, they want to establish automatic, low-cost open pond systems that grows microalgae next to greenhouses. Sensors in the system will monitor the growth of the microalgae and the removal of nitrogen. The researchers anticipate decreasing the nitrate content in the drain water to below the EU limit, which is currently set at 50 milligrams per litre.
At the same time, the system is expected to reduce the costs of growing microalgae by up to 50 percent. According to the team, a production price of less than €10 per kilogram (dry weight) is plausible. This is an important step forward for the industry. Reduced production costs can help microalgae producers reach more sectors and lower price markets, boosting entrepreneurship and allowing the sector to fulfil its potential for producing biofuels, sustainable food and feed or medicine.
When greenhouse farmers and microalgae producers adopt the REALM concept, they can help each other overcome some of the biggest challenges they face today. Additionally, the liaison can increase their competitiveness in a sustainable way – for a better future in which freshwater is not a luxury item.