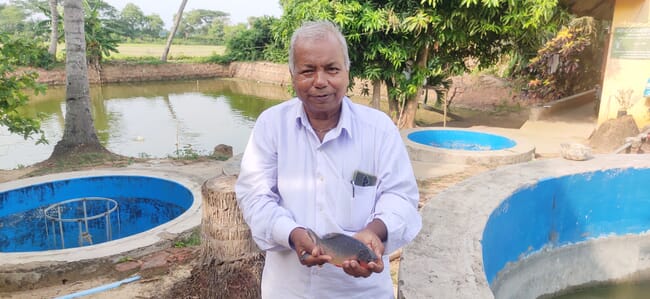 The septuagenarian was conferred with Padma Shri, the fourth-highest civilian award in India, for his contribution to the animal husbandry sector, in 2020. He is also credited for opening the state's first Aquaculture Field School (AFS).
Where are you based?
I operate from Sarakana village in Khurda district of Odisha, around 20 kilometres from Bhubaneswar, the state capital.
How long have you been farming for?
Since 1986.
What size is your farm and what species do you produce?
Around 10 acres – it consists of 18 ponds and two hatcheries. I mostly produce eggs, fry, fingerlings and yearlings of silver carp, catla, rohu and mrigal carp. We stock around 1 lakh (100,000) fingerlings for each acre of land. I sell the juveniles to fish farmers in Khordha district.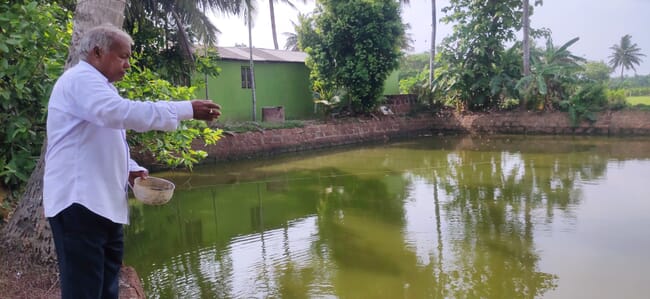 What sort of production system do you operate?
I started cultivating big fish in ponds, but in the late 1980s there were no proper transportation facilities here and many of the fish died on their way to market.
Scientists from Bhubaneswar-based Central Institute of Freshwater Aquaculture (CIFA) and Krishi Vigyan Kendra (KVK) suggested that I switched to producing juveniles using hapas in my ponds.
I heeded their advice and released 4 lakh (400,000) eggs into the pond in the late 1980s. I was able to make an income of around Rs 7,000 INR ($90 approx) in the next two months.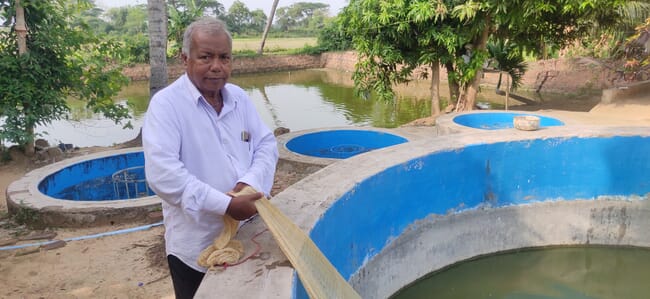 I realised that fish seed production was more profitable than fish farming. I continued to use the hapas in my ponds, before shifting to circular fish hatcheries in 1997. At present, I have two hatcheries located at a distance of around 100 metres from each other. We produce around 15 million eggs, 1 million fingerlings and 5 million fry every year.
Why did you decide to embark on a career in aquaculture?
During the 1970s, there was severe scarcity of fish bigger than 1 kilogram. The fishermen mostly sent the catch whatever they had to markets rather than selling to villagers. Eventually, the villagers were deprived of fish.
On one fine day, in 1986, even I could not purchase a large fish. It hit me hard and I decided to take up fish farming to readily make the large-size fish available for the villagers. I took up the village pond, which was around 0.3 acres, on a three year lease for Rs 12,000 ($154) and started fish farming in the same year. It turned out to be a profitable venture and I have continued farming since then.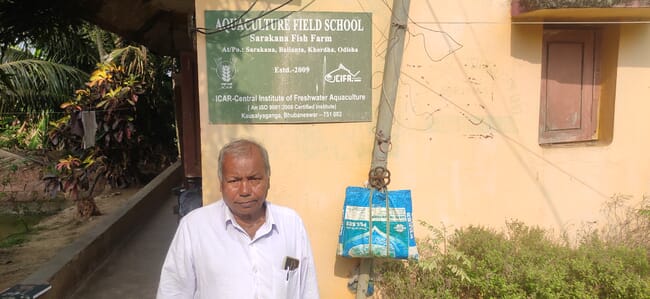 What's your ultimate ambition in the sector?
My ambition is to see Odisha's youths take up fish farming on a larger scale and generate good financial returns. The Aquaculture Field School (AFS), which I opened in 2009, is a step in that direction, as it enables youths to become more self-sufficient.
I have already trained several thousand youths and fish farmers in fish breeding, seed production, fresh water aquaculture and pond management. Several farmers also contact me over the phone to know necessary input on fish farming.
What's your biggest worry at work?
Our state is prone to frequent natural disasters, like cyclones, which makes me worry about the safety of the fish.
What's your greatest achievement to date?
In 2020 the Indian government awarded me Padma Shri, the country's fourth highest civilian award, for my contribution to the animal husbandry sector.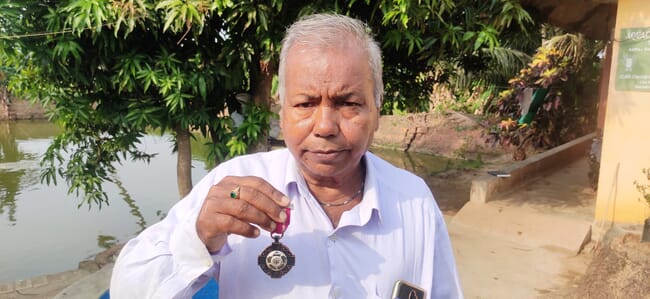 What piece of equipment would you most like to have on your farm?

I need to do bird fencing to save my fish from predators, such as crows and common cranes, as I suffer losses in the absence of fencing. There is also frequent power outage in the village and we have to often use diesel pumps to run the aerators that lead to cost addition. We need a round-the-clock power supply to ensure we function smoothly. We also need CCTV cameras on our farm, to help prevent the theft of equipment and fish.
What's your favourite seafood dish?
Roasted shrimp