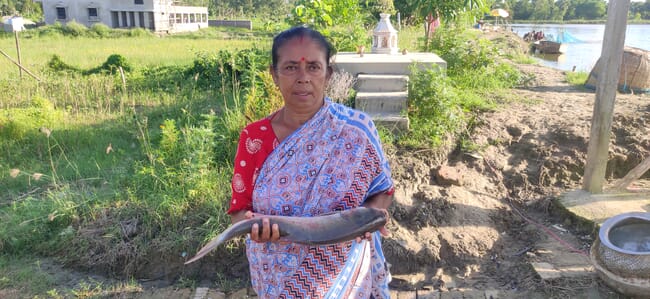 Despite having three young children to raise at the start of her aquaculture career, the 62-year-old's business now spans Bengal, its neighbouring states and Nepal.
Can you briefly describe your aquaculture career?
I was born in a poor family and my father had a small pond near to our house where he caught fish for livelihood. The income was barely enough to support the family.
I got married when I was just 13. My husband was a single child and the family had several acres of land. They rented boats to fishermen who went to the sea to catch fish, as there were no trawlers in those days.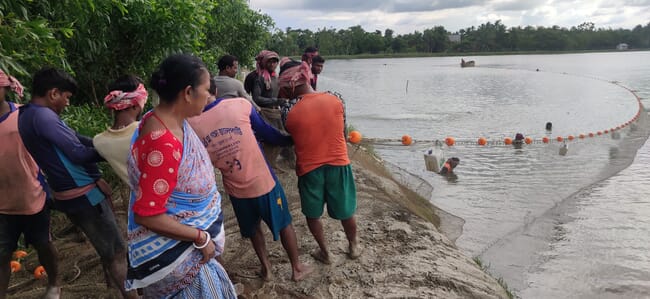 The family, despite having vast land, mostly depended on the rent from the boats for their livelihood, but my husband was not interested in work.
I soon became the mother of three sons. But the situation turned bad when my father-in-law was murdered over a dispute in the village.
Suddenly, we had landed in bad times and the income from the boats also stopped. I started growing rice on our land, but the income was not enough to support the family and raise my three sons.
I decided to open a small curry restaurant in the village, but I faced stiff competition, so I started selling in fairs and exhibitions. It was a very tough life, as my husband was not earning, so I had to support my entire family, raise my children and look after their education.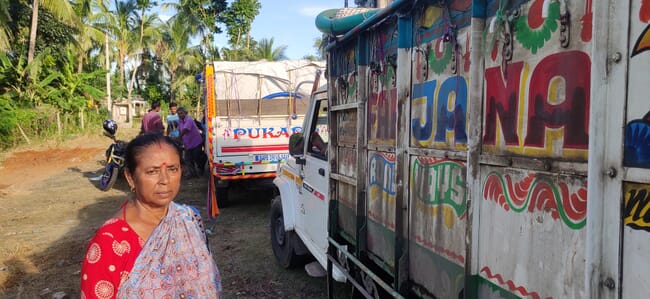 What drew you to the aquaculture sector?
I was not able to generate enough income from growing rice and selling food, but I had some idea about fish farming because of my father's job when I was growing up. In 1985 I leased six ponds in my village at an annual cost of Rs 5000 INR ($63). This was a large expenditure in those days, but I raised it from my savings and by selling some of our land.
I started farming Indian major carp and silver carp there and managed to earn Rs 25000 INR ($313) in a few months time. I sold juveniles. I realised that the business has a huge potential. I started leasing more ponds and the businesses began to grow.
At present, I produce around 800 tonnes of carp annually. We have small ponds for growing juveniles which are then shifted in the artificial lake once they reach 500 g. We start harvesting after they at least 1 kg, which normally takes a year.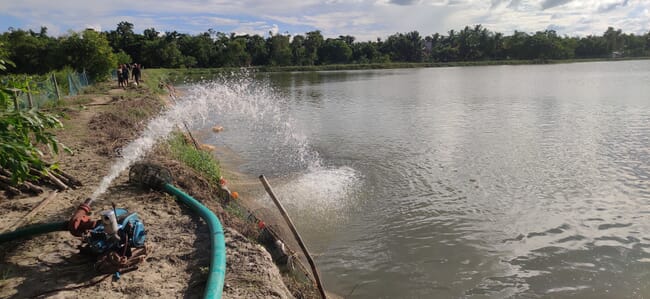 What size is your farm and what species do you produce?
The total area under fish cultivation is now around 87 hectares, which includes seven water bodies. We recently took on a ten-year lease of 67 hectares of agricultural land in our area during Covid-19 and spent around 65 lakhs INR ($82,000) to convert it for fish farming.
We normally produce Indian major carp like rohu (Labeo rohita), catla (Labeo Catla) and mrigal (Cirrhinus mrigala). Besides, we also produce silver and grass carp. I prefer to grow these species because they are very much in demand in West Bengal, Odisha, Bihar, Jharkhand and Nepal.
What does a typical day in your current role look like?
I have a habit of waking up at around 3 am every day since I started fish farming and I still follow the same routine. I feed the fish organic food like rice bran. The labourers then start coming and I sit and monitor everything and give them suggestions. We normally harvest fish once a month. Until five years ago I used to be part of the harvesting team, but cannot do that now because of my age.

It is my duty now to check that fish are collected and weighed properly before being loaded to four-wheelers that come from different states. We load live fish in the vehicles and have to ensure that the vehicles have enough water to carry each consignment.
I normally go to sleep around 11 pm.
What's your favourite part of working in aquaculture?
Everything makes me happy and I am involved in every step of fish farming. I have scaled a successful business after starting from zero. I am always there when the food is thrown to the fish till the harvest and even ensure that the catch is delivered properly to the market and to the wholesalers.
What work-related achievement are you most proud of?
I was honoured by the state government for my exemplary work in the aquaculture sector in 2016. I was also congratulated by Haldia Energy Limited, a private power utility company, on the occasion of International Women's Day on 8 March, 2017.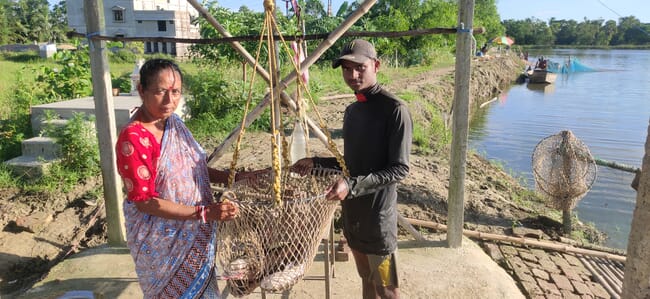 I also participate in seminars where I motivate women to take up fish farming. And I have given livelihoods to over 200 people who are involved in jobs from farming to transporting the catch. I am happy to feed so many families.
What challenges have you encountered working in the sector?
Honestly, I have never encountered any challenges. I love my work and do it with passion and dedication. Each challenge is actually a learning experience for me. There are only lessons from challenges which we have to learn from and move on.
Have you encountered any gender-related challenges in the sector?
Yes, I hail from a remote village in West Bengal and live in a society which is still male-dominated, despite smartphones and the internet.
I've faced severe slurs from male fish farmers who scoffed at me. I was looked down upon for doing fish farming. The situation was very bad when I started work around four decades ago. But I was unfazed as I had the responsibility to look after my family. I never considered myself as a woman fighting the odds but more like other fishermen who venture out to earn the livelihood for their families. I had to come out of the four walls of the house to earn for my family. I was the first woman farmer in the area to take land on lease and convert it for fish farming.

However, things are better now after having received accolades from the state and central government. People now invite me as guest in several festive and social occasions. They respect me for my achievements.
What advice would you like to give women who are considering joining the aquaculture sector?
I started my journey from a very humble background and have climbed up the ladder of success with hard work and dedication. I would like to advise women to break the glass ceilings and join aquaculture if they are really interested. When an almost illiterate woman like me can do it, then anybody can do it. Just go for it.
Are there any individuals or organisations in aquaculture that you've found particularly inspirational?
Yes, I am very thankful to Suman Kumar Sahu, the former fishery extension officer of Haldia block. He helped me to arrange bank finance and subsidies in 2016.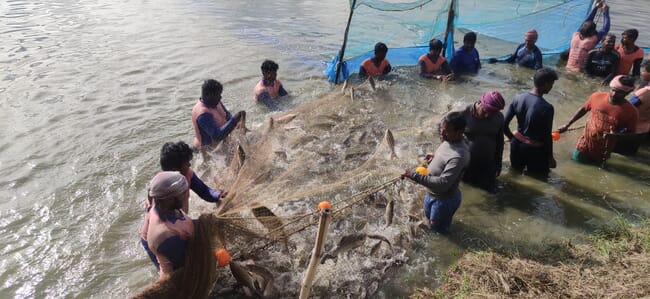 In 2019, he also arranged for me to receive fish feed from the state government for free when I was struck in hard times and was facing losses. Sahu has also trained me in various aspects of fish farming, including the use of advanced technology. His contribution has been immense in my growth.
If you could solve one issue in aquaculture, what would it be?
The major issue faced by most fish farmers is the apathetic attitude of the banks, which are reluctant to give us loans, fearing losses. Banks do lot of queries and checks even before sanctioning petty amounts.
As a result, we have to depend on private money lenders who charge exorbitant interest that eats away at our profits. I would seriously like to make loans hassle-free for farmers so that they do business with ease and without borrowing too much and paying high interest rates.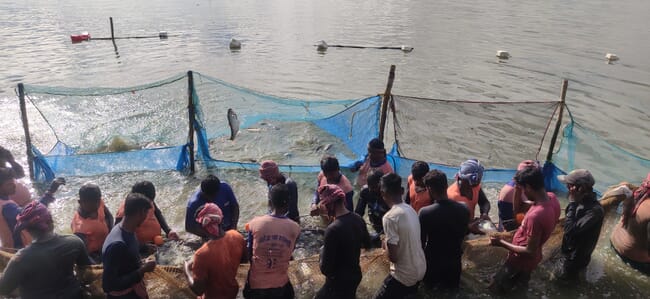 What would you like to be doing in 10 years' time?
I would like to be completely free from my responsibilities and would love to see my six grandchildren working full-time to grow the business which I have spent decades establishing. There are hardly any jobs nowadays and they can make a good career in fishing if they work hard with dedication and commitment.
What's your biggest worry at work?
I have been in the aquaculture sector for nearly four decades but recently I've noticed that the fish are not growing as well, despite being provided with ample food. The growth of the fish that come from rivers is always better than those produced in the hatcheries. The lack of good growth is affecting our income which is a cause of worry for me nowadays.
I am also getting older with each passing day and suffering from diabetes and other ailments. It often becomes difficult to monitor such huge water bodies. I also keep worried about fish mortalities that might land me in severe debts, so I have to keep on my toes and keep an eye out to ensure our workers deliver results.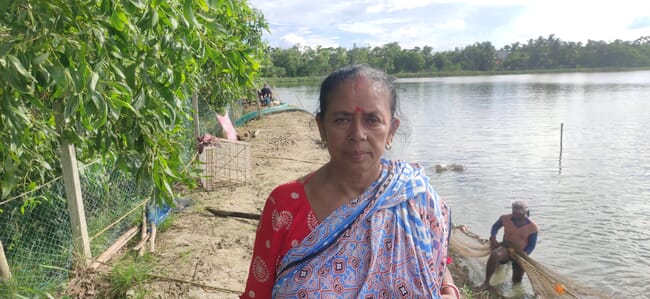 What pieces of equipment would you most like to have on your farm?
We have four aerators to maintain the supply of dissolved oxygen, but we need at least ten. We are unable to purchase them, despite having the finances, because our area suffers from severe power outages which makes it difficult to run them. We can use diesel generators but they would add to our operational expense. We need a steady power supply round the clock.
What's your favourite seafood dish?
I like to eat hilsa fish.