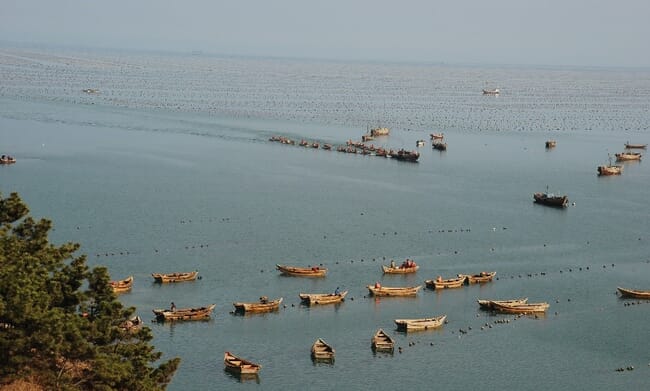 So explained Professors Jianguang Fang and Zengjie Jiang, from the Yellow Sea Fisheries Research Institute, to The Fish Site, in a follow-up to last week's article on the historical growth of integrated aquaculture in China.
Background
Prof Fang explained how the volume of landings produced by mariculture in China has grown from 10,000 tonnes a year in the 1950s to over 20 million tonnes a year in 2019 – making a vital contribution to food security.
This volume is dominated by shellfish production, which accounts for over 14 million tonnes and seaweed, which accounts for 25 million tonnes (2.5 million tonnes in dry weight). This, he pointed out, illustrates that China has a much greater emphasis on lower trophic, unfed species compared to most countries in the West.
Prof Fang noted that Chinese mariculture initially focused on monocultures of fish, shrimp or seaweed. From 1980 to 2000 the focus was on "polyculture or co-culture – maybe shellfish and shellfish or fish and fish". But after 2000 producers began to look towards integrated aquaculture, based around producing species of different trophic levels.
"Seaweed and shellfish made it very easy to practice IMTA. Because in China the local people eat the shellfish and the seaweed, but in European countries they think that fish is a seafood, shellfish or seaweed is not a seafood," reflected Prof Fang.
The main driver for change was, according to Prof Fang, the "self-pollution" that stemmed from too many intensive fed aquaculture systems in some areas, such as Sungo Bay, near Rongcheng city in Shandong province, which were creating too much sediment and too high a level of nitrogen and phosphorous in the water, leading to eutrophication and sometimes red tides.
"So we now practice IMTA, a combination of the different trophic species – fish, seaweed, shellfish and abalones. In this way we can make good environmental conditions and also make the famers have a good income. This is very, very important, because if the farmers make a good income then mariculture will develop sustainably, with no income the farmers will stop that," explained Prof Fang.
Examples of IMTA in Sungo Bay
One widely practised integrated from of aquaculture is farming kelp (Saccharina japonica) in the winter and spring, then Gracilaria sp in the summer and autumn.
"Seaweed aquaculture makes very good income for the local farmers, and also a big contribution to improve the environment," said Professors Fang and Jiang.
According to a study by Professors Fang and Jiang, this enables famers to grow 1,500 tonnes (dry weight) of seaweed in a square kilometre, which removes 40 tonnes of nitrogen, 5 tonnes of phosphorous and 500 tonnes of carbon.
Reducing densities, increasing harvests
In another part of the bay, where kelp and oysters were being grown together, studies suggested that the area was being too intensively farmed, so it was decided to reduce the density of seaweed production by 33 percent and the positive impact was considerable – within five years it had led to a 30 percent increase in kelp harvests, faster growth of oysters and farmers' incomes increasing by 97 percent.
"That way the local farmers were very happy so they follow us very quickly," noted Prof Fang
The reason behind the increased production, Prof Fang explains, is that is increased the current speed and illumination increased by 20 percent and 30 percent respectively, creating better growing conditions for both oysters and kelp.
News of this "eco-farming" model has spread quickly, thanks to training programmes across northern China over the last decades.
Another example of IMTA in Sungo Bay flagged up by Prof Fang consists of small cages containing Japanese sea bass, Gracilaria on longlines and Pacific oysters in lantern nets.
According to the results of studies on this combination, fish faeces provide 30 percent of the nutrients required by the oysters, while uneaten feed provides an additional 5.6 percent. Access to these nutrients meant that he oyster meats were about 30 percent heavier than for those grown in a monoculture system.
Abalone, kelp and sea cucumber is another of the combinations being used in Sungo Bay, with the latter two species being grown in lantern nets off the seaweed longlines. Sea cucumbers clean the sediment off the inside of the abalone nets, improving the growing conditions, and reducing the environmental impact of the farm.
"The price of seaweed is very low. Integrated with sea cucumbers and abalone, the income of the farmers will increase a lot," explained Prof Fang.
And the adoption of IMTA has had environmental, as well as economic benefits, he added.
"After 60 years of intensive aquaculture in the bay, the benthic environment is still healthy," he noted.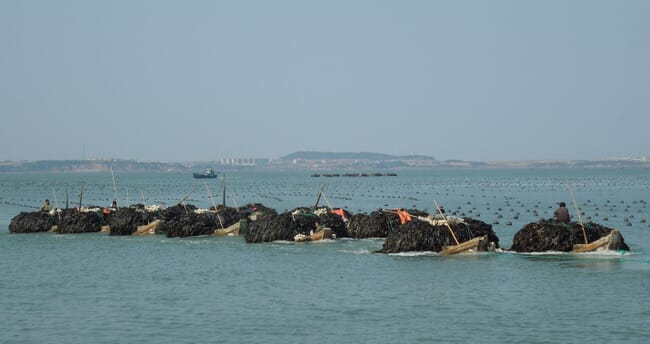 Finally Prof Fang spoke about a new concept – "a combination of pond IMTA, land-based RAS and salt fields" – which is currently being trialled in Shandong Province.
In this system some of the wastewater from fish-producing RAS units is then piped into intensive shrimp aquaculture ponds, then to IMTA ponds containing a variety of species, before being transferred to salt fields, which produce first brine shrimp then salt.
"It's a new idea in China. Some companies have already trialled this, but not yet very many," said Prof Fang.
In the process the phosphorous and nitrogen levels in the wastewater are reduced by 31 percent and 76 percent respectively before they reach the final stage, he added.
According to Prof Fang, promising candidates for the IMTA element of these systems included Gammarus – which could eat the seaweed and feed the shrimp – and sea cucumber, which could feed off the detritus.
"In China the government control the sea, the environment, very strictly. So, if the nutrients get too high, your culture will be stopped. So, in that way, we continue to use the combination of the different IMTA," he concluded.