While the global tilapia trade might be dominated by large-scale producers in South East Asia, Africa and Central America, Blue Ridge Aquaculture of Virginia has shown that using RAS technology to produce tilapia in the US can be economically viable.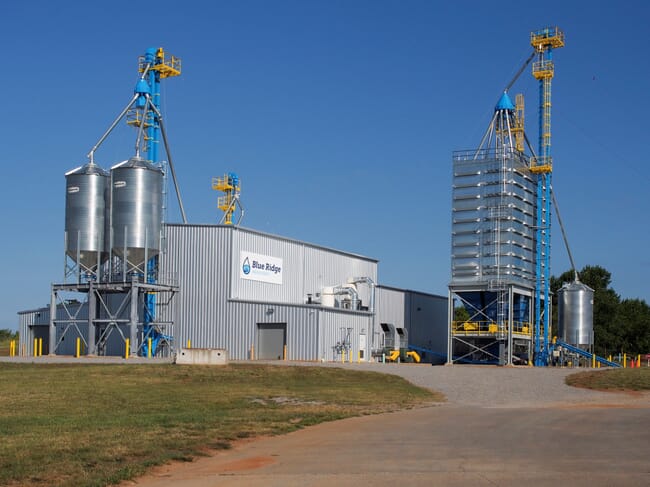 Located in Martinsville, Blue Ridge has been in continuous operation for 25 years. Taking over a catfish aquaculture production and processing company, which had struggled with design challenges, the design and operation changes implemented for tilapia production proved more successful.
The company cannot compete economically with producers in Asia, Central and South America, which produce tilapia fillets comprising 95 percent of the tilapia sold in the US. This prompted the development of a live market, which now has grown to a total of 4 million pounds of live fish shipped to markets in New York, Boston, Washington DC and Toronto, serving their primary customers who are predominantly Asian and Hispanic. A distribution company, Rolling River Live Haul, was started in 2000 as a separate subsidiary, controlling and transporting all live fish sales.
As of 2002, Blue Ridge began full vertical integration – with its own broodstock, hatchery, nursery, grow-out and distribution development systems – which allowed complete control over biosecurity. Previously, disease transfer was associated with bringing in fingerlings from other facilities using third party live haulers. Closing the entire cycle from spawning to distribution would form the core of their biosecurity protocols, which has allowed production to remain disease-free for the past 20 years.
As Martin Gardner, director of business development, explains: "Establishing full integration was paramount to maintaining biosecurity as the threat of disease is the biggest challenge to Blue Ridge tilapia production and we remain vigilant."
Ever expanding, in 2006 the firm also began to produce shrimp in similar RAS systems. Shrimp production research continued for two years before it was discontinued due to the lack of availability of shrimp post-larvae. During the next ten years Blue Ridge established itself as a world leader in tilapia production using RAS technology.
Since 2012 Blue Ridge has been an employee-owned company. It has generated long term continual returns unheard of in recirculation aquaculture circles. The success of the company is in part due to the contributions that were made from long term employees, who possess over 75 years combined experience in aquaculture production, processing, marketing and sales.
In July 2017, Blue Ridge opened their own feed mill, Blue Ridge Aquafeeds, making them self-sufficient in feeds, while surplus production can be sold to other aquaculture operations. Blue Ridge Aquafeeds focuses on perfecting a feed that perfectly meets the nutritional needs of the fish – as Gardner states "healthier feed means healthier fish".
The fish feed recipe is a combination of corn, soybean and fish meal with an exact vitamin profile, turning out a production rate of 4 tons of feed per hour. The company does not use growth hormones or antibiotics and the product is free of mercury and pollutants, as confirmed by routine testing.
The production cycle
The tilapia used in production is a hybrid composed primarily of Oreochromis niloticus (Nile tilapia) genes. The cycle begins with the collection of eggs periodically from female tilapia housed with males using "in ground" channels. Eggs are then "washed out" of mouth brooding females and hatched in separate containers. Juveniles are collected after 30 days and stocked into a separate RAS juvenile system to be grown out for two months before stocking into the main grow system. Tilapia grow-out consists of 42, 215 m3 raceways, fish are harvested at 800g and stocked at a final harvest density of 116 kg/m3. A high growth rate of 4.2 g/day is maintained during the 6 month grow-out cycle.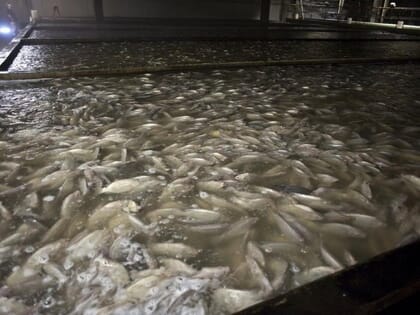 A feed containing 36 percent protein is used, providing a feed conversion ratio (FCR) of 1.6: 1. Genetic diversity is maintained in broodstock and over the course of 10 generations a very select Blue Ridge tilapia strain has emerged which is perfect for their system.
All culture water is fresh, with only a small amount of salt added during transport to which causes fish to add a protection layer of slime during shipment. Water quality is maintained in the RAS system through a standard recognized system process. Water from tanks is pumped to rotating biological contactors which provide biofiltration, CO2 degassing and solids collection. A final step before water return is adding oxygen with down flow bubble contactors. About 85 percent of its water is reused which requires about 1900 m3 pumped from an aquifer, to replace the 15 percent that is removed each day. The wastewater is loaded with solids and ammonia which is then transferred to waste water treatment.
Future of Blue Ridge
Research has also been conducted on cobia, trout, salmon and aquaponics and, according to Martin, these species and systems have considerable potential for Blue Ridge in the future. Live fish sales on the west coast are a possible expansion option as well as live shrimp sales to restaurant, grocery chains and sushi shacks.
The company maintains an opinion that GMOs provide an advantage and have a place in aquaculture. Although the tilapia grown are non-GMO, with nearly all of the country's arable farmers engaged in genetic modification, GMO feed ingredients are included in the diets. Feeds in the future for tilapia will likely be all plant-based.
Blue Ridge Aquaculture has proven that indoor recirculating aquaculture systems can be successful on a biological and economic basis by incorporating a unique sales and distribution scheme based on proper engineering and live fish distribution. Sustainability and longevity of the company has been founded on an integration of outstanding biosecurity, employee involvement and economies of scale. Continual improvements such as feed pellet manufacturing has allowed further control and greater profit potential for this very unique and successful RAS company.