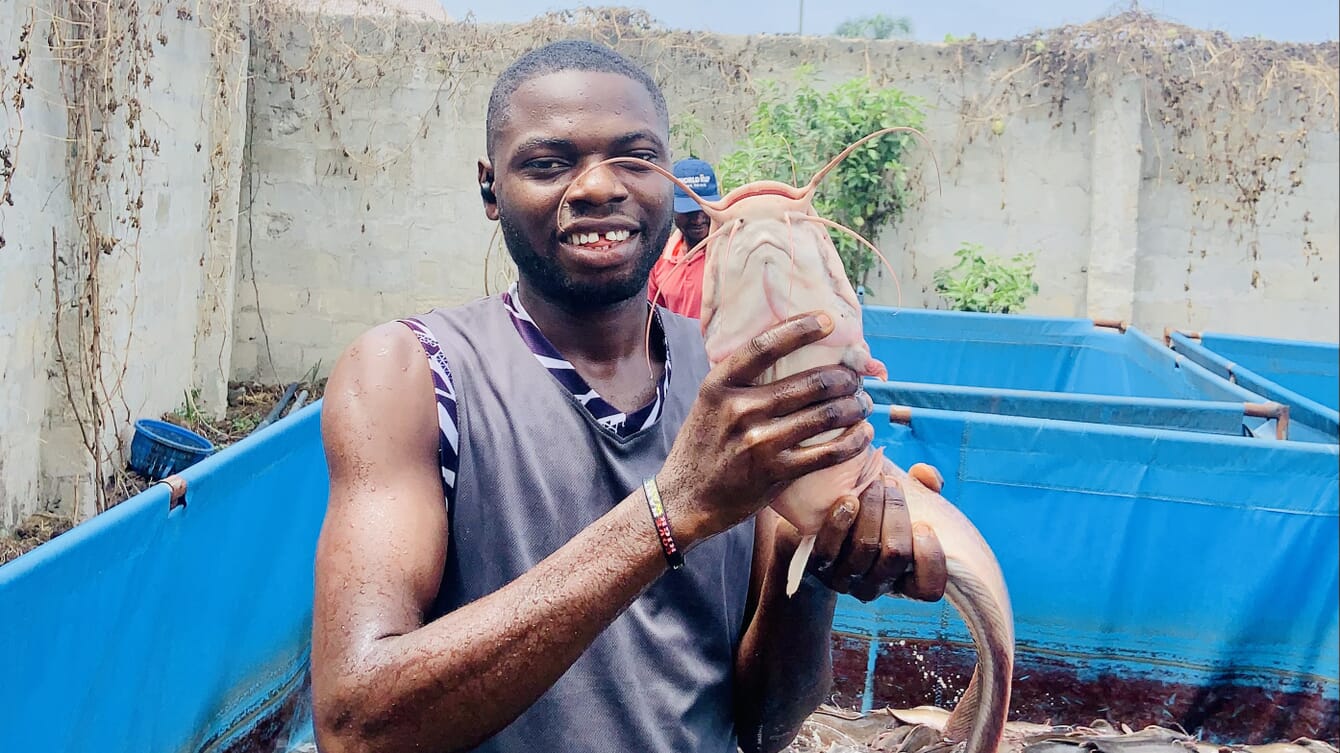 What inspired you to become an aquaculture consultant, catfish farmer and YouTube personality?
During my undergraduate studies in industrial chemistry, I attended an agribusiness seminar that included training on catfish farming. Despite having no prior background in aquaculture, I found myself intrigued by the concept and began researching the practice. It was during this time that I discovered unused ponds on land beside my family's house, which had been dug by one of our neighbours for aquaculture purposes but had remained unused. This discovery inspired me to become a catfish farmer and put these ponds to good use.
Initially, I faced many challenges, with fish dying or not growing as expected. To improve my farming skills, I sought advice from experienced farmers, conducted extensive research and made adjustments to my approach. Over time, my knowledge and experience grew, and I achieved better results in a shorter amount of time.
As I progressed in my farming career, I noticed a gap in the industry. There were few experienced farmers available to offer guidance to those new to the business, leaving many struggling with insufficient information and costly trial and error. To address this need, I founded a consulting firm to help bridge the gap and provide relevant knowledge to those seeking to enter the industry.
In 2020, I expanded my reach further by launching a YouTube channel. Through this platform, I share my experiences and knowledge with a wider audience, offering tips and advice on catfish farming and aquaculture more broadly.
Overall, my passion for aquaculture and desire to help others succeed in the industry have motivated me to pursue these various endeavours, and I look forward to continuing to share my knowledge and expertise with others.

Could you tell me more about your catfish farming business?
Our catfish farming business is primarily focused on grow-out operations. We obtain fingerling and juvenile catfish from breeders and then raise them for four to five months until they reach table size, which is approximately 1kg. We are able to produce up to 7 tonnes of catfish per cycle and can have up to three cycles in a year, allowing us to harvest up to three times annually.
Once we harvest our catfish, we sell them to women traders and various outlets in the market, such as barbecue vendors and hotels. We also have a processing plant where we process the fish and sell them to customers.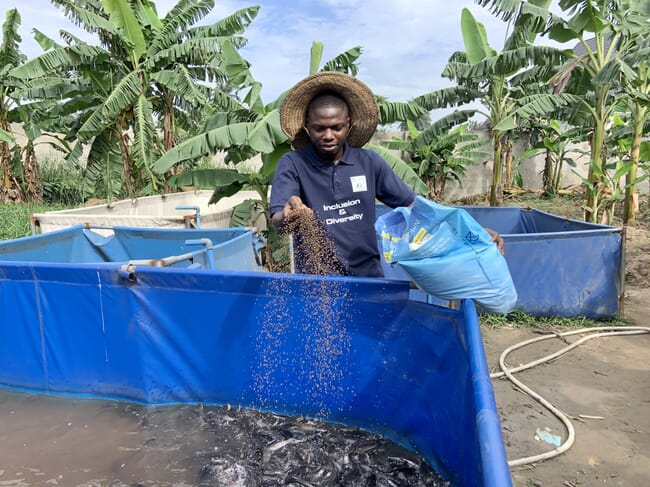 Can you provide information about the course modules you offer for new entrants to the aquaculture business?
We offer a comprehensive training programme to help new entrants start and successfully run their fish farming businesses. The programme consists of three modules:
Module 1: The Startup Plan/Guide to Catfish Farming, covers the basic knowledge required before setting up a fish farm, such as pond type, water quality, fish type, feed and market. Additionally, we provide a budget plan for starting a fish farming enterprise.
Module 2: Focuses on farm management practices, where we train farmers on how to manage their water, feeding and staff. We also provide training on finance and record-keeping, which are essential aspects of successful fish farming. We have developed spreadsheets that farmers can use to calculate their expenditures and income automatically, which helps them to make informed decisions.
Module 3: Concentrates on harvesting and marketing. We teach farmers how to harvest fish and market their products. We emphasise the importance of understanding their target market and the different product options available, including selling fresh or processed fish.
Our training programme provides farmers with the necessary knowledge and skills to start and run a successful fish farming business. We offer this training through an e-book that goes for 2,000 NGN ($5), online training at 20,000 NGN ($50) and in-house training at 100,000 NGN ($220).
In what ways has social media helped you connect with farmers in Africa?
Social media has played a significant role in connecting us to farmers across Africa. Our journey started with a YouTube channel, and soon enough, we started receiving calls and messages from farmers across different African countries, including Nigeria, Ghana and South Africa. We also leverage Twitter. Through our strategic use of social media, we have been able to establish meaningful connections with farmers all over Africa, which has significantly bolstered our business.
Can you share some of the most interesting guests you've had on your YouTube channel and what you learned from them?
One of the most interesting guests we've had is Gugulethu Mahlangu, a South Africa-based smart farmer and host of #FarmSpace on Twitter. She spoke on mastering aquaponics, which is a food production system that couples aquaculture with hydroponics. She provided us with a lot of information on aquaponics, which is not yet popular in Nigeria, but is widely used in South Africa and Europe. I found the session highly engaging, and it has piqued my interest in exploring aquaponics systems further.
Another guest who stood out is Tiki Yinyegha, a fish farmer at Tikifish Farm and Smokehouse in Akure, Nigeria. She spoke on the secrets of creating perfectly dried catfish. In her informative session, she shared techniques used to dry and preserve catfish, the various methods for preparing catfish for drying, as well as the tools and equipment needed to successfully carry out the process. Tiki's farm is one of the biggest processors of fish in Nigeria, and they process various types of species, including tilapia. They currently process approximately 10 tonnes of fish per week, and they have clients and customers not just in Africa but also across Europe and South America.

We also had Amanda Pat, a catfish farmer in Calabar, Nigeria, who spoke on how to start a catfish farm business. She shared her experience as a catfish farmer, the challenges and opportunities in catfish farming, and the steps to starting up. She also discussed feed production, which is an essential aspect of catfish farming.
Finally, we had Afuom Hene, a farmer and YouTuber from Ghana, who spoke on the do's and don'ts of catfish farming and the basic farm management practices necessary in catfish farming. Each of these guests provided unique perspectives and practical advice that has helped us and our viewers to better understand the world of aquaculture.

What are some of the most innovative ideas that you've come across during your YouTube talk shows? Could you provide some examples?
Some of the ideas that stood out during my YouTube talk shows include aquaponics systems, black soldier fly (BSF) farming, recirculating aquaculture system (RAS), and fish processing techniques. These are all modern and sustainable approaches that have the potential to revolutionise the way we produce food and utilise resources.
What do you think are the biggest challenges facing the aquaculture industry in Nigeria?

In my opinion, the biggest challenge is finance. The cost of setting up a commercial farm is very expensive, and even starting with a small farm of just 1,000 fish, which is just a tonne, requires close to a million Naira ($2,200) for the general setup. This is a challenge for young people who want to start in the industry. The finance aspect also poses a problem for those who want to expand their farms to a commercial level. The market for fish farming is already available in Nigeria, but finance is a major hindrance to meeting the demand.
In my recent session with Tikifish, he mentioned that their processing plant handles nearly 40 tonnes of fish each month. However, finding farmers who can supply this volume of fish on a regular basis to Tikifish would require a significant amount of capital investment.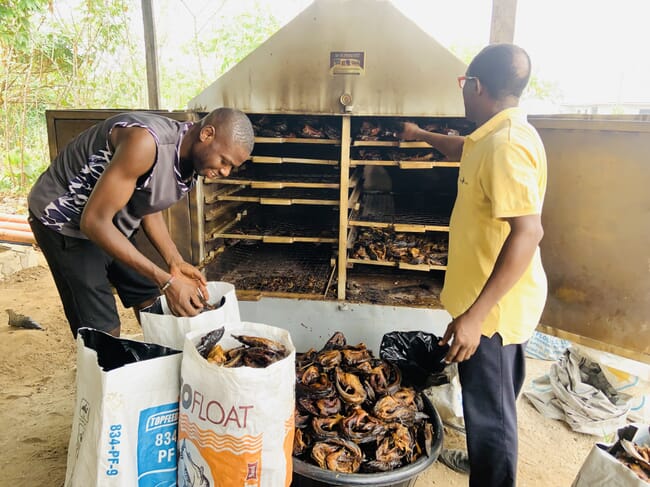 The next challenge after finance is logistics. Connecting farmers and buyers from different locations in Nigeria is a challenge, and transporting fresh fish requires a good van to prevent spoilage.
Access to quality feed is another challenge. Quality feed is expensive, and farmers who cannot afford it tend to resort to using local low grade or homemade feed, which affects the growth of the fish. Some farmers in Nigeria import quality feed, while others rely on good local feed producers like the Blue Crown and Top Feed, which are a bit expensive. However, those who cannot afford quality feed may go for cheaper alternatives, which affect the quality of the end product. Starting a local feed processing plant requires a huge capital outlay for raw materials and processing facilities. Solving these challenges will help the industry meet the growing demand for fish in the country.

How can we encourage greater collaboration between farmers and consultants in the industry?
The first step is to build trust. In the past, there have been instances where farmers have hired consultants for guidance, but were given incorrect advice due to the consultant's lack of technical know-how or insincerity. This has resulted in a lack of trust among some farmers towards consultants, leaving them unsure whether the consultant can deliver value for the money spent on their services. If there is trust, farmers will be more likely to seek out consultants for advice.
Secondly, in Africa, many people have the mentality of wanting to do things themselves rather than pay for consultancy services. This is similar to the way some people may not see the need for insurance on their property or goods. If farmers can be convinced of the value of consultancy services, they will be more likely to seek them out.
Another way to encourage collaboration is by establishing communication channels that make consultancy services more accessible to farmers. In our case we have online programmes and videos on YouTube to make it easier for farmers to access the information they need, without having to leave their location. By making consultancy services more accessible and convenient, farmers are more likely to seek out consultants and collaborate with them.

How do you maintain a good relationship with your clients?
At our firm, we prioritise providing our clients with value for money. We are actively involved in the services we provide, which sets us apart from online consultancies. While some people may have studied agriculture or fisheries in school and have the theoretical knowledge, nothing beats the practical experience and technical know-how gained from doing the work on the ground. This experience allows us to relate better to our clients' challenges and provide them with solutions that actually work.
We also prioritise delivering results for our clients. We train them using a hands-on approach that involves practical demonstrations rather than just telling stories. For instance, we help our clients understand the budget required for starting a fish farm, which can be a significant upfront cost. While some clients may initially be hesitant about the expense, once they begin farming, they understand the value of investing in the business.
Our approach has helped us build trust with our clients, and many of them return to us for additional services or referrals to others. We strive to maintain open communication channels and listen actively to their feedback, which helps us improve our services continually.
How do you balance the demands of your consulting work, farming and YouTube channel?
We strive to find ways to make our consulting work more efficient by utilising online platforms to reduce the amount of face-to-face interaction required. We currently offer our e-book online, which allows people to buy and download the book without the need for direct interaction.
For consulting and online training, we conduct most of our sessions virtually. We are also planning to develop a video course model where we will provide training modules in video format. These modules will be available for viewing online, at any time that suits the client.
Regarding our YouTube channel, we typically post videos when we have ongoing consultancy projects to establish new farms. We document the process and post videos showcasing the different steps involved. We are also planning to produce more talk shows on the channel where we will invite experts to discuss various areas of farming. We usually conduct these shows during the weekends, and we have a team at the farm who ensures that work is done, even when I am not available.

Can you tell us about your future plans?
We have exciting plans for our YouTube channel. We are planning a farm visit tour where we will visit different farms and speak with experienced farmers who have not yet shared their stories online. Our goal is to learn from their experiences, lessons learned over time, and post these informative videos as a series on our channel. We plan to visit farmers not only in Nigeria but across Africa and cover various species, not just catfish.
We are also looking to incorporate a mobile app to better serve our clients and answer frequently asked questions more efficiently. With the experience we have gained over time, we will continue to develop our model and improve our services.
Regarding our farming operations, we plan to expand to aquaponics in the future. However, this requires a significant amount of funding. Electricity supply still remains a challenge in Africa, and solar power systems are expensive. Once we secure the necessary funding, we will pursue this endeavour fully. Additionally, we plan to expand our farm's capacity beyond the current three cycles per year, by acquiring more ponds and increasing our feed purchases.