INVE, which is part of Benchmark, was awarded export certification this week after three full days of audits by COTERI (Technical Commission for Import Risk, Ecuador) at the company's factory in Thailand.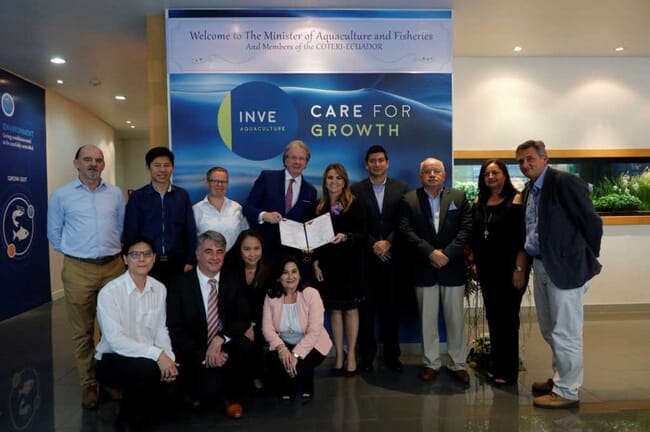 The certificate, which is valid for four years, was presented by Ecuador's Minister of Aquaculture and Fisheries Ana Katuska Drouet and Daniel Carofilis, sub-secretary of Aquaculture and Fisheries, during a ceremony at INVE's office in Bangkok.
The Minister commented on the high standard of operations at the factory, which will now be used as a benchmark for other companies applying for a similar certificate in the future.
Addressing his team after the ceremony, Philippe Léger, CEO of INVE, said: "We are proud of the dedication of our management team and staff in Thailand. This is not only a milestone achievement for INVE and Benchmark, but also the next step towards a more efficient supply chain and enhanced service for our customers in Ecuador.
"Working closely together with ambitious aquaculture entrepreneurs worldwide, INVE is privileged to witness many successes, innovations and breakthroughs. We look forward to working with producers in Ecuador to share and develop concepts, best practices and technologies to drive the growth of their business and the industry as a whole."