Indian fish farmers refute damning report
A recent study has described Indian aquaculture practises as unhygienic and unhealthy. But farmers claim that the report is biased and risks causing economic damage to an industry that is trying to recover after the pandemic-induced lockdown.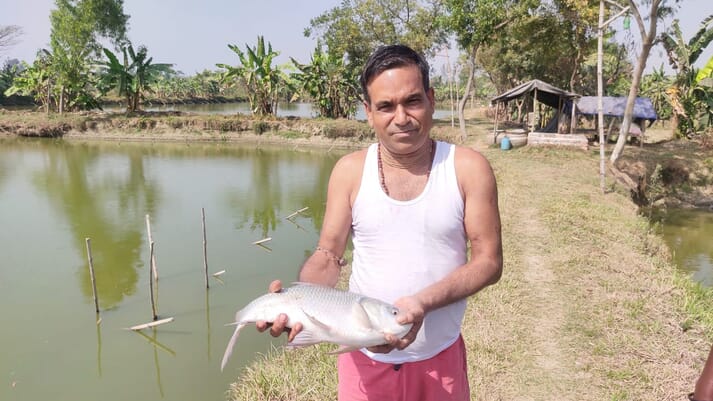 The study suggests that Indian aquaculture farms contain hazardous levels of metals like lead and cadmium in the water and are releasing their effluents directly into nearby canals and estuaries. It also criticised the intensive use of antibiotics and insecticides by the sector, referring to this as a "ticking time bomb".
Furthermore, according to the report – by the Federation of Indian Animal Protection Organisations (FIAPO) and All Creatures Great and Small (ACGS), a non-profit organisation offering shelter for animals in distress – unhygienic conditions lead to frequent disease outbreaks and significant commercial losses.
The authors of the study say that they reached their conclusions after researching 250 fish and shrimp farms in Andhra Pradesh, Tamil Nadu, Pondicherry, Gujarat, West Bengal and Orissa, Bihar, Jharkhand, Chhattisgarh and Assam.
Industry backlash

However, the report has been widely criticised by the aquaculture sector.
"The situation is not as alarming as claimed in the report. Unlike fishermen in Thailand, Indonesia and other countries, Indian farmers do not practise intensive aquaculture, which leads to severe pollution. Most of the farmers in India have small and marginal land holdings and they practise modified, intensive and semi-intensive farming," says Archiman Lahiri, deputy director of the Marine Products Export Development Authority (MPEDA), the agency for the holistic development of seafood industry in India.
"Around 78,000 hectares of land is under aquaculture in Sundarbans area of West Bengal, out of which 70,000 hectares is under traditional farming. They do not even give artificial feed and depend on natural feeding. Some states, like West Bengal, have good tidal influence where water is automatically flushed out and doesn't require recycling," he adds.
He also cites a study by scientists at Central Institute of Brackish Aquaculture (CIBA), Chennai, which was published last year and corroborates his claim.
Exports rise while rejection rates fall
The study found India to be the largest exporter of frozen shrimp in the world, with shrimp exports worth $4.4 billion during 2018. It also said that India is the second largest fish producing country in the world and is expected to grow total fish production by 24.6 percent to 13.4 million tonnes – of which aquaculture is expected to contribute 8.21 million tonnes – by 2030, a rise of 44.1 percent.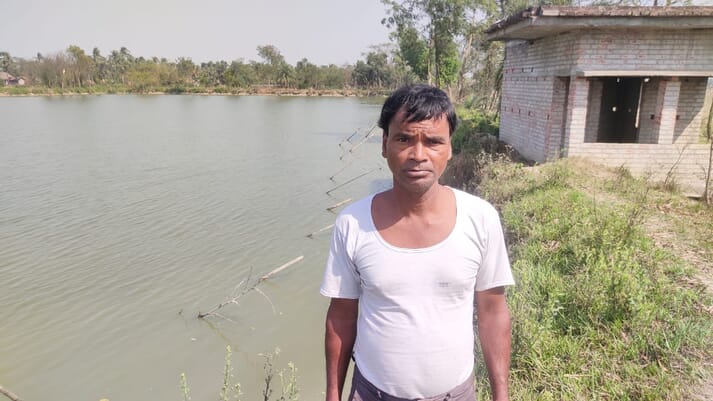 The report also says that India, along with China and Thailand, has managed to retain major part of its share in the US and Japanese markets.
The unit rejection rate (URR) of Indian shrimp exports also declined and was 0.015, 0.03 and 0.02 for USA, EU and Japan – which is lower than the relative rejection rate (RRR) from Vietnam to the EU and Japan during this period.
The percentage share of rejections of the total shrimp exports to US from India also consistently declined – from 6.1 to 0.31 percent during 2004-2017.

"Marine products from India have to pass through several rigorous parameters before being finally approved for sale in foreign land. Even a minor callousness can prove costly for the Indian sellers. India is now producing around seven lakh [700,000] tonnes of shrimp annually and Andhra Pradesh is a leading producer with 4.5 lakh [450,000] tonnes, followed by Gujarat and others," asserted Dr KK Vijayan, director of CIBA-Chennai, which conducted the research.
"Some farms in West Bengal or Odisha might not be following the standards, but their contribution is negligible. The farm owners in high shrimp producing states are following best technology and international standards. The [FIAPO] report is non-scientific and it could just add to the headache of manufacturers who are following high ethics. It might also lead to a drop in international prices of shrimp."
Post-Covid concerns
Supratim Chowdhury, associate professor at West Bengal University of Animal & Fishery Sciences, felt that the study might have a negative impact on the aquaculture industry of India, which is currently limping back to normality after severe losses caused by the lockdown last year.
"The industry has already faced a deadly blow when the exports were completely stopped due to the pandemic-induced lockdown. The market is slowly trying to breathe and the report might just add to the woes of the several thousands of fishermen and other people depended on it for livelihood. There might be some wrongdoers but it doesn't present the entire picture," says Chowdhury.
Even fishermen's bodies have raised issues with the FIAPO report, noting that farmers are not the only ones to blame.
"The government has to be equally blamed for the present scenario as it has paid attention to quantity and not the quality. Excessive waste from industrial units is polluting water bodies. The same water is then used for shrimp cultivation," says Debashish Shyamal, national council member of the national platform for Small Scale Fish Workers.
"The report is one-sided. It should have brought into book the industries and government also. We cannot stop cutting fish, as it is our livelihood. Trees are also cut in huge quantity, which is a major cause of environment degradation. The report is actually against killing of animals rather than raising our issues. There are several farmers who are following healthy practises. They are feeling completely let down by this report," he adds.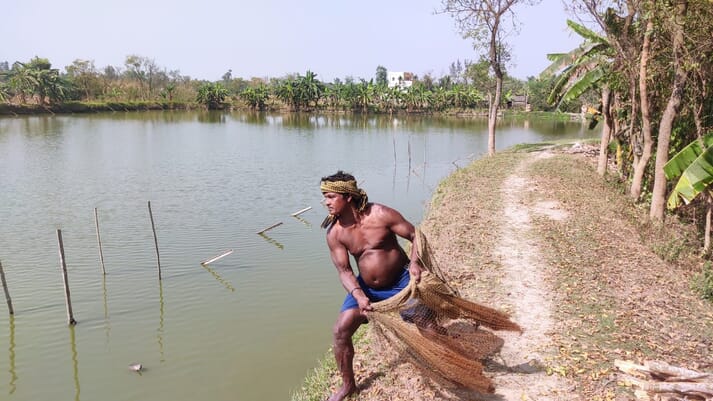 Improved traditional farming
Fish farmers claim to be following ethical farming practices and providing healthy food to consumers. Uttam Khatua, who has been a fish farmer for the past three decades at Baishnab chak village in East Medinipur district of West Bengal, around 100 kilometres from Kolkata, is a case in point.
The 53-year-old has five ponds. He releases carp fry into these at around 150-200 grams in July every year and harvests them at around 2-2.5 kg by the following April.
Khatua says that he ensures that the ponds remain clean and that the fish feed is of good quality.
"We do not buy food from the market and rather prepare organic food with the help of rice polish, blackstrap molasses, almond and mustard shells that is rich in protein and vitamins. It involves lot of hard work and labour but we aim to offer good food to the consumers rather than providing food that is full of harmful chemicals," he says.
He also pointed out the efforts that are made to ensure plastic is not thrown in the pond.
"The fish from our farm tastes well and the buyers book orders even before the catch. We make lesser profits but ensure that people consume healthy food. Traditional aquaculture is better than intensive aquaculture," he argues.
Gautam Das, 52, another fish farmer who lives in the neighbouring Gopalpur village, says that farming is done in rain-fed ponds, and steps are taken to maintain cleanliness.
"We keep on throwing limestone regularly for the cleanliness of the pond and the sides are also kept clean so that no dirt gets into the water. We also throw nets to do health checks of the fish to ensure there is no disease that might affect other fish also. The use of chemicals in fish can make the consumers sick. We refrain from such practises," he says.
The duo mostly grow golden carp, rohu, black carp and mrigal carp. They also motivate other fishermen to improve their traditional farming methods.
Those involved in shrimp farming say that government should take strict against those industries and individuals polluting the water bodies.
"We do farming in sea water which is too dirty nowadays. We have to keep it clean by the use of medicines. The government should pay utmost attention in implementing stringent rules for industries and those responsible for destroying the environment, rather than putting the entire onus on us for unhealthy farming. The study should also have raised these points," asserted Madhav Mondal, a shrimp farmer at Dadanpatrabar village in East Medinipur district.