How will rising ocean temperatures impact the aquaculture industry?
Extreme temperature events caused by climate change are becoming more intense and frequent – a new study summarises the effects of extreme temperatures on various physiological responses of farmed fish.

The study was conducted with the Experimental Aquaculture WG and discusses the consequences that rising temperatures have for fish growth and reproduction.
Lead researcher Andreas Kunzmann says that climate change is already clearly noticeable in Europe, especially in Southern Europe. He and the rest of the working group wanted to know fish in aquaculture, which cannot simply migrate further north like their wild relatives, react to the higher temperatures. The working group also wanted to know whether their reactions might be financially noticeable for fish farmers.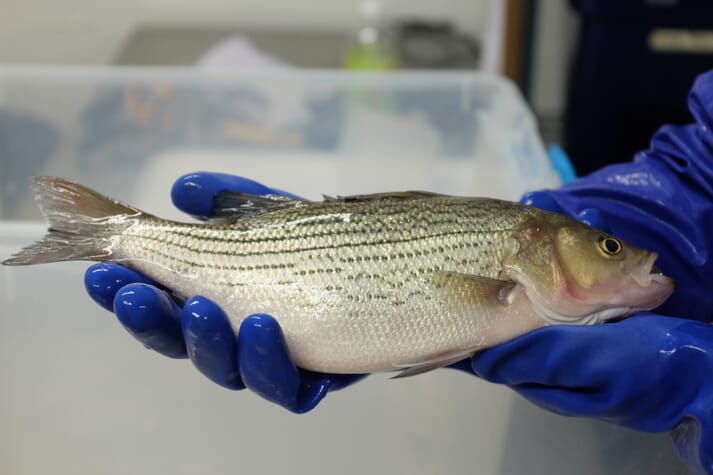 The working group studied sea bass in the Mediterranean. The fish were exposed to very different temperatures in successive lab experiments laboratory (slow vs rapid temperature increase, along with lower temperatures) and in combination with different salt contents. From there, the researchers determined growth, health and a whole range of physiological parameters (blood components, enzymes, gene expression) and compared them with control animals.
Kunzmann and his colleagues found that sea bass are quite adaptable. While there are still few immediate reactions at the organism level (growth, health), the effects of stress at the organ and cell level can already be seen very clearly. Energy consumption increases, the first limits of stress tolerance become apparent. The team also saw that it is essential to take several reaction parameters into account.
Kunzmann says that in the long run, temperature and salinity stress will also affect feed conversion, growth performance, health and reproduction of the fish. So the fish farmer has to think about how to adapt his aquaculture to climate change. One possibility is selecting suitable sites. Another is the administration of probiotic substances in the feed, which definitely reduces short-term stress effects.
What could be the impact on aquaculture?
Kunzmann and his colleagues believe that the "wild" sea bass stocks will very likely leave their traditional areas and migrate further north if temperatures continue to rise. It is possible that fish farmers will have to migrate behind with their production sites. Land-based production can adjust environmental parameters such as temperature or salinity in a controlled way, but this would make production much more expensive. Nutritional measures should be explored as a potential option to combat extreme temperature stress and an innovative and adapted fish feed should be developed.
Read the full report in the Journal of the World Aquaculture Society.