This was one of the key messages delivered today by Rabobank seafood analyst Gorjan Nikolik, in a talk entitled "No longer crawling: insect protein to come of age in the 2020s".
Speaking at an event organised by Adisseo, Nikolik highlighted that the global aquafeed sector currently utilises 42 million tonnes of raw materials a year, while global insect production is less that 10,000 tonnes. He expects insect production to increase dramatically in the coming years – fuelled by the impressive levels of investment in the sector – to around 500,000 tonnes a year by 2030, of which around 200,000 tonnes are likely to be available for aquafeeds. However, as he observed, this is only a fraction of the feed ingredients used by the sector.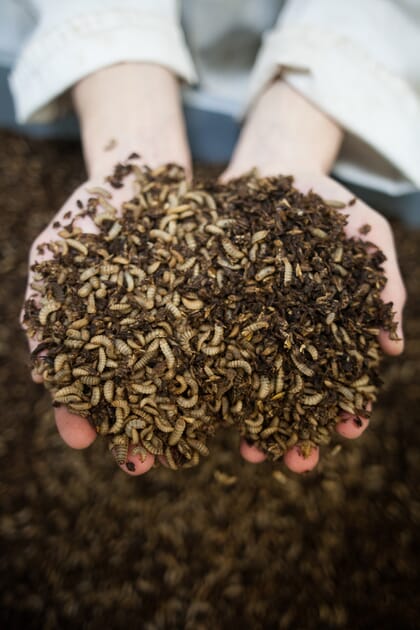 Despite this, he argued that insect producers might be able to have an impact far greater than is suggested by their fairly modest production levels. Indeed, he argued that insect producers will prosper, if they are able to focus on differentiating their product through new, value-added propositions – including focusing on the nutritional, functional and environmental benefits of using insects in aquafeeds.

Currently, as Nikolik reflected, insect protein is still too expensive to produce for mainstream use as a bulk protein in aquafeed. And this is compounded by the fact that, despite predictions to the contrary, the price of fishmeal has remained remarkably stable over the last 4-5 years – making it unlikely that insect meal will reach price parity with fishmeal, even though its cost of production is due to decline.
A three-stage evolution of a six-legged sector
As a result, according to Nikolik, insect protein is unlikely to supplant fishmeal or soy, but could demand better prices should research into its potential to improve factors such as gut health, growth rate and feed palatability prove fruitful. And he outlined three possible stages for the evolution of the selling points of insect-based ingredients in aquafeeds.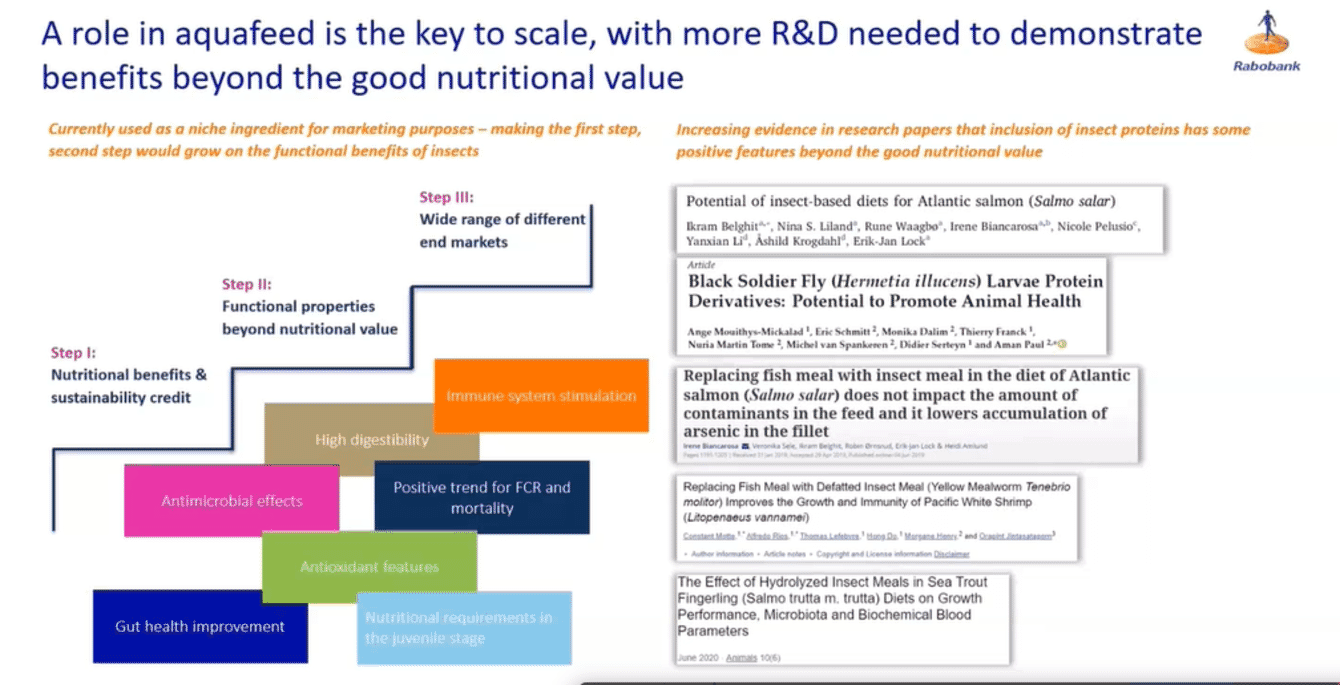 The first stage – which is the current stage – relates to the nutritional and sustainability credentials of the sector.

"It seems that at the moment most of the aquafeed formulators are fully aware that inset proteins have a very strong nutritional benefit. That means they are healthy for the fish, the fish grow well and there's nothing wrong with the fish – no deformities etc. And they're very keen on the sustainability credentials that insect protein brings," Nikolik pointed out.
The second stage, according to the Rabobank analyst, relates to establishing which species and life stages are likely to benefit the most from the inclusion of insects in their diets.
"More research is needed to fully understand where the impact of the insect protein is the highest. And which species exactly – is it going to be something like eel or sturgeon, for example, because they are freshwater species and are normally very high insect eaters – will benefit the most from the palatability, from the gut health benefits [of insect meal]. Or is it small fish, like smolt from salmon, that are going to benefit the most?" he asked.

"These details – the functional properties such as gut health and growth – this is where research is going at the moment and I think it will be crucial to further understand this as the sector brings in more volume and we have more opportunity to build the aquafeed market," Nikolik argued.
Looking further ahead, Nikolik alluded to intriguing benefits – albeit ones that are as yet unproven – that might raise the impact of insect-based aquafeed ingredients to new levels.
"And the third one – and it's probably the most interesting one – what I understand from research is that allegedly insects, they have in their bodies molecules and substances that protect them from bacteria. You can imagine, they can thrive in highly pathogenic bacterial environments, just as one example. Researchers in universities and some laboratories are focusing on trying to extract some of these products or reproduce some of these products from insects," he noted.
"In a way you should see the insect as not just a single substance. It's not just a protein or an oil. If you compare to a pig – a pig you have pork chops and bones and you make gelatine etc. Also, from insects you can make different products. Some of these products could be very interesting because of this antibacterial capability of insects. So perhaps we'll be able to develop medicines or pharmaceutical products from the skin or the gut of the larvae. This is quite long, distant future from now, perhaps 10 years from now, but it is really showing potential that it could be even more than just protein or oil," Nikolik ventured.
Rabobank's support
While this third phase might be a way off. Nikolik's faith in the potential offered by the insect sector is strong and, as he observed, it's a sector that Rabobank is both fully supportive of and has invested in.
"We as a bank are quite enthusiastic about the industry. We fully realise that it's at early stage but we're an investor in the sector – we have invested in one company both as a lender and an equity investor. We do see that the legislation is moving in the right direction. We've seen that marketing of the product – both how it's used as an ingredient but also of the final products – is improving and there are more and more ideas.
"As I mentioned much more R&D is needed, but there's some very good science already…. And, so far capital influx had been quite good so expect construction to go ahead in the next 2-4 years and volume of the sector to increase," he concluded.