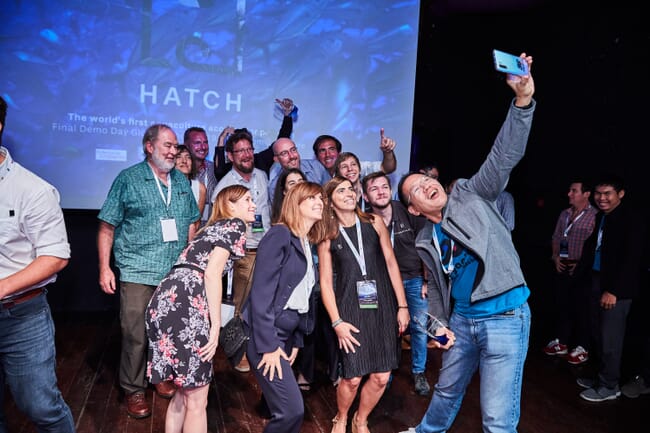 While sharing much of the structure of the first four accelerators, the new programme has a number of key differences – most notably that it will consider companies involved in ocean biotech and blue carbon, not just aquaculture and alternative seafood, in line with Hatch's increasing emphasis on regenerating the oceans.

The other key difference is that this year's programme is only open to companies incorporated in the US.
As Wayne Murphy, co-founder and partner at Hatch, explains: "The timing is right for us to create a US-focused programme, as the region is fertile ground for innovative ideas, entrepreneurial talent and smart investment capital. This year's search for applicants will include aquaculture, alternative seafood, marine biotech and blue carbon technologies as these sectors grow increasingly in importance for our oceans and sustainable planet health. We are looking forward to seeing how we can help this year's cohort to really make a difference and scale their companies further."
Taking place over 14 weeks, the programme will combine online and in-person activities. Within this period participants will spend two-and-a-half weeks in Hawaii, 10 days in Norway, and 10 days combined between Singapore and Vietnam – allowing them valuable opportunities to meet with, and learn from, an international selection of experts and investors. And – in between these visits – online events and activities will be scheduled.
Given the US-centric recruitment drive, the programme will kick-off at NELHA in Hawaii – a location with world-class research facilities, where Hatch is working closely with Hawaii Science and Technology Park (HOST) at NELHA to bring through a new generation of blue innovation startups.

Greg Barbour, executive director at NELHA, said: "We are excited to welcome the next Hatch accelerator cohort to the Big Island of Hawaii and to support them in whatever way we can. Each of the previous accelerators has managed to help shape some incredibly capable entrepreneurs and impactful technologies that have gone on to attract over $100 million in follow-on funding, which is a wonderful testament to the value of the programme. I look forward to seeing that level of progress and impact continuing with this year's cohort and beyond."
As well as providing the programme activities, Hatch plans to invest $150,000 - $300,000 in each successful applicant – with follow-up investments also being possible. It is the combination of the injection of funding and the exposure to Hatch's huge network of mentors that has catalysed the growth of companies in previous cohorts.
As Jason Deglint, founder of Blue Lion Labs – which took part in the 2020 programme – comments: "We entered Hatch with very little aquaculture knowledge and network. However, by the end of the programme, we could communicate to end users and had developed relationships with key market players. It's been over two years since Blue Lion Labs completed the programme and Hatch is still supporting us by providing guidance on business decisions and valuable introductions to investors and partners."
Kuehnle Agrosytems, a Honolulu-based producer of astaxanthin, is another former participant to have benefited from the programme.
"Hatch empowered us as entrepreneurs to be around like-minded colleagues while increasing the impact of our enterprise via much quicker market entry for our products; providing critical global exposure for our Hawai'i-based company; and introducing us in-person to the decision-makers inside relevant organisations. Since that programme we have attracted further investment from Hatch and also Aqua-Spark and are currently expanding our operations into Europe," says Heidi Keuhnle, the startup's CTO.
Application details
Applications are open to US-incorporated pre-seed/seed startups, with innovative and scalable solutions for relevant problems in the aquaculture, alternative seafood, marine biotechnology and blue carbon sectors.
Applicants must have at least two people in their team, be willing to focus 100 percent on their venture and have an initial proof-of-concept.
Applications are open until 8 May. To apply or to find out more details please contact Wayne Murphy, via wayne@hatch.blue or visit the Hatch website.