Aqua-Spark is a primary investor in BioFishency's latest round of funding, which raised $2.4 million in total. BioFishency will use the additional funds to support its innovative R&D strategy and expansion in China. Aqua-Spark's investment in Molofeed will be put towards marketing and increasing production capacity.

Mike Velings and Amy Novogratz, co-founders of Aqua-Spark, reflect: "These two companies exemplify what we set out to do with Aqua-Spark. While in different parts of the value chain, through advanced technology and innovative thinking, they're each moving the needle for a more sustainable future for aquaculture. As the industry continues to grow, we need to support the practices and technologies that are improving how we grow fish so that aquaculture can reach its potential as the healthiest, most resource-efficient animal protein."


BioFishency
With its focus on sustainability and accessibility, Israel-based BioFishency is developing water treatment systems with high-end technological capabilities that are cost-effective and easy-to-use in land-based aquaculture. BioFishency's flagship Single Pass BioFilters (SPB) are available in various capacities via plug-and-play technology and can manage turn-key projects. BioFishency's systems have already dramatically increased farmers' productivity, including a 95 percent reduction in water use for intensive tanks, a 2-5 times increase in yields for large ponds, and 2 times greater nitrification.
BioFishency's systems operate effectively in countries including Israel, Congo, Bangladesh, India, Indonesia and China. There is strong interest in units in Nigeria and Vietnam (for the shrimp market). With over $1.3 million in sales for 2018, it has more than doubled its total 2017 revenues.

Igal Magen, co-CEO and co-founder, said: "BioFishency is extremely pleased and honored to join Aqua-Spark's portfolio of investments. As a leader in the aquaculture investment ecosystem, Aqua-Spark's mission is one we identify with, and we hope to do our part to contribute to an industry that is more sustainable and accessible to fish farmers worldwide. We look forward to working together with the Aqua-Spark team and their portfolio companies."

Molofeed
Norway-based Molofeed has developed a high-quality larval feed for marine finfish and shrimp based on proprietary micro-encapsulation technology that makes it possible to include pre-digested and other water-soluble components in a capsule, and slow-release nutrients after feeding. The technology has several additional potential applications, including acting as a delivery system for bioactive peptides, immunostimulants and probiotics.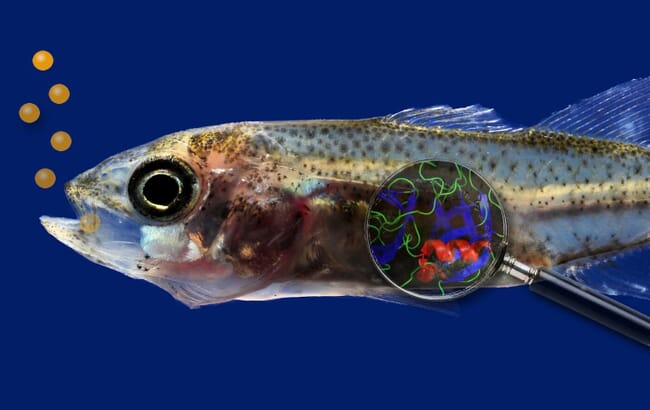 Because of their size and digestive capabilities, young fish require highly specific feeds – commonly sourced from live prey, such as Artemia and Rotifers, which are costly, carry disease-risk, and have a significant environmental footprint. Molofeed is able to substitute more live feed than current products, with a vision of one day replacing live feeds altogether. The current product's particle sizes and nutritional composition allows for early weaning, leading to a replacement rate of up to 50 percent.

Ingmar Høgøy, founder of Molofeed, said: "We share the same vision as Aqua-Spark – a more sustainable aquaculture industry that's capable of meeting our global food production needs. We are honoured to be part of the Aqua-Spark family of companies working towards growing an improved aquaculture industry."
Background
Aqua-Spark launched in December 2013 with a mission to make the rapidly-growing fish farming sector sustainable. By investing across the value chain in companies, technologies, and inputs, the Fund is transforming the fastest-growing sector in animal protein production. It is the first investment fund focused on sustainable aquaculture, has now invested in 16 complementary small-to-medium enterprises that are working toward the sustainable production of aquatic life.