The Branscombe Pearl and Manta Ray II vessels in Devon, and the Britannia V in Cornwall, and their respective skippers, John Hughes, Bob Carless and Mick O'Connell, have completed the third party RFS audit process, carried out by independent certification body Acoura Marine.
Each will hold the certification for two years and participate in annual checks to ensure the standard is adhered to.
A key revision to the scheme has been a focus on crew welfare, following slavery issues that have been reported in the seafood supply chain as well as the general health and safety on board fishing vessels.
A range of seafood buyers have already backed the scheme and committed to supporting its development including supermarket chain Morrisons, retail supplier Falfish and M&J Seafoods, one of the biggest food service suppliers in the UK.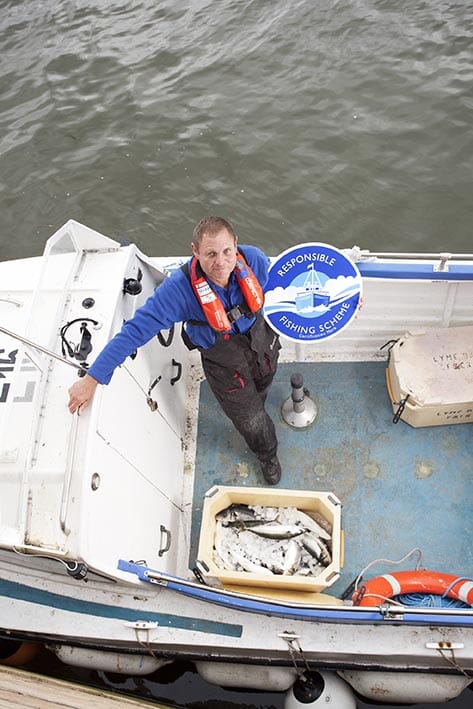 RFS was first launched in 2006 and was one of the first initiatives enabling fishing vessel owners and the supply chain to demonstrate their compliance with industry best practice on board fishing vessels and commitment to responsibly sourced seafood.
The revised scheme, which has been developed in accordance with the certification requirements of internationally recognised standard ISO17065 and is in application to be fully ISO accredited by next year, will offer enhanced certification credibility for all of those vessel applicants who sign up.
However, this does not affect vessel owners going through the certification now and they can apply to join RFS at any time.
It marks the intent of the UK seafood industry to be recognised worldwide for its commitment to social and welfare related issues and is now the only programme certifying crew welfare, as well as responsible catching practices on vessels.
Skipper and crew welfare has become an important part of the revised Responsible Fishing Scheme and with increasing demand from the consumer, foodservice industry, retailers, and non-governmental organisations (NGOs) to ensure the seafood supply chain is sustainable and socially responsible, it is hoped the revised RFS will provide increased assurances on the latter.
Mick Bacon, RFS Manager explains: "In today's huge and diverse marketplace traceability and sourcing environmentally sustainable seafood is no longer enough. There is a collective call for seafood stocks to be ethically harvested too and as a result we are working with fishermen at the heart of that supply chain to meet an industry gold-standard which is globally applicable.
"Working to comply with the ISO 17065 standard will ensure all vessels and their skippers are certified by the certification body in a consistent and robust manor to ensure they do have a high standard of crew welfare, health and safety, vessel condition, food hygiene and environment protection.
"With this recognition of best practise we believe it will support and enhance their businesses, giving confidence to the supply chain, as they look to sell their produce to customers, as well as ensure their livelihoods are protected for future generations."
The first three vessels certified are part of a UK-wide pilot audit programme which Seafish is carrying out to ensure the application and audit process are fit for purpose for future RFS applicants. Around 20 vessels are taking part and will provide feedback to Seafish and Acoura Marine on their experience.
On receiving his RFS certification, skipper Bob Carless, from Axmouth in East Devon said: "When it comes to setting standards to help address the issues affecting our industry, Seafish has always led the charge. I have always had a strong 'care of catch' record and when I heard that there was an opportunity to go through the RFS certification again, I saw this as the perfect way to demonstrate that officially to my customers.
"Because the new auditing process is so comprehensive, it really makes achieving the new certification something to be proud of. It also instantly adds to the profile of any vessel that completes it. Especially as the new qualification has an additional focus of the safety and wellbeing of all crew members. Being one of the first vessels to qualify is a great feeling."
To join the RFS or to get more information about the benefits of the scheme please visit http://www.seafish.org/rfs/