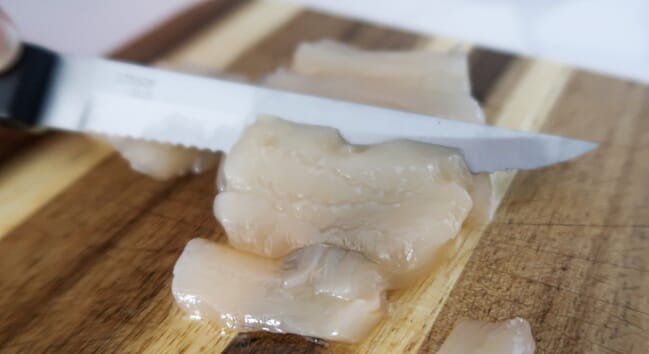 Funding will be used to accelerate research and development to enable commercialisation of its whole-muscle cut, sushi-quality filets of tuna and whitefish, popcorn shrimp, calamari, and scallop alternatives from its novel protein fermentation technology. Aqua's team is focusing on adjusting production conditions and inputs to achieve different textures, shapes, and nutritional values, as well as flavouring techniques.
Investors include Supply Change Capital, Aera VC, Sustainable Food Ventures, Hanfield Venture Partners, Lifely VC, Conscience VC, Kingfisher Capital, Big Idea Ventures, and Gonzalo Ramirez Martiarena, former CEO of Louis Dreyfus Company and founder/CEO of Swiss Pampa.
"Interest at this stage has frankly exceeded our capacity to bring in partners, leading to an oversubscribed round, but it's left us in a good position for future investment and very optimistic about our approach to delivering more sustainable protein," said Aqua CEO Anne Palermo in a press release. "Our next step is to work on commercializing our products from lab-scale to bring to the foodservice and retail channels, including the fresh refrigerated set for grocery, so that our products can reach both restaurant tables and the seafood counter."
"Aqua Cultured Foods is quickly becoming the leader in seafood alternatives," said Shayna Harris, co-founder and managing partner of Supply Change Capital. "The microbial-based fermentation method that Aqua has developed not only brilliantly mimics the look and mouth-feel of a whole fish filet -- the holy grail in alt-proteins -- but it dramatically reduces the environmental footprint of the mainstream seafood supply chain. In addition, the nutritional integrity is unparalleled by anything else we have looked at in this space."
Aqua has also expanded its core team with the appointment of Bob Schultz as lead scientist. Schultz joins the company from Simulate, an early-stage biotechnology company, where he was lead food engineer and product lead for the Nuggs plant-based chicken nugget, the fastest-growing alternative chicken nugget on the planet.
Johnny Carino, an executive chef noted for developing new concepts and opening new restaurants including his eponymous Carino's Italian restaurants – a chain that once numbered 170 locations – has joined Aqua as its head of culinary innovation.
Aqua's microbial fermentation methods do not use any animal inputs, genetic altering or modification and can therefore be marketed as non-GMO. Per serving, its products will contain 18-20 grams of protein, 10-12 grams of fibre and no sodium, saturated fat or cholesterol, and Omega-3s. These nutritional values are similar to cod, which contains 18 grams of protein, 0.7 grams of fat, nearly 43 mg cholesterol, 54 mg of sodium, and no fibre.
Aqua is currently building its infrastructure and scaling production to release products in 2022.