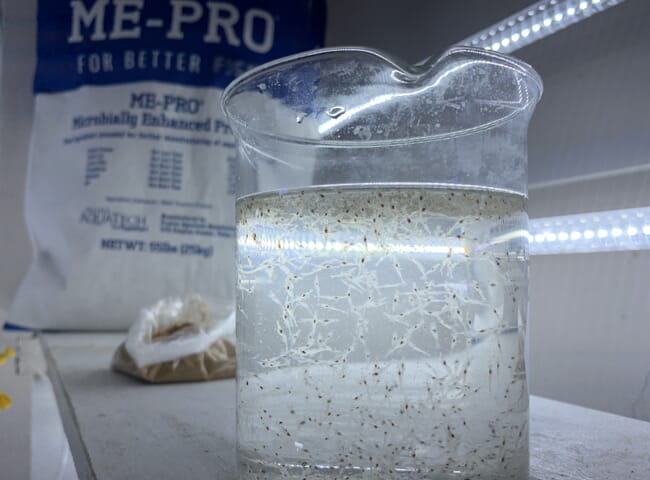 "Our global population is growing and developing nations are increasing the demand for animal protein. Therefore, it is absolutely critical for us to make animal protein production as efficient and sustainable as possible, and direct people towards aquaculture, which is the most efficient type of animal protein production. Ensuring healthy aquatic protein with minimal environmental impact must be a key societal priority," explains Mark Luecke, CEO of Innovation Partners and Houdek, "and that is where we stand out."
Although some plants – such as soybeans – can provide many of the key amino acids that are found in the fishmeal that's a traditional part of many aquafeed diets, billions of years of evolution have enabled them to create anti-nutritional factors as an effective defence strategy against predation. This has significantly reduced digestibility and negatively impacts species growth once ingested.
However, Houdek has developed a patented process of fermentation using a food-grade microbe to reduce anti-nutritional factors and increase the availability of nutrients such as nitrogen and phosphorus contained in soybean meal, to make a high protein feed ingredient called ME-PRO.
"We've invested a lot of time and resources to ensure the palatability and digestibility of ME-PRO exceeds industry standards. We have managed to exceed 90 percent nitrogen and phosphorus availability, which not only supports the animal but also supports the environment and producer profitability. As fermentation scaled up and more testing was done in more species, we have learned of a number of pre- and post-biotic benefits, supporting animal welfare," says Luecke.

Founded in 2011 by Innovation Partners and South Dakota State University researchers, Houdek (previously Prairie AquaTech) commercially launched ME-PRO in 2019. Now incorporated in the aquafeed diets of multiple species worldwide, ME-PRO is produced in 50,000-gallon aerobic fermenters at Houdek's 45,000-square foot commercial manufacturing facility in South Dakota. At full capacity, this facility can produce up to 30,000 tonnes of ME-PRO annually. The plant is pre-engineered to expand to 100,000 tonnes with minimal capital investment and is well-positioned for its global distribution network, according to Luecke.

Houdek's products can replace 80+ percent of dietary fishmeal in commercial feeds for shrimp larvae, and several juvenile and adult fish species:
ME-PRO - fermented soybean meal | 75.6 percent crude protein (DM) | 90+ percent phosphorus availability
ME-PRO Platinum - fermented non-GMO soybean meal | 73.4 percent crude protein (DM) | 90+ percent phosphorus availability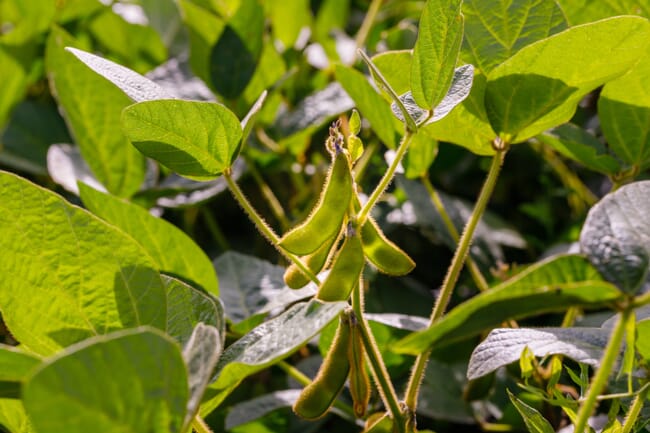 Houdek is integrated from farm to feed. Through its Certified Growers Network, the company sources high quality, traceable, US-produced soybeans. The company works closely with an independent soy processor in South Dakota, it has hired the world's top fermentation experts to improve its fermentation efficiency, and it has developed a global customer base who understand the value of fermented plant protein. This unique ecosystem will allow the company to expand its current facility to 100,000 tonnes of annual production capacity, as well as co-locate next to new major expansion of soy crush facilities in the US being built to support new renewable diesel demand.
In parallel, located near the US hub for ethanol and distiller's dried grains with solubles (DDGS) production - the country produces 44 million tonnes of DDGS annually - Houdek has developed a fermented high protein DDGS product with the support of the USDA. The company has conducted extensive trials to produce and test fermented DDGS, achieving 70 percent protein content and a complimentary amino acid profile to ME-PRO. The company expects a commercial partnership announcement in 2023 and product launch in 2024-2025, with aquafeeds as an important market.
"Scale up of alternative protein ingredients is currently challenged by the price of materials due to high inflation and by borrowing costs due to high interest rates. Another challenge for many companies is to figure out how to manage their by-products," says Luecke.
"Houdek has a dedicated team researching ways to further upcycle our co-products, which will eventually reduce both the raw material cost and carbon intensity that is allocated to the protein ingredients," he adds.
Securing long-term, mutually beneficial off-take agreements can be difficult, he acknowledges.
"Aquafeed manufacturers monitor traditional commodity markets, such as fishmeal and soy, very closely and many times it is not within their interests to lock in supply and price for long periods of time. They hold significant weight within the aquaculture value chain," says Luecke.
Luecke has a clear vision and strategic focus for the next few years. "We need to continue reaching for greater scale. Our customers are asking for more volume than what we can offer them at this stage. We are also working hard to move our fermented ingredients into pet and human food applications to help enable society to move towards more plant-based products in all aspects of their lives."
With in-house feed formulation and RAS testing capacity, the company has demonstrated numerous animal health and environmental benefits leading to greater profitability for its customers. The company also continues to advance its proprietary fermentation process to meet pet nutrition and human health market needs. In October 2022, the company achieved Safe Quality Food (SQF) certification, allowing them to launch Protéger, a fermented plant protein ingredient for the pet food industry. With this new certification, the company became South Dakota's first SQF pet food ingredient manufacturing facility. Meanwhile Houdek continues developing fermented plant-based products for the aquaculture, pet nutrition and human health markets.