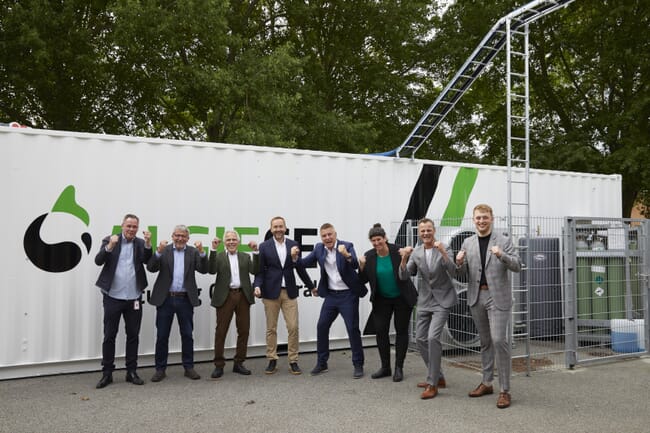 Led by Algiecel, the project's aim is to demonstrate how CO2, power and microalgae can be applied for decarbonisation. The purpose of this EUDP project is to demonstrate that even relatively small amounts of CO2 from industrial sites can feasibly be converted to and utilised as valuable downstream B2B bio-based products. In this case CO2 from Novozymes will be collected and applied in the Algiecel photobioreactor (PBR), and once the algae-based biomass is harvested, it will be demonstrated that water and nutrients can be reused, and the biomass can be sent off for further processing.

Knowledge Hub Zealand will manage the project, and the Technical University of Denmark has been tasked with ensuring that the entire techno-economic part of the technology will be documented.

Algiecel´s solution is targeting small and mid-sized industries considered too small for large power-to-electricity (P2X) projects. The utilisation of CO2 will efficiently take place through photosynthesising microalgae while generating biomass and bio-oil towards industries such as cosmetics, food, aquaculture feed, biofertiliser and bioplastics.
Once finalised, the project intends to demonstrate to the world how future biogas and fermentation clients of the Algiecel carbon utilisation as a service technology can valorise their CO2 emissions to the benefit of everybody in the value chain. This project takes Algiecel one step closer to reaching our goals of commercially reducing carbon emissions while providing feasible business opportunities to those supplying the CO2 and those downstream companies benefitting from getting access to low-carbon microalgae-based products.
CEO and founder of Algiecel, Henrik Busch-Larsen, commented in a press release: "Receiving such a significant grant from EUDP and having such well-renowned partners included in the project is a very important stamp of approval for our technology and business offering. We would like to become known for our ability to apply BioSolutions to deliver decarbonisation and microalgae-based sustainable low-carbon low-footprint products to the market. This demonstration project allows us to tell the tale and demonstrate our ability to deliver on our vision and ambitions."
Flemming Funch, VP for engineering, sourcing and facility services at Novozymes added: "Potentially this can enable Novozymes to capture CO2 from our processes that would otherwise be hard to capture, since it is considered too small for large P2X projects. Novozymes' Kalundborg site is a good location for demonstrating CO2 capture by algae processes, having nutrient and CO2 streams available."