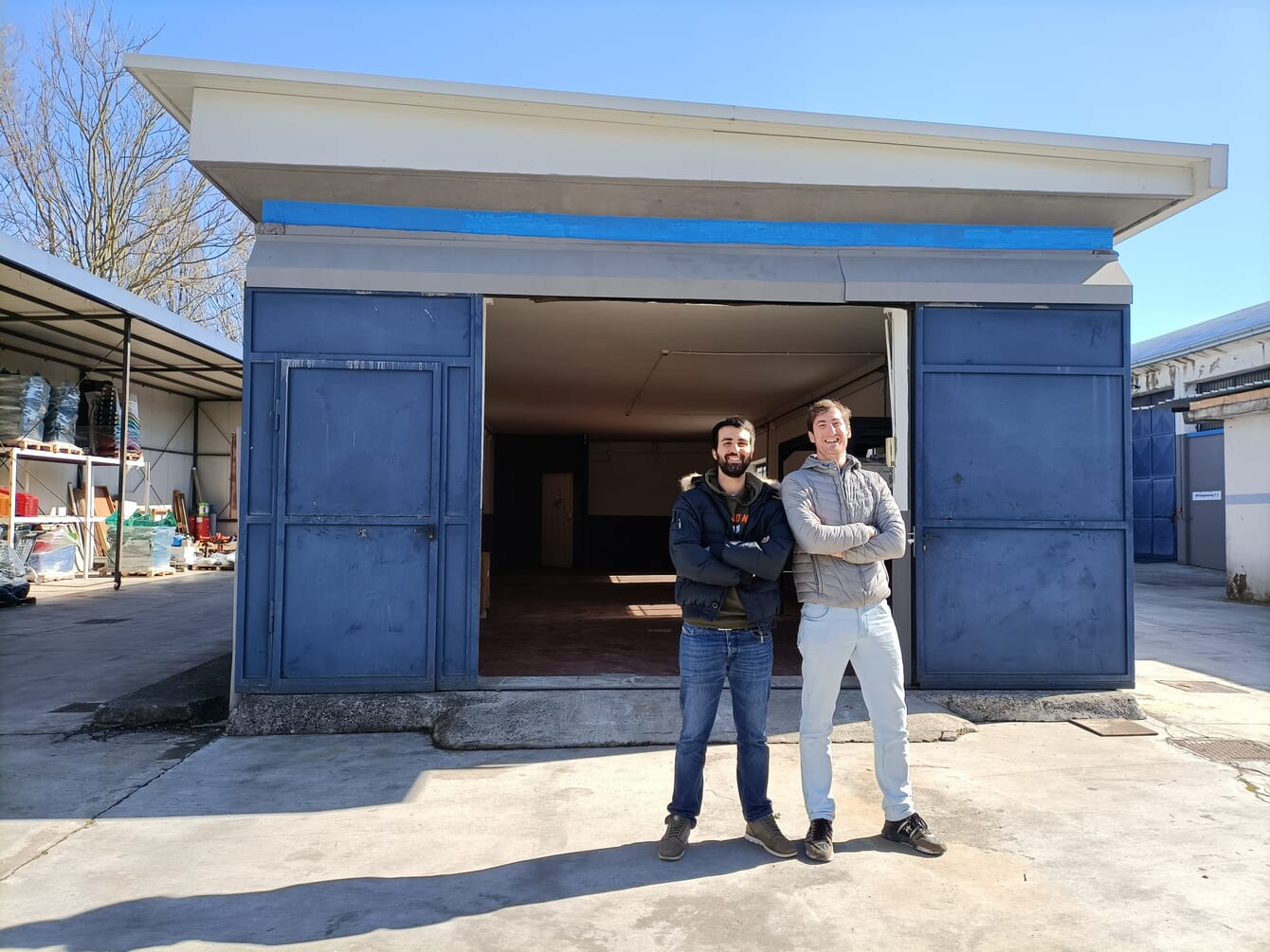 "Everything started with my passion for the ocean. I sailed all my life, and after I graduated with a masters in naval architecture and marine engineering from the University of Southampton, I worked as a shipbroker in Switzerland, until I realised that these large ships had a negative impact on the marine environment," explains Alessandro Romano, co-founder and CEO of Ittinsect.
"I quit my job and started a 40-day, 1,000-mile voyage around the Mediterranean, only eating fish I could catch. I realised how empty our oceans are today and found that 20 percent of all the fish we catch – that's 20 million tonnes of fish per year – end up in animal feeds, including for aquaculture," he adds.
"I conversed with fish farmers and asked why they don't replace fishmeal. They replied that there are currently no nutritious enough alternatives at a competitive price. I asked them if I produced something to replace fishmeal that's also friendly to the ocean – would they start using it? Many said yes, and this was my 'aha' moment. Aquaculture is producing the least impactful animal protein to date, as it causes fewer emissions than farming pigs and poultry. Fish farmers are progressing in their sustainable journey, but they need support from the feed producers. For this reason, I decided to recruit a marine biologist, a biotechnologist and an expert in operations to build a team with a shared vision," Romano reflects.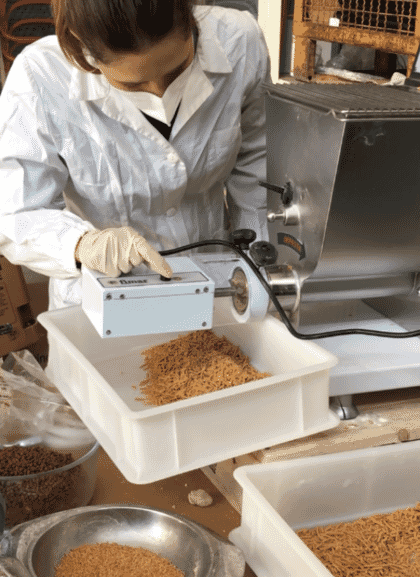 In 2020, Ittinsect was born and began developing enriched insect meal (EIM).

"In our feed formulations, we use all sorts of agricultural by-products. We use insects sourced in Europe that are certified as feed grade and fed only on by-products," Romano notes.
"Our R&D team is constantly evaluating new insect species. But at the moment, we use the black soldier fly (Hermetia illucens) thanks to their already established mass production and the mealworm (Tenebrio molitor). We have faith in the development of large-scale production of insects. We have seen a €250 million investment in France's Innovafeed and a few other insect farms are expanding. Thus, the availability of insects is easy and more affordable, and the genetics of insects is improving. That's why we get higher quality feed and lower prices. Yet, insects still contain some antinutritional factors that need to be removed and treated," Romano states.
The sustainability aspect is the heart of Ittinsect's identity and production system.
"Our main goal is to replace fishmeal and fish oil as they are quite impactful in the marine environment and, globally, due to the highly stressed fish stocks in the ocean, threatening biodiversity. Insects produce very few emissions and use very little water. From a nutritional and environmental standpoint, insects are an excellent alternative to fishmeal," Romano notes.

"The aquafeed market is our main focus. When evaluating the product prices, it's worth discussing how much fish grows per kg of feed eaten. For example, a fish farmer isn't buying a kilo of feed. A fish farmer is buying a kilo of fish weight gain. Our products are equivalent, if not superior, to standard fish feed. In simpler terms, Ittinsect aquafeed is more expensive by unit, but its performance is better," he adds.
The company seeks to partner with current feed producers to help ensure high-quality and high-digestibility formulations and can supply large volumes of ingredients.
"We don't want to be exporting feeds, but instead developing new feed ingredients that satisfy animal diets in aquaculture," Romano explains.
"On the one hand, we help the fish farmer to make their product more profitable and on the other hand, from a sustainability standpoint, a feed that is less impactful. We aim to make it possible for insect producers to make insects more appealing to the aquaculture industry. The link between insect and fish farmers we feel was missing until now. Other feed producers are including insects in their formulation, but we're modifying insect ingredients for use at high percentages in feeds," he explains.
The company has two ongoing research partnerships, one on biotech research with the University of Bari Aldo Moro in southern Italy and the other with CREA, the Italian National Body for Aquaculture Research, focused on all testing and certifying the validity of processes and results.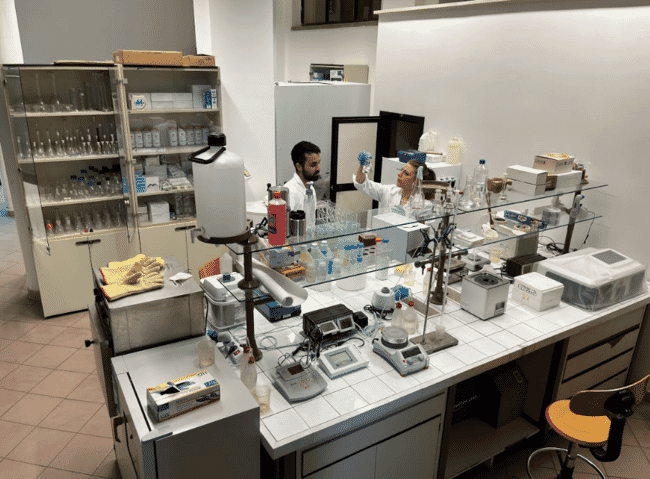 Ittinsect has received investment from CDP Venture Capital SGR Fondo Nazionale Innovazione Italian National Innovation investment and some private investors from Italy and Norway. They are now looking to raise more funds.
Recently, the company received an investment from Katapult Ocean, which will enable the production of feeds for salmon and scale-up aquafeed production in southern Europe.
"So far, we have produced a few dozen tonnes of feed but are increasing production month by month. By 2023, we aim to produce 1,500 tonnes of feed per year. In an effort to expand internationally, we will be producing over 12,000 tonnes of feed ingredients per year for inclusion in the feeds of our partners. For now, we have been producing feed exclusively for trout and sturgeon, but plans are in the pipeline for new feed for seabass and sea bream," says Romano.
"We have built a strong network with fish farmers in Europe, mainly in Italy, and our network is expanding. We rely on feedback from the fish farmers – they are the future of feed. We supply farmers with feed that contains a large percentage of insects, and they obtain proof that insects can work as feed. Although it can be more expensive, it balances out with the higher performance of the feed," Romano adds.
Romano also argues that farmers will receive a premium for selling sustainably fed fish.

"It's very crucial to highlight that there are two incentives for fish farmers to buy feed – both as the performance is higher, and also as the supermarket and their customers will buy their fish for a higher price. We have made partnerships and open dialogues with supermarket chains because they present products to the customer. It's up to us to choose a fish, less impactful for the ocean and the planet. But, it's up to the supermarket chain restaurants, and any other business that serves fish to the final consumer to convey this message," he emphasises.
"Our goal is to continue to improve and support sustainable aquaculture development. In every choice we make, we put our mission first. We make choices to reduce the impact of the aquaculture industry on the marine environment, as we have seen how fruitful we can be as feed producers for the Italian market. In the rest of Europe, we aim to support companies creating sustainable alternatives to fish feed," Romano concludes.