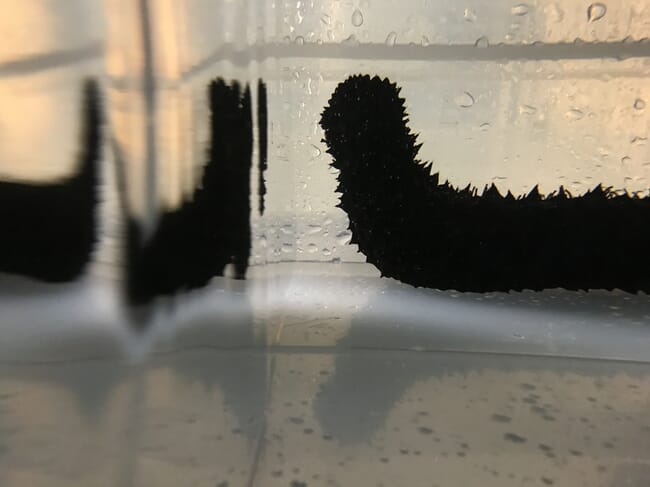 Blue Remediation has secured a £46,449 funding package from the UK Seafood Innovation Fund, with additional support from the Sustainable Aquaculture Innovation Centre (SAIC), to conduct a three-month feasibility study that will assess the efficiency of sea cucumbers in absorbing aquaculture waste.
Bioremediation – the process of using living organisms to remove pollutants and toxins – is commonly used in agriculture to restore polluted soil. By introducing sea cucumbers feed on fish faeces and excess food beneath salmon aquaculture sites it is hoped they could help to minimise the impact of waste on the seabed. This could also help the sector in its bid to expand.
"Our innovation aims to fill that gap by investigating and quantifying the mitigation potential of Scottish sea cucumbers to reduce salmon waste accumulation in the environment through (1) laboratory experiments and (2) designing a computer model," explains the project's website.
"The laboratory experiments will reveal the capacity of Scottish sea cucumbers to (i) feed off salmon faeces, (ii) survive sea lice chemical treatment, and (iii) efficiently recycle salmon aquaculture waste. The computer tool will simulate the interactions between environmental conditions and sea cucumber physiology. The final goal is to have our computer model approved by the government and thereby, offer farmers a sustainable alternative to reduce their seabed impact, the factor currently limiting their fish production. By adopting bioremediation, farms' finfish production will significantly increase (by >20%) without consequences for the seabed, leading to an improved situation for both industries and the environment," it adds.

While the approach has already been proven in Asia and Chile, the role of sea cucumbers in European aquaculture is yet to be fully tested.
Soizic Garnier, co-founder of Blue Remediation, said in a press release: "Using sea cucumbers in Scottish waters has great potential, but there are still a number of questions that we need to find the answers to. This study and subsequent live trials will help to determine the impact of integrating different species, any impact on wild cucumbers, as well as monitoring the health and wellbeing of the sea cucumbers, including disease control.
"Sea cucumbers are considered a delicacy in Asia and can fetch up to $3,000 per kilo [when dried], so there may also be added value in mainstream sea cucumber cultivation, hand-in-hand with the environmental benefits."

The experimental part of the project will be carried out in collaboration with the Scottish Association for Marine Science (SAMS), led by Dr Georgina Robinson with support from the science team. Initial testing is expected to last for three months using 18 Scottish sea cucumbers with a variety of diets to represent how cucumbers would behave in a real-world fish farm environment. Sediment has been provided from Mowi's Loch Leven site, alongside salmon faeces from the University of Stirling's Institute of Aquaculture, to mimic the natural ecosystem.
Female entrepreneurs
Blue Remediation was set up by a team of four PhD students from the University of Strathclyde and Heriot-Watt University, who last year took part in a mentoring programme led by Women in Scottish Aquaculture (WiSA) to help formulate their project ideas.
Heather Jones, CEO of SAIC, added: "There is a real opportunity to build sustainable aquaculture systems in Scotland that will support the world's increasing demand for protein. With research projects exploring cost-effective, data-led methods, such as using sea cucumbers, we could transform the sector's approach to waste management. Integrated multi-trophic aquaculture is still in its infancy in Scotland, but could be a valuable, sustainable, circular method of ensuring resources don't go to waste."