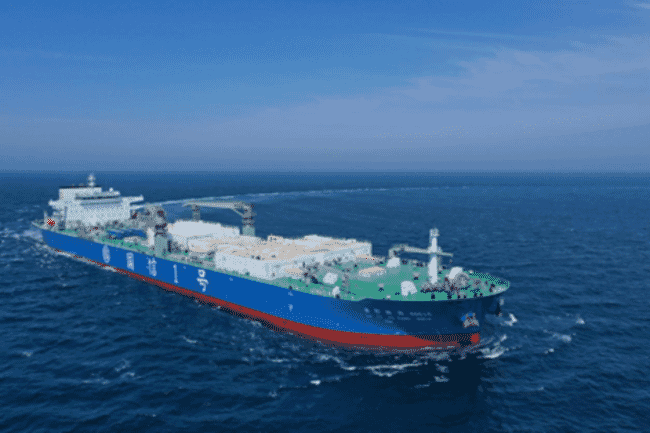 Large yellow croaker is one of the most popular marine finfish in China and is often eaten as a key part of celebratory meals and during holidays. Around 180,000 tonnes of the species are consumed annually.

Conson No 1 Aquaculture Ship is owned by Qingdao Conson Blue Silicon Valley Development Co; a pioneer of closed-ship aquaculture. The design combines ample space with an advanced digital management system that closely controls the environment of the growing conditions. The ship cruises up to 100 nautical miles offshore, following seawater temperatures to suit the growth of the large yellow croaker. Advanced weather monitoring systems avoid natural risks such as storms and typhoons. Water is circulated in the growing tanks to simulate ocean currents and forms a rotating flow to mimic the natural environment. Additionally, because large yellow croaker have a relatively strong stress response to noise, the ship has advanced noise reduction technology to optimise growth. Onboard technology also enhances oxygenation inside the tanks, automatically provides intelligent lighting and monitors and manages water cleaning and waste removal.
Auditors examined and verified the compliance of the entire process of fish farming on the ship against the ASC Tropical Marine Finfish Standard - from the fulfilment of legal requirements and regulations to the environmental and social performance and the aspects related to fish health and biosecurity. Additionally, auditors have also reviewed the ship's compliance with regulations and permits concerning water quality impacts, in accordance with the legal requirements. For example, Conson No 1 has among other key equipment an automatic extraction of dead fish and removal of dirt.
"We would like to congratulate all those involved with the management and operation of the Conson No 1 for their commitment towards responsible aquaculture and for its dedication and efforts towards innovative fish farming and technology," said Chris Ninnes, CEO of ASC, in a press release.
Dong Shaoguang, deputy general manager of Conson Group, added: "ASC certification is the gold standard for sustainable development of the aquaculture industry. It is recognised globally by sustainability-minded consumers and is also the screening basis for procurement conditions of sustainable seafood for the majority of China's high-end supermarkets and starred hotel chains.
"Conson No 1 simulates the wild growing environment of large yellow croaker in the cabin with industrial and intelligent technology to farm large yellow croaker in an artificial environment, with a focus on complying to ASC's guidelines. ASC certification of the large yellow croaker from the Conson No 1 aquaculture ship proves that the practices and objectives of China's aquaculture industry and market in the field of sustainable development are in line with the consensus direction of the international community."