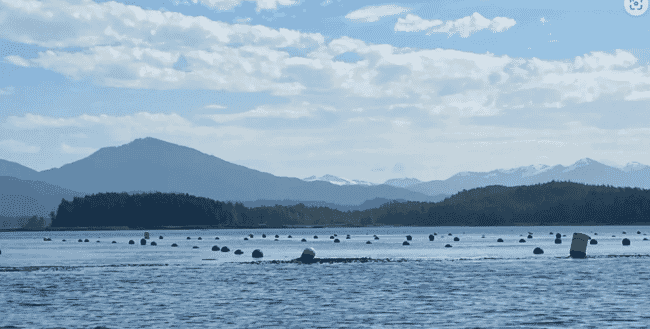 Cascadia Seaweed has received $4.3 million in funding from Sustainable Development Technology Canada to construct a 100 ha ocean farm and agrifeed processing facility in northern British Columbia.

The first phase of the three-year project is expected to begin in the fall of 2022 and consists of seeded-line trials at a potential site near Prince Rupert, British Columbia.
"At Cascadia Seaweed we cultivate seaweed on low-impact farms in the ocean providing ecosystem services such as carbon capture, oxygen production and habitat. Then we harvest that crop to produce climate-positive products for a more resilient food system. This agreement between Cascadia Seaweed and our First Nations partners with funding from SDTC will support the build of a 100-hectare ocean farm and an agrifeeds processing facility. It's sustainable aquaculture empowering regenerative agriculture, addressing Canada's net zero targets while creating jobs, economic growth and long-term prosperity," explained Bill Collins, chair of Cascadia Seaweed, in a press release.
"We recognise these opportunities as a way to grow the business, as well as a way to contribute to the overall knowledge base of the industry, and have therefore prioritised internal resources to manage these applications," added Mike Williamson, CEO of Cascadia Seaweed.
The company produces seaweed for a variety of uses, including an agrifeed supplement, which is now in its formulation and in-vivo testing phase, and is due to be launched commercially next year.
This Sustainable Development Technology Canada funding announcement has coincided with Cascadia's launch of a crowdfunding campaign through a Canadian platform. They are looking to raise $2.5 million via this campaign, through venture firms, impact investors, family offices, accredited investors and crowdfunding. New funds will be allocated to profitably producing revenue-generating feed and farm products to urgently address the need to reduce agricultural greenhouse gas emissions and build a more climate-resilient food system.
Through the launch of its purpose-driven CPG brand, Kove Ocean Foods, Cascadia Seaweed has proven its ability to establish meaningful partnerships with Indigenous peoples, grow seaweed, and produce high-value finished products. They next plan to develop a biostimulant that when applied to terrestrial plants, increases nutrient uptake and enhances resistance to abiotic stressors.