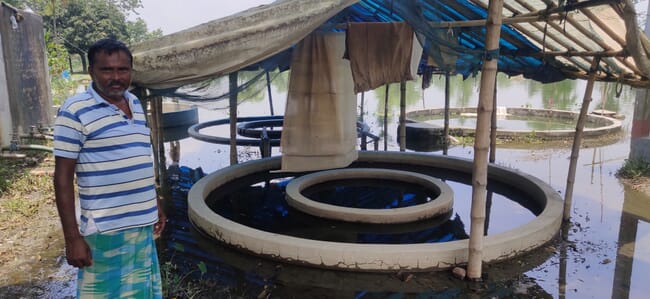 Abdul Kaddus Khan has had been a fish farmer for the past 30 years in Datta Kuchi village, around 60 kilometres from Guwahati, Assam's state capital.
But the 51-year-old claims to have never witnessed such ferocious floods in his life – floods that have destroyed his entire business ad forced him to look to the state government for compensation in order to survive.
"The floods couldn't have come at a worse time, as it was the breeding season and all the ponds and hatcheries were full of juveniles . We were about to sell the fingerlings to farmers in neighbouring states but the water took everything away," he laments.
Khan has been farming 26 hectares, including 17 ponds and three hatcheries, since 1989.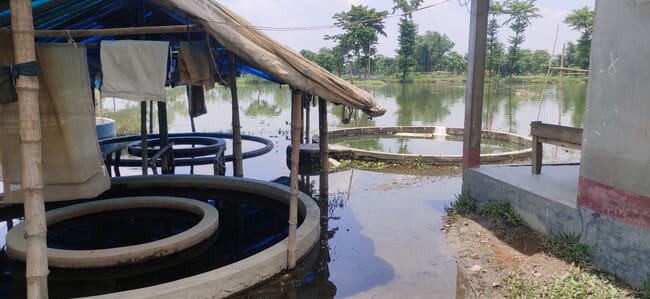 "There were around 15 million juveniles in the three hatcheries but floods destroyed everything. Besides, I have also lost broodstock of around 25-30 quintals [2.5-3 tonnes]. I had loaned around Rs 15 lakh INR ($18,879) from private lenders and it will be difficult to repay them," he explains.
But he is not alone. Nearly 75,000 fish farmers across the state have been badly hit by the devastating floods in Assam which have claimed nearly 200 lives and displaced over a million people.
Fish farmers in Barpeta district, however, have been severely hit because the district is the largest producer of juvenile fish in the entire state – producing around 51 billion fry in over 200,000 water bodies last year. The main species are Indian major carps like catla (Labeo catla), rohu (Labeo rohita), mrigal (Cirrhinus mrigala), silver carp (Hypothalmichthys molitrix), grass carp (Ctenopharyn godonidella) and common carp (Cyprinus carpio).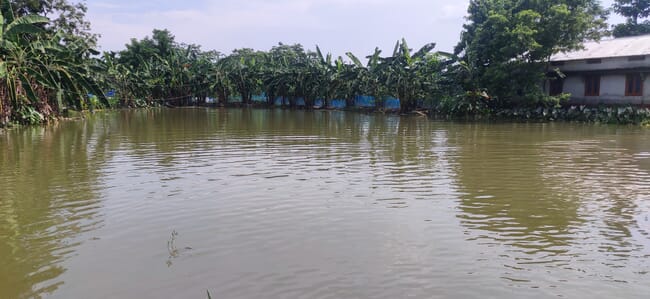 "The breeding season here starts in March and continues till mid-August, as a temperature of 29-31°C is appropriate for breeding. Farmers invest heavily every year, expecting good returns, as the region's fingerlings are exported to the neighbouring north-eastern states of Meghalaya, Mizoram and Arunachal Pradesh. The economy of the district depends upon fish seeds," points out Dr Pratul Barman, fisheries development officer of Barpeta district.
"The stocking density is around 8,000 fingerling per hectare and they feed them with market feed and rice bran," he adds.
Taken aback by the rising water level
Farmers say that they were caught off-guard on 16 June.
"It had been raining since March, but we were not bothered as rains followed by floods are nothing unusual in Assam. The water recedes after a few days, causing a minor damage to the ponds," said Amir Talukdar, 39, a fisherman at Dakhalipara, in Barpeta district.

"But the situation began to change when the rains intensified on 16 June. Soon, water started entering our ponds after a river embankment a few metres from our village gave away. We rushed to our ponds and tried to encircle them with nylon nets to save the seeds. But our efforts failed and water started flowing above the nets. I have suffered losses to the tune of around Rs 14 lakhs ($17,601) as the seeds spread across 9 hectares of ponds have been lost in the floods."
Even the veteran farmers claim to not having seen floods of such intensity in the recent past.
"We last witnessed such horrific floods in 1989 when the flood water ruined our ponds. Since then, floods have never risen beyond 1-2 ft which was not at all dangerous for our business," says Abbas Mukhtar, 65, a fish farmer in Cachar district.
"But all my broodstock and juveniles have been washed away in the water this year. It is difficult to even harvest 5-10 kilograms of fish in the ponds here. We were neck-deep in water for at least a week before the water began to recede," he adds.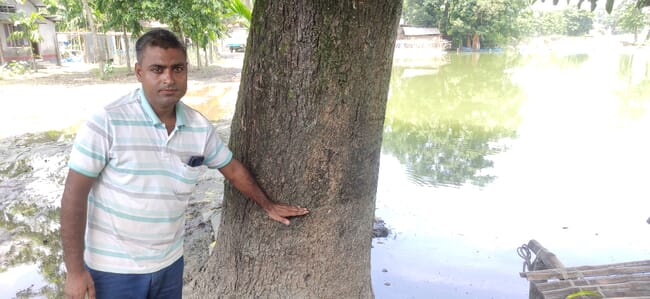 Several farmers who are unable to do fish farming due to their advancing age had leased out their ponds but are now expecting a loss of income.
"I had leased around 0.26 hectares of pond and was earning around Rs 50,000 ($629) annually which was only my source of income in this old age. But I fear that farmers might not give me anything because of the losses they have sustained this year," reflects Abdul Rashid, 68, a resident of Darrang district.
Reason for the devastating floods
The state received two spells of floods between May (pre-monsoon period) and June, but the latter was deadlier and claimed around 200 lives while rendering over one million people homeless.
Assam had been receiving unusually heavy downpours since March. It received 672.1 mm instead of an average of 414.6 mm between March and May which was 62 percent above the normal.
Environmentalists also blame man-made reasons for the severe losses experienced by the fish farmers.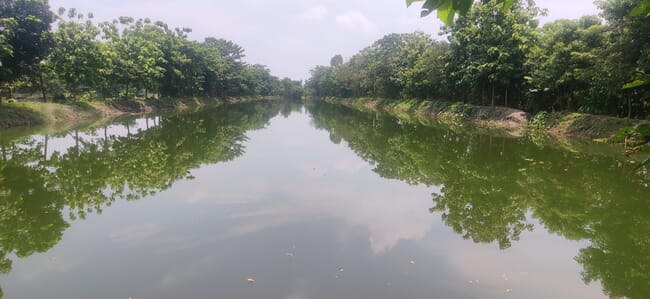 "The state government has been building embankments along the river banks to stop floods, but the mud structures are not the solution for flood control. As a result, these shoddy structures give away when the flow of water increases in the river. The water then enters into the neighbouring areas causing massive destruction to lives and livelihood," says Dr Dinesh Baishya, who has authored six books on the environment in Assam.
"Secondly, Bhutan, the neighbouring country, has been building a series of hydropower dams which have been disturbing the natural flow of water. The excess rains forced Bhutan to release the water, which led to severe flooding in Assam and ruined the fisheries sector," he explains.
Government promises help
The Assam government has announced that the fish farmers will be granted aid and new juveniles to revitalise the aquaculture industry.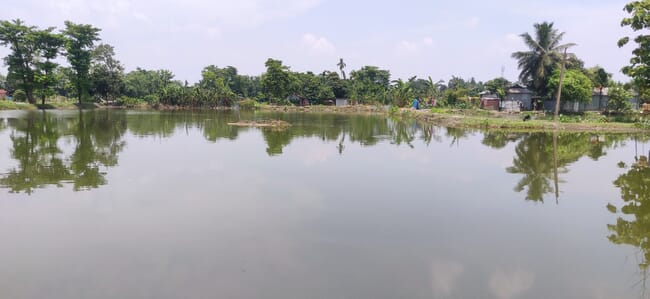 "Nearly 80 percent of the farmers have suffered huge losses. These have a combined worth of around Rs 1,000 crore ($135 million) which is major setback. We are going to help farmers to normalise the fish farming industry," said Parimal Suklabaidya, the state fisheries minister, while addressing the media on 11 July.
But government officials believe that it might take two years for the aquaculture sector to revive again in wake of the massive losses.
"We suspect that around 75,000 farmers have been severely affected out of the 1 lakh (100,000) fish farmers in the state. The production is likely to take a drastic hit due to floods," points out Pratul Deka, fish development officer from Assam's Department of Fisheries.
According to the state government, the total area being used for aquaculture in Assam is around 100,000 hectares.

"We produce around 18 billion seeds and the total production of fish stood at around 417,000 tonnes in 2021-22, which contributed to 5 percent of the state's economy. We have 502 hatcheries and 80 percent have been badly hit by the floods. The government will give compensation but it will take at least two years for the farmers to recover from the loss," said Deka.
Khan looks dejected, despite the promise of state support.
"The losses have been huge and the financial help from the administration will hardly compensate the damage that floods have caused us this year. It has reduced us to paupers," he laments.