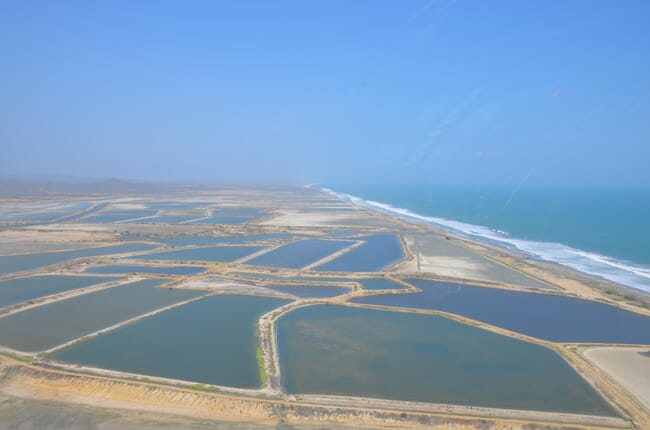 The collaboration will not only include deforestation-free aquafeeds but also capacity building initiatives to drive social change and sustainability in the region.
At last week's Global Seafood Expo in Barcelona, Florie Hovine, member manager at Earthworm Foundation, announced that they have partnered with BioMar to launch a responsible shrimp initiative that will drive good farming and social practices.
"Shrimp farming has a unique impact on the environment and there is an opportunity to work with Ecuadorian shrimp producers to support them by sharing improved environmental and social practices," said Hovine in a press release..
For the last year, BioMar and Earthworm Foundation have been assessing the Ecuadorian shrimp industry to build a framework for addressing the major issues in the industry. The project has taken a holistic approach, analysing everything from sourcing raw materials to the production and processing of shrimp. This includes raising awareness and training staff in global best practices that go beyond standard certification schemes.
The BioMar-Earthworm Foundation project will also support educational programs aimed at upskilling local people to enable them to become qualified for shrimp farming. This way, local communities' benefit from the expected expansion of the Ecuadorian shrimp sector.
"The expansion of any market requires us to consider the impact on people and the environment. By partnering with a highly respected and knowledgeable organisation that specialises in social and environmental initiatives like Earthworm Foundation, we are ensuring that the growth of Ecuadorian shrimp production is done in the right way," stated BioMar's Henrik Aarestrup.
Shrimp are primarily considered a commodity product and are usually farmed and processed in bulk. Through the Earthworm Foundation project, there is an opportunity to move the market beyond commodity thinking to create fully traceable, value-added products that consider both social and environmental impact parameters, according to BioMar.
"Today's consumers are becoming more and more conscious about their seafood choices. They want to know where their seafood comes from and the impact it has had on the environment and local communities. Through this BioMar-Earthworm Foundation project, our two organisations can cater to the consumers' needs," concluded Aarestrup.