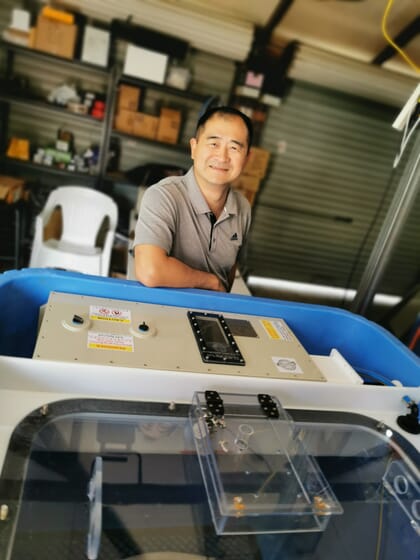 The brainchild of Edmond Wong – who is CEO of ILST and Fish ID and president of the Queensland Live Fish Trade Association – the containers have been successfully used for the live transport of several high-value marine finfish, including coral trout.
Australia-based Wong has been in the live fish trade for over 20 years, co-founding International Live Seafood Transport (ILST) in 2001. He now services international customers in the US, Malaysia, the Philippines, New Zealand, Hong Kong and the Maldives. At the same time, his bins are also used for live seafood transport within Australia, with customers including shrimp farms, barramundi farms and various hatchery species.
In the last two decades, he has had to adapt to the increasingly challenging demands of international shipments of live fish and meet growing demand in more distant markets, including mainland China.

"In 2001, we shipped 3,500 kg of live coral trout to Hong Kong per week with 14 live transport bins. The journey from Brisbane to Hong Kong, tank to tank, was only 15 hours. Today the journey has increased to 18 hours to Hong Kong and another 7 hours into Yantian, China; therefore, our bins need to meet the new challenge," he explains.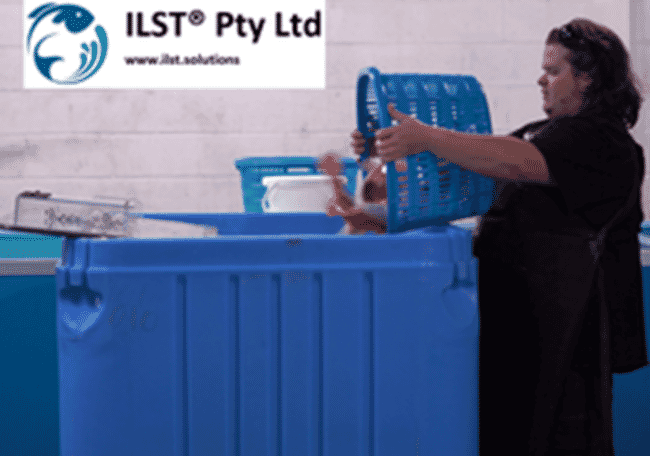 The most popular methods for transporting Australian live fish, crustaceans and molluscs are those made by Fish Pac, which supplies insulated bins that use bottled oxygen, and ILST, which supplies insulated bins with battery-powered aerators.
Battery-powered aerator bins were introduced in 1998 and bottled oxygen transport bins in 2000, both successfully. However, according to Wong, the aerators create heat, raising the bin water temperature. A rise of up to 5°C can take place for long transportation, adding to shipping stress – this limited their use to domestic transport within Australia.
"For 15 years, the ILST battery-powered aerator bin was purely used in the domestic market with short flight times of 5 hours maximum. Prawn farms mainly used it for shipping broodstock and post-larvae. Meanwhile, all live reef fish exports (eg coral trout) used Fish Pac bins because of the high loading capacity with bottled oxygen," Wong explains.
Since then, however, he has modified his original design.

"With our goal to improve live fish transport, ILST has developed the FINS-Radiator – a new economical fish bin transport modification," he explains.
The modification centres around introducing a patented device that fits existing ILST bins to solve the rise in bin temperature. According to Wong, it also reduces the amount of red tape involved in international shipments.
"I started shipping to the US and Canada, but I needed to further improve the bin's capacity and performance. The ILST bins are not classed as dangerous goods since there are no oxygen bottles heavily regulated by the airline industry. The ILST bin also requires much less paperwork. I saw an opportunity as China Civil Aviation had confirmed they would not approve the use of oxygen bottle bins on all Chinese Airlines. South China Airlines has already approved battery-powered aerator bins, and I am working on the others," he says.
While his battery-powered bins proved effective, they were not performing as well as the competitors, Wong recalls, as heat from the aerator warmed the water, reducing oxygen levels and stocking densities.

"After researching possible solutions, we came up with the idea of a radiator – using the cold air in the plane's cargo hold to chill down the air before it goes into the water. We found that a copper radiator worked well to cool the aerator output. Because our unit only has one opening, outside air is sucked into the unit. This fresh air must pass the FINS-Radiator when the aerator is in operation. During flight time, the cargo hold temperature is around 10°C," he explains.
"The new bins are very user-friendly but require some initial basic training. There are no costly training programmes for operators and no dangerous goods airline certifications. Ongoing costs are minimal, as the only requirement is charging the marine batteries before shipment," he adds.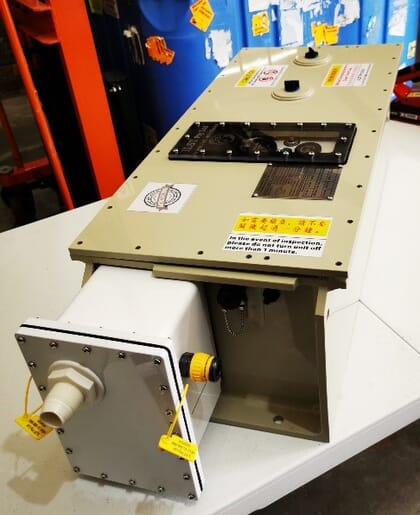 "No special regulators that must be returned for routine service. The FINS-Radiator does not draw any battery power, only the aerator," says Wong.
Wong hopes that the new design will allow him to increase stocking densities.

"We were shipping 280 kg on 16-18-hour flights without the radiator. We are working on upgrading the aerator, and with the new FINS-Radiator, we are hoping to ship 300 kg on each shipment. If we can achieve this, we can match the capacity of bottled oxygen bins," he says.
Wong has now completed 30 shipments using the new bins and closely monitors their performance.
"To maintain water at 20-21°C, we need the ambient temperature to be around 6-9°C, then air going into the water is around 19-20°C. In the Middle East, where the ambient temperature can reach 40°C, we put the bins in a shaded, well-ventilated, or temperature-controlled room.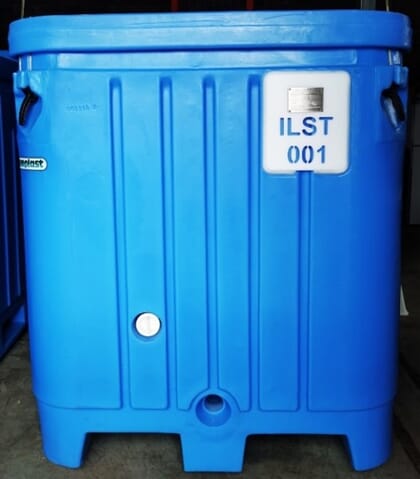 "We knew from shipping coral trout without the FINS-Radiator if we started at 18°C, after 25 hours, the temperature rose to 23-24°C. With the FINS-Radiator, after 25 hours, it went up to only 20-21°C," he explains.
According to Wong, the new device can be easily retrofitted into old bins by ILST staff. While the current price for a new bin fitted with the FINS-Radiator is $9,500, it only costs $1,000 to add the FINS-Radiator to an existing bin.
As well as coral trout, the modified bins are suitable for transporting most saltwater fish, crustaceans (shrimp, lobster) and molluscs (abalone, oysters).
Wong now intends to investigate new ways to improve air output, increase load weights, and meet airline regulations.