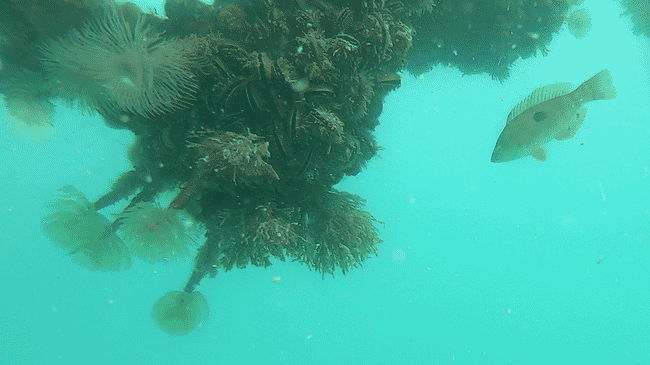 In a recent publication from The Nature Conservancy (TNC), we identified 129 papers that demonstrate commercial aquaculture's ecological benefits (Gentry et al., 2019). We highlighted the habitat benefits of aquaculture as an area where current scientific knowledge is limited and a high priority area for future in-water research. The current state of knowledge around the habitat value of seaweed aquaculture is particularly limited; in fact, to the best of our knowledge, only seven previous studies globally provide information in this area (Theuerkauf et. al., in review). These studies have largely focused on evaluating fish habitat value (eg, species abundance, diversity) associated with tropical seaweed farms in Africa, and South and Central America; there are significant gaps in the literature relating to temperate kelp aquaculture's habitat benefits, either alone or when co-cultured with shellfish.

To fill this research gap, TNC is partnering with researchers at the University of New England School of Marine and Environmental Programs, in Maine, and the University of Auckland in New Zealand, to study the habitat ecosystem services provided by kelp farming. In addition to assessing the culture of kelp alone, we are also analysing the ecological effects of kelp when co-cultured with local mussel species, as there is some evidence that both shellfish and kelp benefit from the co-culture arrangement (Both, et al., 2020).
Coastal shellfish and kelp farms can provide significant three-dimensional structure in the water column, effectively forming artificial habitats that have the potential to support fish populations by providing shelter and food. However, there is relatively little knowledge of how fish use shellfish and kelp farm habitats, and whether farms are important for critical stages of their lifecycles, such as larval settlement and recruitment.

Our new study, with the University of New England and University of Auckland, will examine how fish are using farm habitat by monitoring their presence using remote underwater video recording techniques to determine fish species and their numbers in shellfish and kelp aquaculture operations, as well as at control sites located further away from the farms. The fish video observations will be compared with parallel eDNA sampling from farms, to determine whether eDNA can provide a reliable and rapid method of assessing the presence and abundance of fish at aquaculture sites. The research will also explore how fish species are using the aquaculture habitats – whether feeding on the organisms living on the seafloor beneath the farms, or dwelling within the farm structure, mid-water. Some initial monitoring of larval fish recruitment in New Zealand for the project has found similar numbers and species of larval fish arriving into the aquaculture habitats compared with nearby kelp-covered rocky reef habitats.
The role of aquaculture structures for promoting biodiversity of marine invertebrates will also be compared between Maine and New Zealand using identical invertebrate collection devices. It is anticipated that the results will show that aquaculture habitats are making a positive ecological contribution through the generation of biodiversity, as well as secondary productivity – small bite-size animals and larvae that feed larger animals. This is significant, as coastal environments in both Maine and New Zealand have suffered loss of biodiversity, productivity, and abundance of fish species, due to a combination of human activities – including intensive fishing, seabed trawling and dredging, and increased sedimentation from terrestrial sources.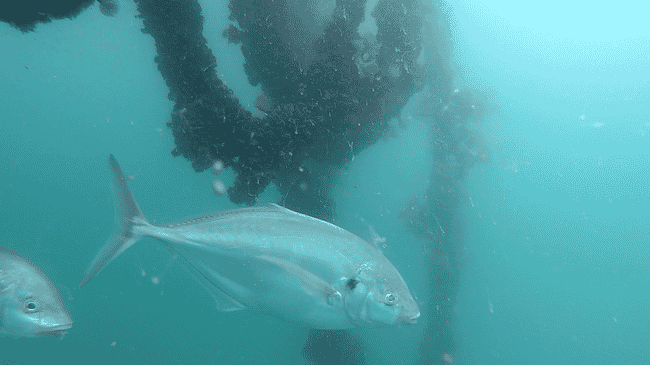 Our multi-geography study improves the robustness of comparisons between the ecological benefits of aquaculture activities in temperate waters, especially for kelp, which is a significant ecological component of coastal environments in temperate regions of the world. The study also provides a key opportunity for collaboration between two geographies that share ideal environmental conditions for producing seaweed, and are home to emerging seaweed industries. Both the Gulf of Maine and northern New Zealand ranked in the top 25 priority marine ecoregions globally for seaweed and shellfish aquaculture in TNC's global assessment of priority ecoregions for restorative aquaculture (Theuerkauf et al., 2019). This assessment analysed marine ecoregions by 16 environmental (eg habitat loss), socio-economic (eg governance quality), and human health (eg persistent organic pollutants) factors to rank the highest opportunity areas where restorative aquaculture could benefit ecosystem recovery and economic viability.
By analysing the habitat benefits and impacts of kelp and kelp/mussel co-culture, including during harvest, we hope to provide recommendations on how to optimise the benefits that the aquaculture of low trophic level species can provide, with the overarching goal of informing the sustainable growth of kelp aquaculture in both geographies.