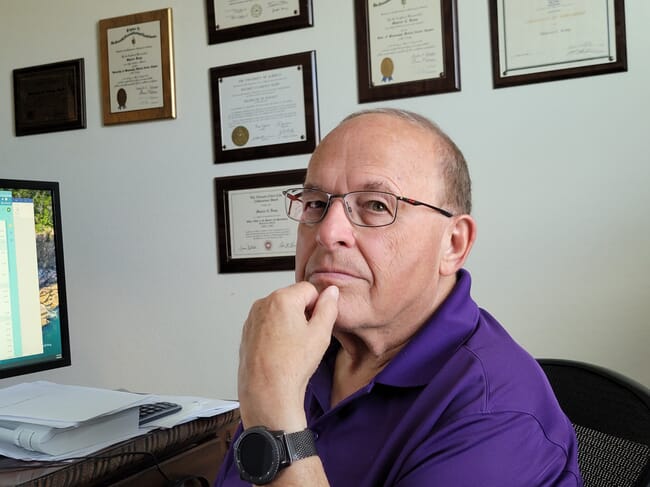 What inspired you to consider a career in aquaculture?
While working for a chemical company, I met Dr Addison Lawrence at Texas A&M University, who showed me how he was growing shrimp in very shallow water at very high densities – well beyond the capabilities of any other system at that time. The shallow water, plus other subsequently patented features, represented new technology and a business opportunity. Thereafter, Royal Caridea LLC was established, with a goal of commercialising the technology. As part of this effort we licensed the patent rights to the technology for growing shrimp in shallow water in stacked raceways from the university.
I physically relocated to Port Aransas to learn more about the system, anticipating that Royal Caridea could secure investors and move forward with a production system. However, we were unable to do so over a period of 1.5 years and the licensed patent rights reverted back to Texas A&M University.
After Royal Caridea and Texas A&M parted ways, we did not give up on the concept of farming shrimp. Royal Caridea was aware of deficiencies inherent in the Texas A&M technology framework and potential business partners zeroed in on these as well. We came up with a new, modular design that has since been awarded a patent in Australia.
Why shrimp?
The United States consumes over 700,000 tons of shrimp yearly. Yet, domestically produced (wild caught and farmed shrimp) account for less than 6 percent of the market demand. Most Americans have never consumed truly fresh shrimp. All they have known is imported frozen shrimp, which can come with issues relating to sustainability, labour and antibiotics.
Royal Caridea carried out marketing surveys and found people are interested in high quality shrimp. We also found that many people had quit consumption of shrimp because there was no way to determine where it was coming from and how many times it had been frozen and thawed. Retail stores sell shrimp as fresh or refreshed but often that means they thawed it out and put it in a display case.
Considering all the issues, Royal Caridea knew the market is large and the demand for a high quality product is real.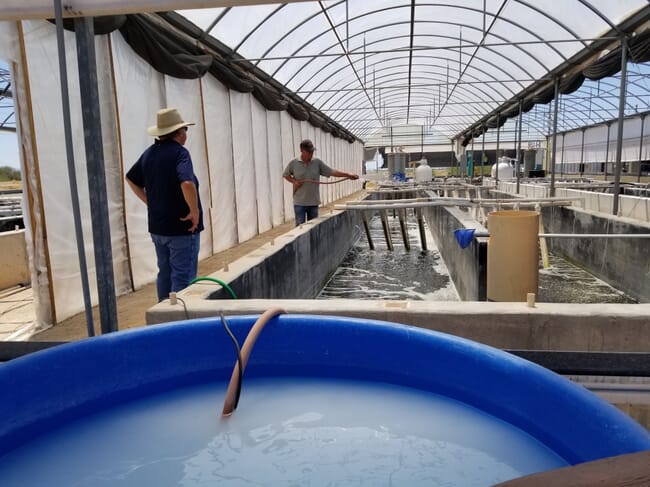 Why RAS?
Water is a resource that is increasingly in short supply, particularly in urban settings near target markets. Moreover, shrimp are grown in salt water, for our purposes around 10-14 ppt. The water has to be free of chlorine and chlorinated products, has to have very low levels of heavy metals and has to be aerated and maintained at temperature range of 28-30°C, temperatures at which the metabolic system of warm water is optimal. Aside from these conditions waste is an issue. When shrimp consume feed, a nitrogen waste product of metabolism is produced and secreted like that of most animals. RAS helps to convert ammonia (NH4+ and NH3) and nitrites into nitrates. The biofilter provides a substrate for a bacterial community, which uses ammonia and nitrites for energy.
What stage of the production process are you at, and when do you expect your first commercial harvest?
Royal Caridea harvested our first shrimp crop grown in ponds in the fall of 2020. Heads-on and heads-off shrimp were run through an IQF process and packaged. Shrimp were sold into local markets and sold online by our marketing division Arizona Desert Shrimp. We got started late last year, due to many factors – particularly those relating to reconstructing a farm that was in disrepair. Weather also became a factor in that the harvest cycle was delayed as long as possible to increase the size of shrimp to be harvested.
For the 2021 cycle we are on track, all our ponds are stocked, and we are proceeding accordingly. We will start harvesting 15 g shrimp around the second or third week of August and are are exploring new markets.
In addition, operationally we have the capability of growing shrimp year-round in raceways. They are currently stocked and operational in the greenhouse. The grow-out in these facilities will be 3-3.5 months. We will keep our client base apprised of when they can expect 26-28g shrimp to be available.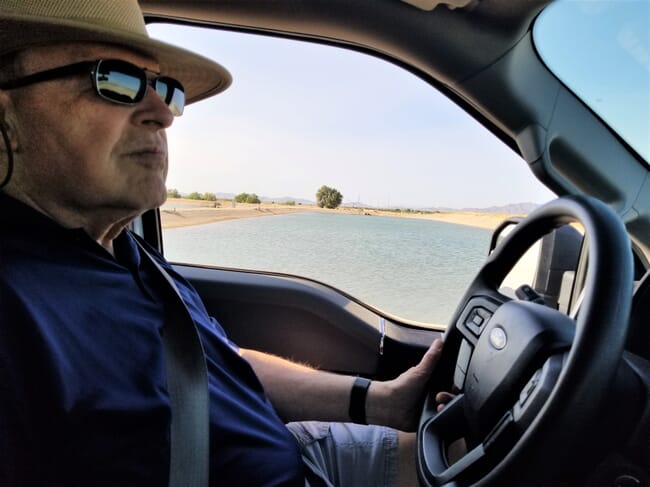 What makes your system unique?
The modular design facilitates portability and very importantly it allows for scalability. Most farmed shrimp, whether in ponds or tanks, are produced using a single phase batch process, while we use a multi-phasic approach, which means that productivity can be dramatically increased, as illustrated in table 1, below.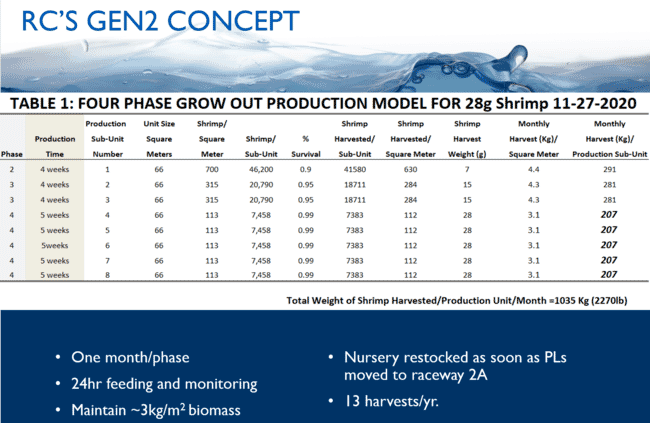 Note: 700 shrimp are stocked in Phase 2/m2. One month later shrimp in Phase 2 are split into two Phase 3 units. One month later shrimp in two Phase 3 units are evenly divided into Phase 4 units. One month later all Phase 4 units are harvested, yielding 1021 kg (2207 lb). A batch process would yield at maximum 207 Kg for a 66 m2 tank.
How have you managed to fund the company's development to date, and will you look to raise further funding in the future?
In the beginning the company was funded by friends and family, as well as sweat equity on the part of management. Over the past two years, Royal Caridea has secured USDA-backed loans totalling $2.7 million, supported by a venture fund. In terms of financing, Royal Caridea is currently seeking $1.5 million from a series A preferred offering, with the expectation to follow our series A offering with a $4 million series B offering in 2022. The funds will be used to secure the equipment and operating needs to build our first two-stacked prototype Gen 2 system and then the first commercial module Gen2 system, which can produce about 325,000 lb of shrimp annually.